Nebbiolo: Nervi Gattinara 2008 – Pairing Rating: 10.0 out of 10.0
Rare is the occasion when a restaurant's Wines-by-the-Glass menu serves up a perfect pairing choice for one of its signature dishes. Such was the case last Friday night at the restaurant Jamestown FiSH in Rhode Island.
Most restaurant Wines-by-the-Glass menus are predictable collections of American wines of very recent vintages. Sure, there might be a token village Burgundy or wine from the Southern Hemisphere, but nothing that either challenges, intrigues or inspires. This is certainly understandable given that wines-by-the-glass is one of the most profitable offerings for any restaurant. As such, most wine directors keep the list familiar and approachable.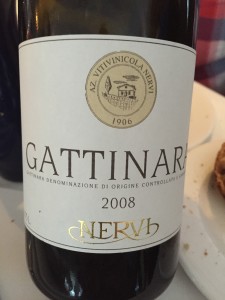 At Jamestown FiSH, when I saw the Nervi Nebbiolo (Gattinara is the subregion) from the outstanding 2008 vintage on the Wines-by-the-Glass list, I knew this would be a special restaurant occasion. The complete wine list was incredible: comprehensive, fairly-valued and with vintage depth. Unfortunately, I failed to convince any in our party to share a bottle with me. So I had to "settle" for this 7+ year old Nebbiolo-by-the-glass that was at that perfect stage of its life: the tannins were relaxed and supple, yet the wine's youthful freshness beamed brightly. In the money management world, this was like hearing "I'm sorry, Warren Buffett will not be joining you for dinner tonight, you'll have to "settle" for Peter Lynch, of Fidelity Magellan fame" That's not settling. And there was no "settling" at Jamestown FiSH that night.
The 2008 Nervi Gattinara ($35 per bottle retail) had a nose that was explosive: red fruits, earth and leather. On the palate, the dried cherry, raspberry, mushroom and licorice called out for dish that had some butter fat and truffles . . . to serve as a bridge with the earthy wine. The menu offering of Lobster with Linguini, Summer Truffles and Coral Butter was the perfect pairing choice for all those reasons.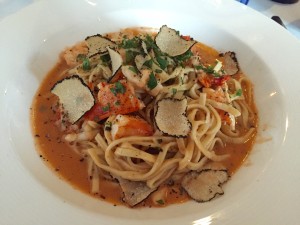 Had it been Lobster with a simple Butter Sauce, I would have opted for a Chardonnay with a bit of oak. But with this truffled dish, the Nebbiolo from Nervi was the clear choice. Mid-weight and clean-finishing, the wine allowed the delicate flavors of the Lobster to show, while reinforcing the exquisite truffle complement.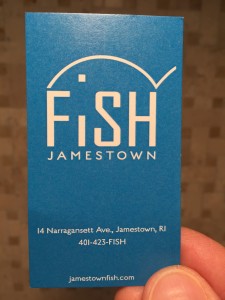 At the conclusion of our dinner, the Executive Chef, Matthew MacCartney, stopped by the table to introduce himself. Matthew is a New Yorker with more than 20 years in the restaurant business, having trained at Restaurant Daniel, Gramercy Tavern, Craft in NYC, and Pasta Nostra in So. Norwalk, CT. A brief tour of the restaurant affirmed his creative thinking: a large outdoor patio with bar and pizza oven; a cozy corner of the patio with couches and large fire pit; and a barroom with an informal menu. All separate from the formal dining room where we sat. We will definitely be going back.