Chenin Blanc: Roark Santa Ynez, CA 2014 – Pairing Rating: 9.5 out of 10.0
Chardonnay: Ojai Vineyards Santa Barbara, CA 2014 – Pairing Rating: 8.5
Riesling: Keller Limestone Rheinhessen, GR 2014 – Pairing Rating: 8.0
The temperatures in CT are now stating to fall into the 30's – a time when I start to think about soups. It's also a time when I begin to think about cocktails made with Rye and Cognac, but that's another matter. My sister Mary served us this Asparagus Soup (from The Zuni Café Cookbook) a couple of years ago and I continue to return to it because of its texture & nuttiness (rice), crunch & color (asparagus) and savory notes (pancetta). It makes a great starter course for an important fall or winter dinner. The link below accurately recounts this relatively easy recipe from Judy Rogers' excellent cookbook:
Recipe: Asparagus and Rice Soup with Pancetta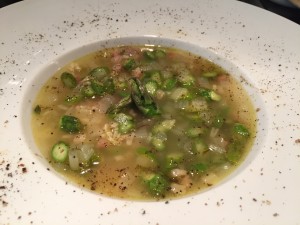 The dominant flavors of this soup are sweetness from the slow-cooked onions, richness from the chicken broth and salty pork from the pancetta. The asparagus is backstage in this show, which is good news because asparagus on its own is not a good wine-partner. Bitterness is the issue, making wines taste green or metallic. Not the case here, largely because of the chicken stock.
The dish called for a white wine with both ample acidity and fruit, but the key question: how much?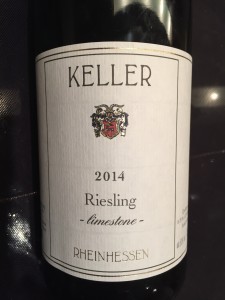 I first reached for a German Riesling: Keller Limestone 2014 from the Rheinhessen region. Klaus Peter Keller represents the ninth generation of Kellers that cultivate 40 acres of vines in Rheinhessen region; 75% of his acreage is dedicated to Riesling. Keller's Rieslings are critically acclaimed for their richness, complexity and low alcohol. His Limestone offering is an entry-level Riesling that appeared clear and clean in the glass, but with a restrained nose. On the palate, the wine delivered red grapefruit, apricot and lime with a dry finish. I chose this wine because of the sweetness of the onion in the soup. But the Riesling flavors simply overwhelmed the dish! I took a pass and moved on.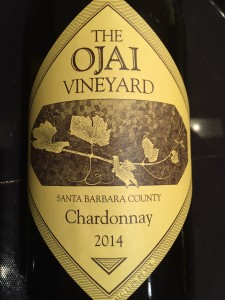 The second wine was a 2014 Ojai Chardonnay from Santa Barbara County. Fresh and vibrant, this blend of fruit from Solomon Hills and Puerta del Mar vineyards smacked of citrus, apple peel and a bit of apricot up front. Although the wine served up plenty of zest, there was a lack of depth on the finish. Multiple tastings led me to conclude that with this dish, a zesty attack by the wine is less important than a round, a complex mouthfeel . . . to complement the creaminess of the soup. I knew it was time to move to Chenin Blanc.
Chenin Blanc seems to be the stepchild of the white wine world. Once widely planted in California, the grape today has but a few proponents in the US. And while South Africa and the Loire Valley in France remain the standards for high quality Chenin, a few California vintners have scored admirably with this grape. Wineries like Chappellet (Napa), Terraces (Clarksburg) and Foxen (Santa Maria) produce superior expressions of California Chenin Blanc.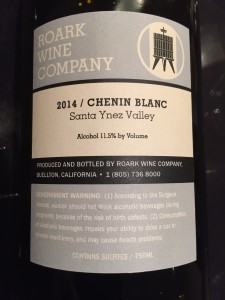 Joining this short list is Roark Wine Company in Santa Ynez. I met Ryan Roark earlier this year (Cali Road Trip – Day 2) and found his minimalist approach to crafting Chenin allowed its best features to emerge. The 2014 Roark Chenin Blanc delivered a bit of lemon/lime tartness on the attack, but the ripe fruits of Bosc pear, apple and melon lingered on the finish. Trish and I thought the structure and complexity of the 2014 Roark was perfect for the Asparagus Soup. But don't limit your paring of Chenin Blanc with soups like this. This underappreciated grape has broad potential across your food repertoire.
As we move into the winter months, after you've had your Rye and Cognac cocktail (try Vieux Carré), move the Chardonnay to the side and let Chenin Blanc show you what it can do.