Vermentino: Tablas Creek 2011 – Pairing Rating: 9.0 out of 10.0
I finally realized why I was never wild about Brussels Spouts – they were cooked! For some reason, most people feel compelled to cook them. Perhaps to tenderize them or because that's how Mother served them. I believe cooking them brings out the cabbage taste, which some cooks then try to cover with chestnuts or with bacon and a splash of wine vinegar. You need to go "raw", and this recipe will make you a convert.
This is a recipe from The Wall Street Journal, adapted from Michael Chiarello at Bottega in Yountville, CA, and is geared to serve 6. Here's what you need and how to put it together:
2 large eggs
Juice of 2 lemons
Juice of 1 small orange
1 shallot, finely chopped
11/2 cups of olive oil
1 teaspoon sea salt
½ teaspoon black pepper
6 cups Brussels sprouts
(about 12 good-sized sprouts)
¾ cup Marcona almonds, finely
chopped
1/3 cup grated pecorino cheese
1. Hard boil the eggs: about 10 min in simmering water. Remove and cool.
2. Make the vinaigrette by whisking the lemon and orange juices with the shallot. Slowly whisk in the olive oil. Season with sea salt and pepper. Refrigerate for 30 min or more. Will last 3 days.
3. Peel the eggs and separate the yolks from the whites. Push the whites through a sieve or colander; do the same for the yolks into a separate bowl.
4. Shave the raw Brussels sprouts by holding the stem of each and thinly slice on a mandoline.
5. In a large bowl, toss together the shaved sprouts, sieved egg whites, egg yolks and chopped almonds.
6. Pour ¾ cup of the vinaigrette over the salad and toss. Top with pecorino and add a drizzle of vinaigrette.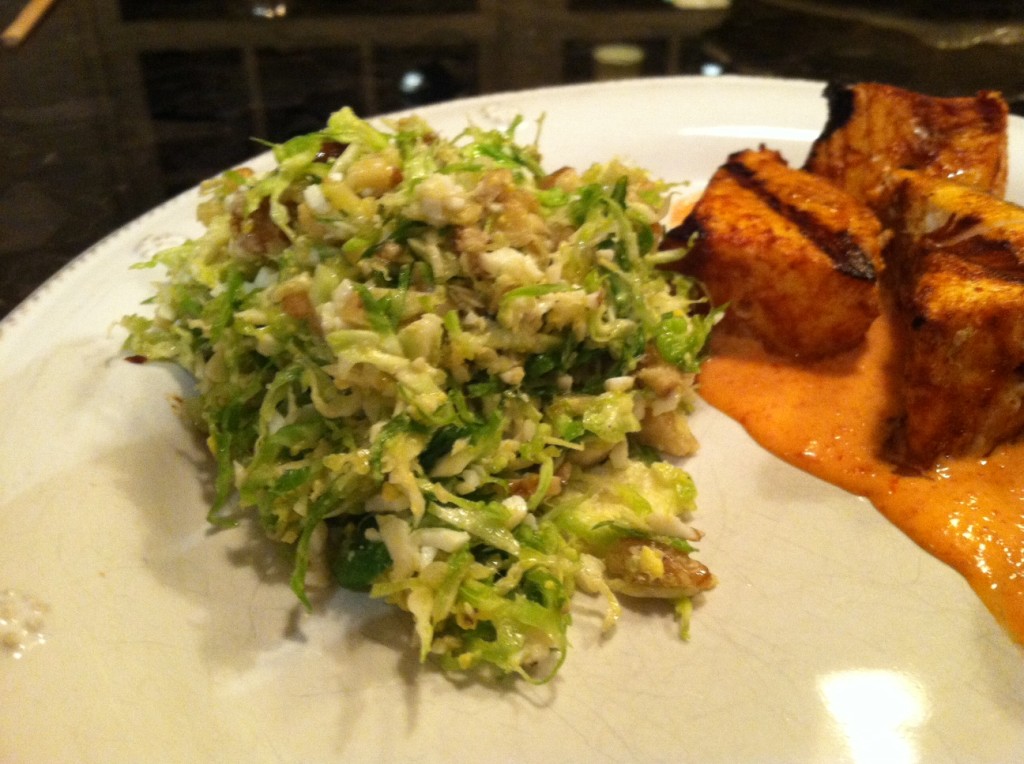 The dominant flavors in this salad are the citruses and the pecorino cheese. Therefore, the pairing calls for a zesty white wine from the home of pecorino . . . Sardinia. One of the tenets of wine pairing is to recognize that if the food comes from a place that produces wine, it is often best to pair the native grape with the native food. The Sardinian grape is Vermentino. The wine shows a citrusy, aromatic nose with hints of sage and fennel. In the mouth, an initial impression of richness turns crisp with great acids, some tropical fruits and a long finish of Meyer lemon and key lime.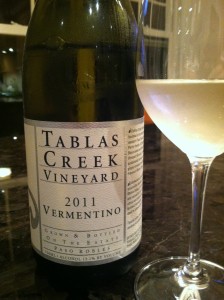 Lacking a Sardinian Vermentino in my cellar, I paired the salad with an excellent expression of this grape from Tablas Creek in Paso Robles, CA ($28). It's been written that Vermentino likes a hot and dry climate – something that Paso Robles delivers in spades. Under those climatic conditions, Tablas Creek hits a high mark with Vermentino. Hardly a winery novelty, Vermentino marked its twelfth bottling at Tablas Creek in 2013. But if you can't find Tablas Creek, seek out a Sardinian version from the Gallura zone. Look for Cantina del Vermentino "Funtanaliras" ($16).
So stop cooking the Brussels sprouts, save the bacon for a breakfast dish and give the cooked chestnuts to the New York City tourists at Christmas time. Instead, serve this "raw" version and your guests will agree: remarkable recipe . . . exotic white wine . . . and an impressive pairing.