The owner's at the front of the house.  That one statement carries great weight in this restaurant.  Importantly, he's not an aloof, all-business owner. On the contrary, he's gregarious, gracious and stylish.  It appears he knows many of his customers personally. He's passionate about food, and proud of his wine list. In short, Trish and I didn't just dine there, we felt like we had been invited to a party at Mr. G's. . . on Balboa Island.
Mr. G (Giuseppe) opened on Balboa (part of Newport Beach, CA) this past December, after developing a following at AnQi Gourmet Bistro, a Vietnamese restaurant in nearby Costa Mesa. His bistro-style menu is limited but covers most of the bases:  Soup, salads, small plates, pasta, beef, chicken and seafood.  Prices are affordable (let's not spoil the party scene) and the wine list is one page, but a thoughtful representation of wines from Italy, France and California.  Nearly 2/3 of the wines are available by the glass, which allows one to pair wines with each course. Perfezionare!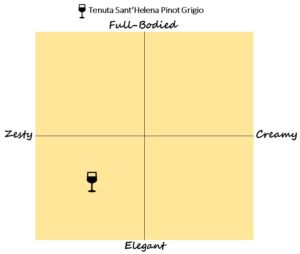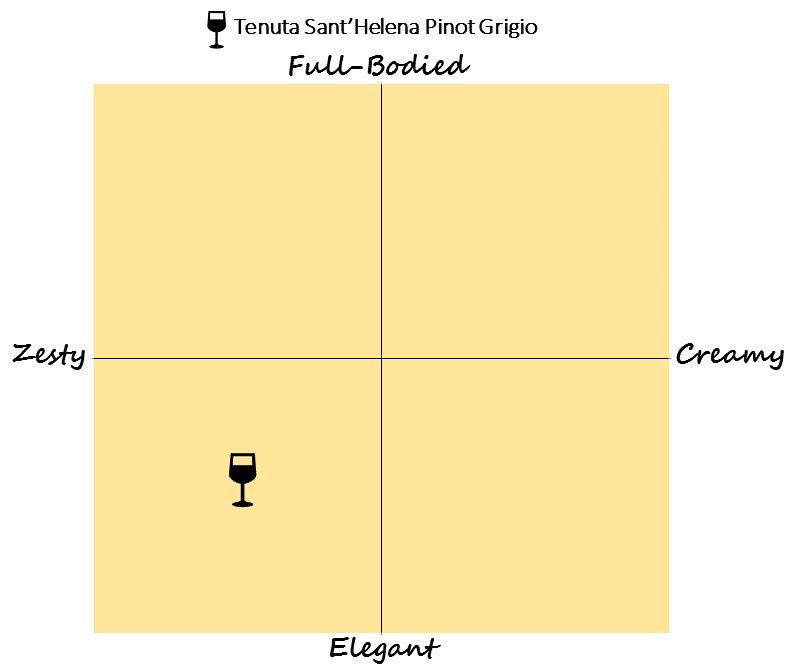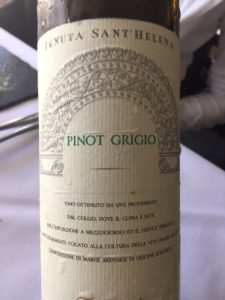 We began the evening sharing a glass of Fantinel Tenuta Sant'Helena Pinot Grigio 2015 ($18 retail). If Santa Margarita is your go-to wine of this varietal, you need to make it your go-away wine. The Tenuta Sant'Helena is a more authentic expression of Pinot Grigio from Northeast Italy:  Crisp and fresh with flavors of citrus, apple and pear. This an uncomplicated, medium-bodied wine that refreshes – making it the perfect aperitivo.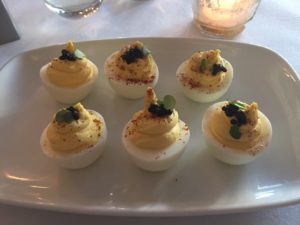 Rather than move to soup or salad, we thought we'd try Mr. G's small plate of Deviled Eggs. Expertly prepared, the cool, creamy yolks had just the right touch of mustard and sweet pimentón, topped with a little caviar and baby green (oregano, perhaps?). The creaminess of the eggs called out for a somewhat creamy white but with a decent measure of acidity to deal with the Deviled richness. We opted for a glass of Flowers Chardonnay 2014 ($40 retail) from Northern California's Sonoma Coast.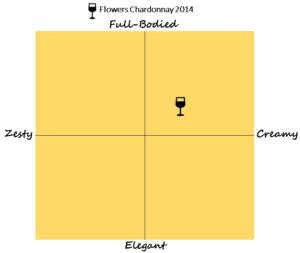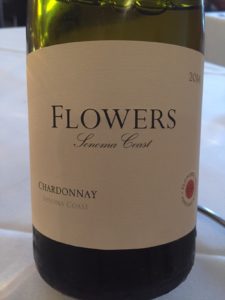 It's been years since we tasted this wine and it was a very pleasant surprise. The day bright, yellow color gave way to citrus and tropical fruit aromas, followed by ripe flavors of lemon, lime and honey on the palate. The finish showed a pleasant balance of acidity, sweet citrus and minerality. Great with the eggs, and great to see that Flowers continues to craft balanced Chardonnay from Sonoma Coast fruit.
For the main course, Trish and I went our separate ways. She chose the Wild Halibut, with avocado mousse, strawberries, basil and frisèe.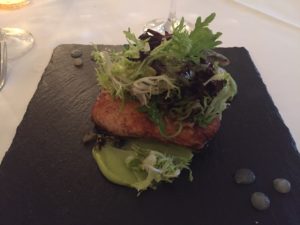 I chose the Tagliatelle Bouillabaisse, with wild prawns, tomato, saffron and white wine.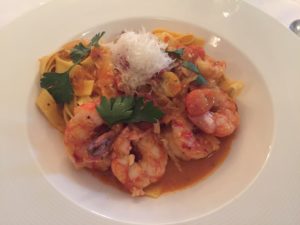 The wine we shared was a Comte Lafond Grand Sancerre 2014 ($46 retail). This Sauvignon Blanc from the Loire Valley in France stood up to the task of pairing with both dishes. Straw-colored and star bright, the wine's nose and palate were bursting with zesty citrus, delivering the acidity needed to stand up to and mirror the excellent, tomato-dominant Bouillabaisse.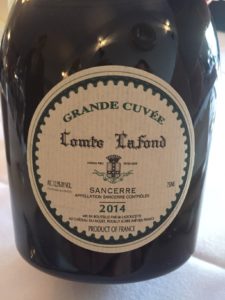 Trish is not eating strawberries these days, so the sweet fruit did not present an obstacle for the crisp acids of the Sancerre.  In fact, the Sancerre, a wine with a lot of pairing flexibility, was an ideal contrast for both the deliciously mild Halibut and the creamy avocado mousse. Such is the nature of Sauvignon Blanc:  to mirror the acidity of my Bouillabaisse, as well as contrast the mild flavors of Trish's mild white fish.
If your travels bring you Newport Beach, CA, be sure to check out Mr. G's on Balboa Island. He's also open for lunch, where the fried chicken (lunch only) and a glass of Prosecco would be the order of the day. Buon Appetito!