Chardonnay:   Patz & Hall 2012 Dutton Ranch: Pairing Rating – 9.5 out of 10.0
Chicken Supremes with Aromatic Vegetables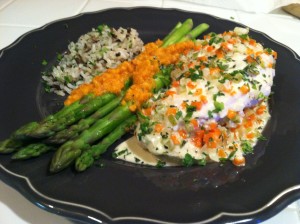 This is one of the first chicken recipes I made from Julia Child's Mastering the Art of French Cooking Vol. 1.  It is an elegant and classical French take on chicken that moves the humble breast from wedding reception fare to a starred Michelin offering. Everyone . . . without exception . . . that has tasted this dish . . . loves it. The preparation delivers moist, tender white meat, enrobed in a Vermouth-spiced cream sauce. The subtle perfume of lemon, white pepper and the sautéed vegetables complete the experience. Thank you, Julia, for this gift!
Recipe: Chicken Breasts with Diced Vegetables
Julia recommends serving White Burgundy or Traminer with this dish. That's a wide field in which to play. Having served this dish probably 30 times (note that the cookbook was first published in the '70s), I think the pairing needs to be Chardonnay. But it's key that the winemaker's style has sufficient acidity to cleanse the palate, yet enough creaminess to complement the texture of the dish. If you want to stay with the French theme, then go with a Meursault from 2009 – a rich, fruit-forward vintage for white Burgundy.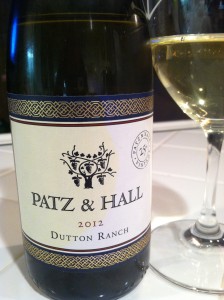 I chose to stay closer to home: a 2012 Patz & Hall Chardonnay – Dutton Ranch. The beauty of this expression of Chardonnay is the balance of creaminess with acidity. The 2012 growing season in the Russian River Valley allowed the grapes to achieve perfect ripeness, yielding a round, plush texture. The French Oak, stave-wood barrels (dried for 3+ years) used in fermentation impart a creaminess that complements the dish's sauce perfectly. Note that the wine does not over-deliver on vanilla (over-oaked), as some Napa Valley Chardonnays are prone to do. Rather, the oak was in perfect balance with the wine's acidity: the wine's lemon-lime zest and tropical fruit were ideal to cleanse the fat in the cream sauce. I considered an unoaked Chardonnay, but no, the Patz & Hall from Dutton Ranch was the right choice.
Cast aside your dietary concerns about cream sauces and try this recipe from Julia Child. This dish, and a beautiful Cali Chardonnay like the Patz & Hall, will make for an elegant dining experience.  Bravo, Julia!