Rosé: Chateau Peyrassol Côtes de Provence 2015 – Pairing Rating: 8.5 out of 10.0
Bandol Rouge: Domaine Tempier 2013 – Pairing Rating: 9.0
Red Blend: Domaine de Trévallon 2011 – Pairing Rating: 8.0
When Trish and I were in Provence last fall, we had a memorable lunch at a local restaurant near Domaine Tempier (a recent blog post). I ordered the Les Farcis, a classic Provençal dish of vegetables stuffed with veal and a mélange of minced vegetables, egg and cheese . . . all of which I devoured with a local Rosé. Outstanding! It's not lost on me that this experience (and my memory of it) is highly influenced by the locale and the friends with us. So it was time to put it to the test.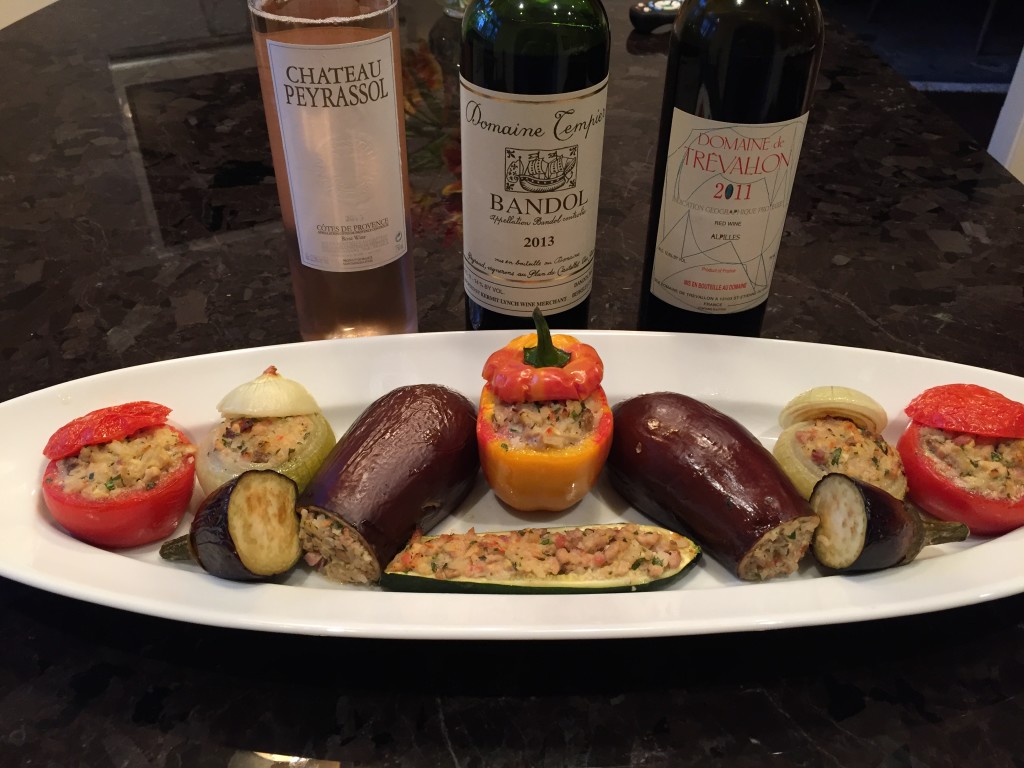 Determined to reproduce this experience at home, we discovered that the Internet is replete with Farcis recipes. It's the equivalent of Provence's pizza. Stuff the local vegetables with whatever you have in the frig: meat or no meat, rice or no rice, one recipe in the Financial Times website calls for different stuffing for different vegetables! Too much work for me . . . and that says something. I settled on a recipe that uses veal and rice, plus everything else you will find in the link below. It's fairly close to the recipe I used.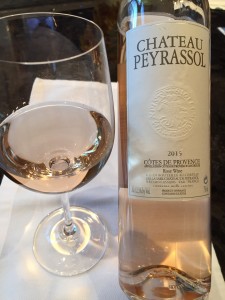 Intent on pairing this dish with local Provençal wines, I started with a Rosé from Chateau Peyrassol 2015. Ch. Peyrassol is a Côtes de Provence producer located northwest of Saint-Tropez in the foothills of the Plateau of Moors. The terraced clay, limestone and gravel soils produce a Rosé with a floral nose yielding citrus and peach on the palate. Notwithstanding the Domaine's 13th Century founding, we thought the wine to be totally modern in style: a light and refreshing blend of Cinsault, Syrah, Grenache, Ugni Blanc and Rolle, that, after fermentation, are aged in stainless steel vats for 6 months. Trish liked the wine, but I felt that with this dish, the wine's finish was short. And while certainly refreshing, it wasn't memorable. I wanted more.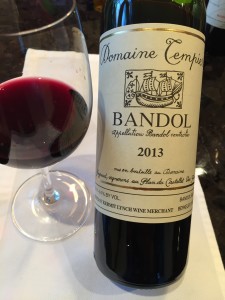 We moved on to Bandol, a region farther west and closer to the Med.  Bandol is famous for its blends where Mouvèdre is the dominant grape. We chose the Bandol Rouge, the so-called Cuvée Classique, from Domaine Tempier 2013. This blend (75% Mouvèdre, with Grenache, Cinsault and Carignan) delivers a bright, rich, ruby color, with vibrant red and black fruits. And as I reported in my post Domaine Tempier, the young vintages have earthy, peppery notes, with abundant tannins and low acidity. This is clearly a food-wine, not a cocktail sipper; and I encourage decanting and breathing for about an hour to soften the edges. The olive oil in the Les Farcis lent a hand in softening the tannins as well, making this pairing my favorite. The vibrant, dark fruit with its earthy notes better matched the rustic nature of the Les Farcis. Rather like canoeing on a Vermont lake in your favorite, well-worn sweatshirt, rather than a button-down from Vineyard Vines. The pairing just felt right . . . but I wanted to push the tasting further.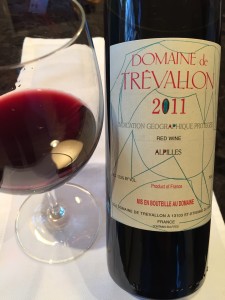 So we moved northwest from Bandol to a region called Les Baux-de-Provence, near the town of Arles, and the home of Domaine de Trévallon. My interest in this Domaine lies in the extraordinary fact that they ripen Cabernet Sauvignon in this part of Provence, blending it with other varietals more widely found in Southern France. The Domaine has a superb reputation and I wanted to see how their blend of 50% Cabernet and 50% Syrah from 2011 paired with this dish. The wine's color was gorgeous with more red than black fruits. Aged 2 years in oak, the wine had lower tannins and more acidity than the Bandol, but the round, softer finish seemed to be calling out for a grilled steak rather than the Les Farcis. I loved the wine, but the Bandol, with its laser focus and earthy, herbal notes, was still the best pairing. Note: I tried the Trévallon tonight with a simple, grilled pork chop. Delicious!
I hope this little wine tour through Provence tempts you to go there. But don't go there for the beauty of le Lavandou, the buzz of St-Tropez or Cannes, or even the history of Arles or Nice. Go there for the food and the unique wines. And leave the button-down in Paris; your well-worn sweatshirt will do just fine in the beautiful French countryside.