Grilled Country-Style Pork Ribs with Grilled Georgia Peaches, Sautéed Zucchini and Sautéed Fresh Corn w/Jalapeño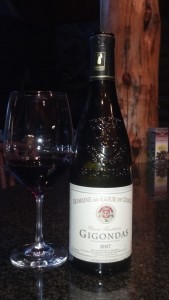 2007 Gigondas from the Southern Rhone, France:  10.0 out of 10.0
Greetings from Vermont!  My wife and I are now very comfortably camped in our Vermont home in the Northeast Kingdom.  Our deck is about 40' from the lake and is a gathering spot for friends and family looking for tasty foods and delicious wines.  We aim to deliver!  We do a good bit of entertaining up here, so I expect to be doing several posts prior to returning to Connecticut in September.
Summer fare in VT is all about farmers' markets:  local vegetables, meats, preserves, breads, etc.  Fruit . . .not so much.  But the peaches from Georgia travel well, and as such, prompted me to marry peaches with local pork.  The marriage would take place on the grill and the best man would be a 2007 Gigondas from Domaine du Gour de Chaulé ($31).  For those readers unfamiliar with this wine, it is sourced from the northeastern part of the Southern Rhone, home to the more famous Chateauneuf-du-Pape.  The wines from this part of France are usually blends of Grenache, Syrah and Mourvedre.  The result, particularly in 2007, is a delicious, fruit-forward red that pairs ideally with grilled meats and grilled fruits.
In full disclosure, I had not sampled wines from this Domaine prior to this evening.  But my confidence to buy the wine was bolstered by the fact that it was imported by Neal Rosenthal Wine Merchants, an importer with a great palate and an expert in identifying small, artisan producers in France and Italy.  The wine was all that I hoped it would be.
The menu centered on grilled country-style pork ribs that had been coated with a garlic-rosemary-olive oil "paste".  Rather than do these on a grate, I used a cask iron griddle on top of the grate, essentially frying them so that I could retain the crust created by the paste.  When the ribs were done (~11 minutes), I grilled the peach halves in a little butter on the same griddle.  Not complicated.  Trish accompanied these with sautéed zucchini/onions/tomatoes, plus some sautéed fresh local corn, dotted with jalapeño.
Summary:  The tannins in the Gigondas cut through the fat in the ribs, and the sweet fruit of the Grenache complimented the grilled peaches beautifully.  The vegetables were delicious with the combination, but were relatively benign when faced with the strength of the wine and the grilled meat.  This was a memorable combination that should definitely be on your summer menu.