Torrontes: Alamos 2013 – Rating: 9.5 out of 10.0
Sherry: Lustau Amontillado Los Arcos – Rating: 9.5
Not long ago I discovered Romesco, the most versatile sauce I have ever encountered. I found this sauce when experimenting with recipes from a José Andres Cookbook titled Tapas – A Taste of Spain in America.
In its simplest description, Romesco is a sauce of roasted vegetables: tomatoes, red pepper, onion and garlic. In the right proportions, and with the addition of toasted almonds and mild (Nora) chilies, this sauce takes on uniqueness, character and versatility like Christian Bale takes on film roles.
Recipe: Romesco from Jose Andres
The link above describes in detail how to make this sauce. Having made this sauce a dozen times, I would recommend that you roast the pepper, onion and garlic about 20 min longer than José recommends. And if you can't find Nora chilies, not to worry. The sauce is excellent without them.
Romesco, which started life in Tarragona, Spain as a base for fish stew, contributes savory, nutty richness to many dishes. Traditionally, and simply, it is used as a dip for hearty breads. But the other uses of this sauce are legion, as the photos below illustrate.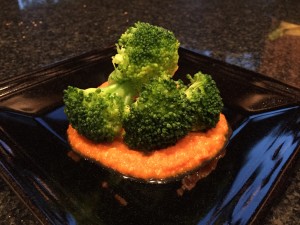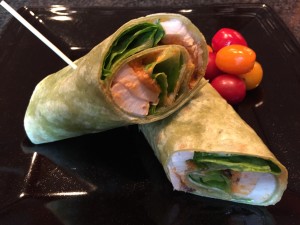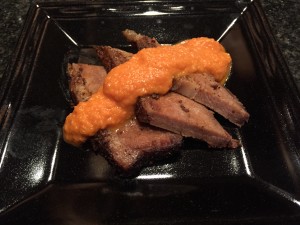 The NY Times ran a feature on Romesco about 4 years ago and reported how the following restaurants use the sauce:
–Boulud Sud in NYC uses it to thicken soups; also spoons it alongside portions of grilled fish.
-Salinas in Chelsea serves it with lamb; also folds it into rice and noodle dishes
-Boqueria in NYC lashes Romesco on grilled chicken sandwiches; also uses it as a dressing for bitter greens, like escarole or frisée.
-Zuzu in Napa uses it to garnish roasted potatoes and onions.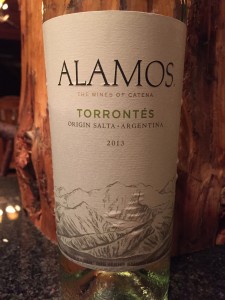 As for the wine pairing, the sauce works great with a variety of white wines. My preference is for crisp, floral, fruit-forward wines like Torrontes. I selected the Alamos Torrontes 2013 ($9) for the pairing with chicken, fish and steamed broccoli. Made from the Torrontes Riojano grape grown in Salta, Argentina, the wine is dry, with crisp, lively acidity and a very floral nose. It's the acidity (think grapefruit and lime) that beautifully complements the lush, roasted flavors of the Romesco. Perfect together.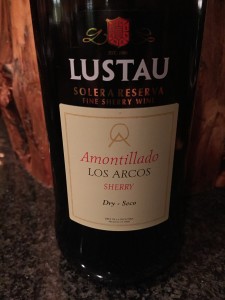 The only improvement I could find to that pairing was when I served the Romesco as a dipping sauce with chunks of warm, hearty bread. In this instance, the winning wine was Amontillado Sherry. An easily found Amontillado is the Los Arcos from Lustau ($17). You may be familiar with Fino or dry Sherry, which ages under a veil of yeast, making the Fino extremely dry, light-bodied and yeasty, with flavors of almonds, sea spray and herbs. An Amontillado, in contrast, advances the art. It is a delicate Fino that, after all the yeast dies, is allowed to age in the presence of oxygen. The Amontillado retains the light, dry, nutty character of the Fino but gains in richness and softness. The almond and hazelnut notes of the Sherry compounded the almonds in the Romesco, adding character to the lush sauce. Even novice Sherry drinkers will love this combination.
So break out of the habit of using sauces based on sour cream, mayonnaise or butter. Romesco is healthier and just as versatile. And it's a great way to experience Torrontes and Amontillado Sherry.