Vermentino:  Tablas Creek 2011 – Pairing Rating:  9.0 out of 10.0
Bandol Rosé:  Domaine Tempier 2015 – Pairing Rating:  9.5
Knowledge is knowing a tomato is a fruit; wisdom is not putting it in a fruit salad.   Miles Kington
Vine-ripened, farm-stand tomatoes:  summer in a perfect package. This chilled soup raises the bar, and when served with a glass of Rosé, you have an outstanding starter for a patio dinner. Think gazpacho, but without all the chopping. Just the clean, fresh taste of uncooked tomatoes puréed in vegetable broth. All you need is a blender.
Recipe: Chilled Tomato Soup with Tarragon Crème Fraiche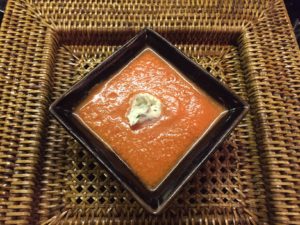 We paired a number of wines with this soup:  Cali Chardonnay was too citrusy, Beaujolais too fruity and Chablis too edgy and dominant. It's our judgment that the soup calls for a wine with a medium level of acidity and berry or stone fruit, delivered with subtlety and finesse rather than power. This is a classic case of seeking a wine that doesn't overpower the refreshing but subtle flavors of the dish.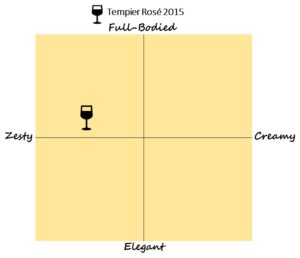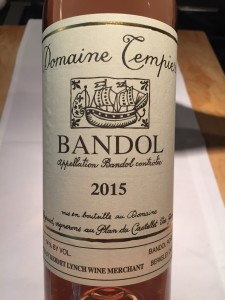 A chilled Rosé seemed a logical choice and we reached for one of our favorites – Domaine Tempier from the Bandol appellation in Southern France. Unlike many Rosés, Tempier uses Mourvèdre as the dominant grape, giving the wine more body and richness than those Rosés built around Cinsault or Grenache grapes. For more on this, refer to our earlier post The Parade of Rosés.
The Tempier Rosé is a beautiful wine, delivering a nose of yellow stone fruits, a palate rich with strawberry and blood orange flavors, and finish of zesty minerality. The acidity of the wine was a near-perfect match for the acid in the tomatoes . . . without overpowering the dish.
It's not lost on us that some may prefer a wine that's more outspoken, i.e. with a bit more power. More Blue Oyster Cult than Moody Blues. We thought a Vermentino might satisfy. This is a white grape primarily grown in Sardinia, Corsica and the west coast of Italy; we, however, enjoy the wine as produced in the central coast of California by Tablas Creek.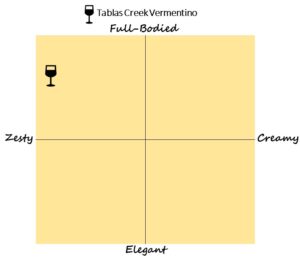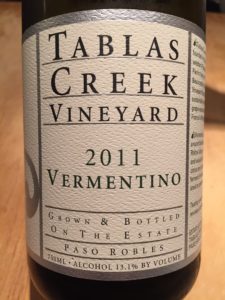 The 2011 vintage of this wine was crisp and refreshing, with aromas of citrus fruits, almonds, and herbs. On the palate, lemon/lime, green apple and tropical fruit made a strong impression. Stronger than the Tempier Rosé, nonetheless, a very attractive pairing. It was interesting that about one-half of our guests preferred the Vermentino. However, we gave the Rosé a slightly higher score as we thought it more complementary – allowing the chilled soup flavors to continue to resonate after a sip of the wine. That was not the case with the stronger Vermentino.
We strongly encourage you to try this soup recipe, and try it with both wines. Regardless of which wine you favor, you will love this chilled soup.