Pinot Noir:  Mile 216 Soberanes Vineyard 2010, Santa Maria, CA – Pairing Rating:  10.0 out of 10.0
It was about 20 degrees in CT earlier this week and 70 degrees here in Newport Beach.  We have only about 7 more days left in our winter escape, so my mind is on getting packed up and heading back east.  Undoubtedly, we will have to face the tail end of winter in CT, so I have been thinking about comfort food I haven't made while here, having been seduced by the Cali weather.  One of those dishes is Coq Au Vin – chicken braised in red wine.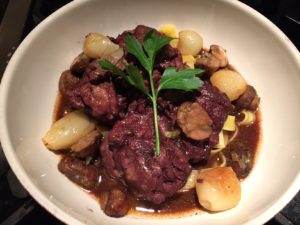 Too bad this dish is little seen on restaurant menus because it is a unique and stunning way to serve chicken.  How is it constructed?  Simple:  go to Julia Childs' Mastering the Art of French Cooking, Volume I.  Like all the recipes in that classic text, follow the recipe to the letter and you will have an outstanding product.  And that's exactly what I did.
Julia recommends using a Burgundy, Beaujolais, Côtes du Rhône or Chianti when making the dish.  For me, the Beaujolais would be too fruity and the Chianti would be too tannic.  Burgundy (Pinot Noir) seemed most appropriate to me.  Since the recipe calls for 3 cups of the wine, the pairing is simple:  pour the same wine for dinner that you use in the Coq Au Vin preparation.  This is the no-brainer directive for wine and food pairing.  But success depends on that initial selection.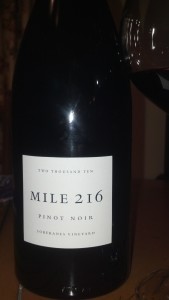 A 2010 California Pinot Noir from the Central Coast was my choice: Mile 216 from the Soberanes Vineyard in Santa Maria, CA.  This is a very small production wine (less than 50 cases), produced by Chris Olsen of the Wine Gallery in Newport Beach and Laguna Beach.  Chris tells me that Mile 216 reflects the mileage from The Wine Gallery in Newport Beach to the vineyard in Santa Maria.  I love this wine because it finds that "perfect" middle ground between a fruit forward (and heavy) Napa Pinot and a tart Sonoma Coast Pinot.  Perfect for this dish.
Understand that unless you live in Orange County, you will likely never find this wine.  But alternatives abound.  I would look to Rochioli, Martinelli, and Felton Road from New Zealand.  All offer high quality Pinots that will perform beautifully in the braise and on the table.
I encourage you to make Coq Au Vin.  This is a classic French dish reputed to date back to the days of Julius Caesar.  More importantly, it is an impressive and unique way to serve Pinot Noir and elevate the humble chicken!  Your friends and family will agree that "the die has been cast" on your cooking and wine pairing skills.  Go for it!