I have a serious weakness for Antipasti – that creative collection of salumi, cheeses, roasted peppers, olives, breadsticks – I could go on and on.  The whole concept of offering different textures, salty flavors, tangy marinades, spicy salumi and crusty Italian bread makes this dish the Kryptonite of starters.  All who pass before it are powerless!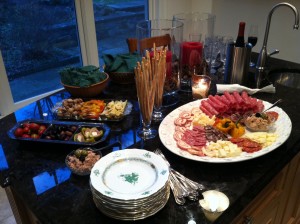 My brother-in-law, Rob, is the chief architect of this platter, with choice treats from Italian delis in Maryland and New Jersey.  Among all the easily identifiable specialities, one will find Italian tuna, garlic-stuffed cherry peppers and marinated artichoke hearts . . . all favorites of Rob. Diverse and delicious, the Antipasti leave you defenseless from crowding your plate, so be sure to use smaller plates.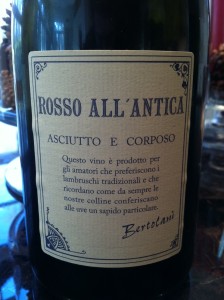 My choice for the pairing was Bertolani Rosso All'Antica 2012 Lambrusco Secco ($15).  Secco and Rosso are the key words here, meaning "Dry Red".  The wine hails from the Reggiano Lambrusco DOC in Italy"s Emilia Romagna region (near Modena).  Beautiful, deep cherry red and lightly sparkling (frizzante), this wine serves up bright, zesty, red fruit flavors.  The high acidity makes it the perfect partner for the salumi, rich cheeses and marinated veggies, while the light effervescence bolsters the festive air of this shared platter.  As an added bonus, the Bertolani (and many Lambruscos) is relatively low in alcohol – about 11.5%.
This a great way to kick off a party:  a communal platter with something for every taste . . .and a conversation-starter about what may have happened in college under the influence of Reunite.
It is not surprising the pairing works well.  Emilia-Romano is famous for Parmigiano-Reggiano, Prosciutto di Parma, Aceto Balsamic Vinegar and pork dishes.  After a couple of hundred years of perfecting these specialties and the vinification of local Lambrusco grapes to match, it doesn't take a Sommelier to know that these foods and this dry red are made for each other.
If you can't find the Bertolani Rosso Secco at your local wine merchant, ask for Ermete Medici "Concerto" Lambrusco Reggiano Secco ($15).  You will become "reunited" with Lambrusco!