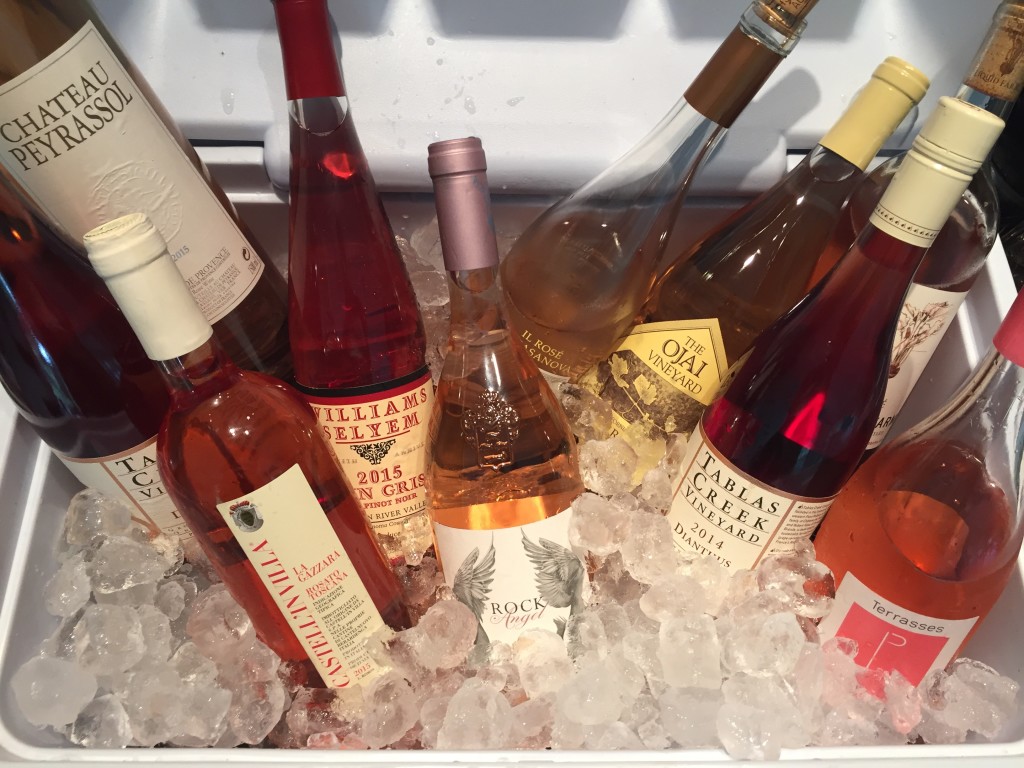 A surfeit of pink wine! The wine world is awash with Rosé, Rosato (Italy) and Rosado (Portugal and Spanish-speaking countries). A noted wine site, Jancis Robinson's Purple Pages, recently reviewed 100 pink wines from the 2015 vintage! So as we prepare for the summer months, how do we make sense of this bounty???
Rather than by country, region or price point, the best way, from a food-pairing perspective of course, is to sort these wines is by grape-type. But because many pink wines are blends of different grapes, we have organized this blog post by the dominant grape found in each blend. And we've limited our focus to still wines from the 2015 vintage, with a heavy slant to France's Rosé. So let's start with the lightest blends (by weight, not necessarily color) and proceed to more structured, age-worthy blends.
Cinsault-Dominant Blends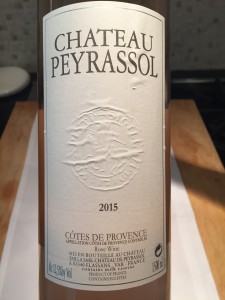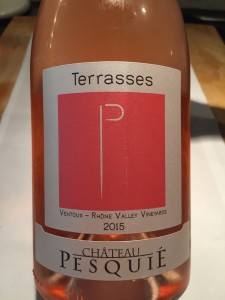 Delicate, fruity and aromatic, Cinsault (SAN-soh) is an ideal blending partner with Grenache and Syrah, as found in the two wines pictured above. Chateau Peyrassol ($31), a Côtes de Provence producer, is the more serious of the two. We suggest this arises from a slightly higher Syrah content, which, unfortunately, the producer does not disclose. We think the spritely Peyrassol makes an excellent pairing with a chilled seafood lunch. On the lighter side, the Chateau Pesquié Terrasses ($13), from the Ventoux region of the Rhone Valley, uses only 10% Syrah with 40% Grenache and 50% Cinsault. Zesty, with a red fruit streak, the Terrasses is a good value and a fine choice for an aperitif.
Sangiovese-Dominant
Sangiovese is Italy's most planted grape and plays a leading role in Chianti, Vino Nobile di Montepulciano and in many Super Tuscans. Vinified as a rosato, the grape juice's minimal skin contact precludes it from taking on the tannins and astringency often found in young Chianti. And while this applies to both of the wines pictured above, the finished wines are very different. The La Spinetta il Rosé di Casanova ($18) is light and crisp with tart cherry and raspberry notes; and sufficient minerality to make it both an aperitif as well as a food wine for light seafood or vegetables. In stark contrast, the Castell'in Villa Rosato La Gazzara ($18) sports a deeper color that promises more: it is mid-weight with a soft, round mouthfeel, without losing vibrancy. This is a pink wine for those who don't care for the steely underpinnings of many Rosés. Serve it with mid-weight fare, like grilled swordfish, as found in our post Swordfish with Rosemary, Olives & Citrus
Pinot Noir-Dominant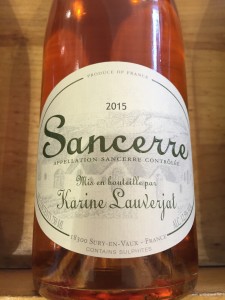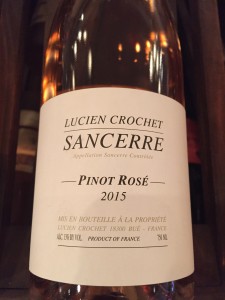 Pinot Noir is an elegant grape, capable of delivering cherry and red currant notes with an underlying sweetness, without losing its mineral spine. The short skin-contact time required of Rosé does not allow these pink wines to develop the complexity and charm of the Grand Crus of Burgundy. Nonetheless, the pink wines made from Pinot Noir are not to be overlooked. While vintners around the globe produce pink Pinots, we chose to focus on two from the Sancerre region of France's Upper Loire Valley. The Karine Lauverjat Sancerre ($19) with aromas of strawberries and orange zest, delivered a tangy cherry attack, but morphed into a silky, lingering finish that allowed the sweeter cherry notes to emerge. Lucien Crochet Sancerre Pinot Rosé ($32) with a similar aroma and flavor profile, differs in that about 15% of the juice was fermented in neutral oak, lending a slightly rounder mouthfeel to the wine. An excellent alternative to these beauties is the Domaine Gerard Boulay Sancerre Rosé ($26).
Grenache-Dominant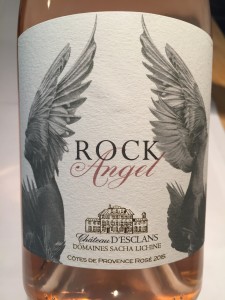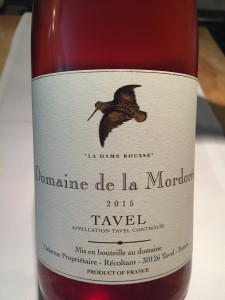 Grenache Noir is the sweetest of the grapes discussed in this post and is one of the key blending grapes in the Southern Rhone. Its usual blending partner is Syrah, as often seen in Chateauneuf du Pape, Côtes du Rhône and Gigondas. Blending Grenache Noir with a number of grapes is also quite common in Provence. Chateau D'Esclans' Rock Angel ($31) is the big sister to their ubiquitous Whispering Angel brand, which is a simpler Rosé. The richer, more complex Rock Angel is a blend of Grenache Noir and Vermentino (called Rolle in Provence). We like this wine for its refreshing acidity on the attack, its mineral complexity in the mid-palate, and its long, fruity finish. In contrast, the Domaine de la Mordorée La Dame ($28) from the Tavel region of the Southern Rhone Valley, is 60% Grenache, 20% Cinsault and 20% Syrah. Like the Castell'in Villa Rosato discussed above, the garnet color telegraphs what you will find in La Dame: mid-weight, pronounced raspberry and sweet citrus acidity on the finish. It trades the mineral spine of the Rock Angel for ripeness and weight. Both are excellent, with La Dame one of the favorites of this report.
Mourvèdre-Dominant
Mourvèdre (or Monastrell in Spain) is a thick-skinned grape that is typically high in alcohol and tannins, with intense aromas of blackberries. Blending is the easiest way to tame this beast. And none do this better than the producers in the Bandol subregion of Provence. Two excellent expressions of the blending art in Bandol are pictured above. Domaine Tempier, profiled in an earlier post, structures its Rosé with 55% Mourvèdre and a mix of Cinsault, Grenache, Carignan and Syrah. A heady perfume of citrus is followed by notes of blood orange and pomegranate. Structured and minerally, the Tempier is a food wine, not a patio sipper. The same can be said for the Chateau di Pibarnon (65% Mourvèdre and 35% Cinsault), where on the palate, we also find tangerine and melon. Both are excellent pairing partners with full-flavored, grilled fish as well as duck breast and smoked turkey.
We've probably gone on too long with this post, so let us try to summarize. The sheer diversity of these pink wines argues for you to have some of each of the styles outlined above. Rosés that are Cinsault or Grenache-dominant are great for aperitifs; Sancerre (Pinot Noir) and Sangiovese pair nicely with lighter seafood, pastas and poultry; Grenache and Mourvèdre are ideal for seasoned/grilled poultry, paella, seafood and pork. Better yet, how about a three-course dinner showcasing these Rosé styles? Now that's a parade we want to join!