Montepulciano d'Abruzzo:  Nicodemi Notàri 2010 – Pairing Rating:  9.0 out of 10.0
Verdicchio:  Villa Bucci Riserva 2013 – Pairing Rating:  8.5
Cioppino? The name of a farm hand on The Real McCoy's? Wrong. That's Pepino. A casual pant fabric? Wrong again. That's Chino. An Italian fish stew? Almost correct. Cioppino is indeed a tomato-based fish stew, but is said to have been invented in the North Beach area of San Francisco by Italian immigrants from Genoa. According to Wiki, the name comes from Ciuppin, a classic soup from Italy's Liguria region, similar in flavor to Cioppino but with less tomato. According to us, the name means Delizioso!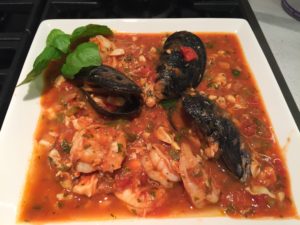 The Internet is replete with recipes for Cioppino. We chose one that was easy to pull together [Cioppino Recipe], however it does take a good bit of simmering time to tease out all the flavors. This recipe is a little tomato-dominant, which turned out to be the critical factor in the wine pairing.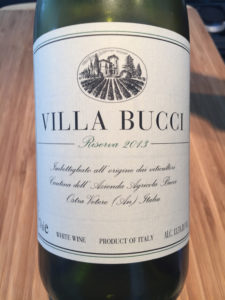 Most somms will advise you to pair this seafood-laden dish with a crisp, aromatic white. Seemed like a reasonable place to start. We pulled a cork on a Verdicchio Riserva by Villa Bucci ($56), a producer from the Castelli di Jesi subregion of Marche in central Italy. Considered to be one of Italy's top two dozen white wines (per Vinous), the wine is stunning: bright golden-colored, with a nose of lime and pear. On the palate, the minerally-citrus flavors gain a touch of floral sweetness over the long finish. The silky texture of the wine reflects the 12-15 months spent in old oak barrels. Sipping as we prepared the Cioppino, we thought the wine was spectacular. But with the dish, not so much. The wine's citrus and the dish's tomato base seemed to clash. The tomato base won, negating the beauty of the wine. Save this Verdicchio for Shrimp Scampi, Lobster Roll or a cream-based Seafood dish. With the Cioppino, however, we felt compelled to move to red wine.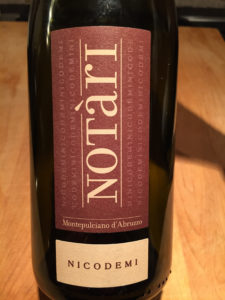 For its ability to pair with tomato-based pasta dishes, Montepulciano d'Abruzzo seemed like a logical choice. We selected the Nicodemi Notàri 2010 ($20). This is a deeply colored, plum-scented red with notes of blackberries and ripe, soft tannins. The acidity is relatively low but sufficient to stand up to the tomato base without overpowering the more delicate flavors of the seafood. We thought the Notàri was a superior to the Verdicchio in this pairing, and at $20, an excellent value. There are more expensive Montepulciano's on the market – Emidio Pepe's for $100 and Masciarelli's Villa Gemma for $80 – but Trish and I don't think these enhance the pairing in proportion to their price.
If your version of Cioppino is lighter on the tomato base, then go with the Verdicchio or any crisp, aromatic white. But if you choose to follow the recipe in this post, then the Notàri is clearly the better choice. Mangiamo!