Cabernet Franc:  Charles Joguet Les Varennes du Grand Clos 2011 – Pairing Rating:  9.5 out of 10.0
Merlot:  Grgich Hills Napa Merlot 2010 – Pairing Rating:  8.0
For months, I have been searching for a new way to serve grilled swordfish . . . a savory way that would appeal to steak lovers. This is it! The recipe comes the cookbook Perfect Pairings by Evan Goldstein. While I encourage you to invest in the cookbook, I was able to find this particular recipe online.
https://eatsanddrinks.wordpress.com/recipes-2/tuna-with-rosemary/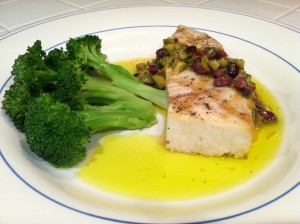 Substituting swordfish for tuna was my choice; I also thought it would be the fish of choice for steak lovers. Taking care not to overcook it, I found the natural juices from the grilled swordfish conflated beautifully with the oil and fruit juices of the tapenade. The rosemary, olives and orange zest delivered the savory notes craved by steak lovers.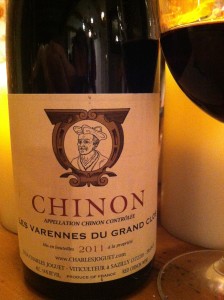 Evan recommended an " . . . herb and bell pepper-accented Merlot." To me, those descriptors equate to Cabernet Franc. As such, I chose a 2011 French Cabernet Franc from the Chinon appellation by Charles Joguet called Les Varennes du Grand Clos. Varennes is a commune in the Loire River Valley; the vineyard is located near the gravelly banks of the Vienne River (a tributary of the Loire) where the sand-clay-limestone soils produce a lighter style of Cab Franc than from other slopes in the Loire region. If you've never tasted Cabernet Franc from Chinon, this wine from Joguet is an excellent expression of the grape. Unlike Cabernet Sauvignon, which can be full-bodied with vibrant red and black fruits, this Franc is medium-bodied, tasting of sweet raspberries but with mineral overtones. Where Cab Sauvignon serves up power and richness, this Cab Franc offers great finesse and elegance. The wine was perfect for the swordfish, yet allowed the salt and citrus of the tapenade to play the leading role.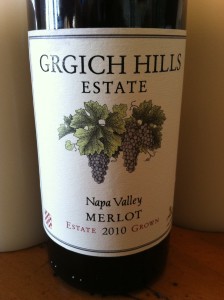 Such was not the case with 2010 Grgich Hills Napa Merlot. I found the bold flavors of this full-bodied wine to overpower the tapenade, stealing the show.   The 2010 vintage in California showcases the prototypical Napa style of big, fruit-forward reds. This Merlot was unrestrained in its spicy, complex palate of sweet cherry and black fruits, but absent was the jammy, flabby finish I so dislike about many Napa Merlots. This was an excellent Merlot: a scene-stealer from Grgich Hills. But with this swordfish preparation, the wine was too bold. If you want to follow Evan's recommendation and serve a Merlot, I would suggest Bordeaux from St. Emilion where both Merlot and Cabernet Franc are blended.
Either way, Cabernet Franc, particularly from 2011, was the key to the pairing of this excellent swordfish dish. Thank you, Evan, for this great recipe!