Last year, my post on Thanksgiving Dinner wines (Turkey Day Trials) recommended not one wine, but three different wines based on the variety of food flavors and textures found in this very traditional meal. So I am sticking with that tradition this year in suggesting that you put more than one type of grape on the dining table. But I believe you have to start with Sparkling Wine with appetizers.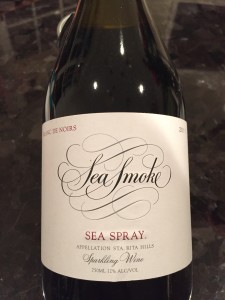 American sparklers like Sea Spray or Roederer Estate have set new standards for excellence in this category. No disrespect to the remarkable quality of the grower Champagnes of France, but these American wines should be your go-to choice for this very American Holiday. The Sea Spray is pricey ($90) and hard to find, but the Roederer Estate sparklers, both the non-vintage Estate and 2007 L'Ermitage, are reasonable ($24 and $48, respectively) and widely available. These sparklers make great partners with a wide variety of appetizers.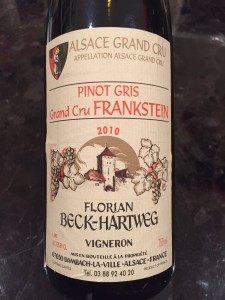 For those guests who prefer white wines with Thanksgiving dinner, I believe you have to think "fruit" when it comes to a wine choice. Pinot Gris from Alsace fills that bill beautifully. It is richer in mouthfeel than either American Pinot Gris or Italian Pinot Grigio. In the hands of many Alsatian vintners, the wine is medium to full-bodied, with lush notes of apricot, tangerine and honey. Perfect for the sweet potatoes and cranberry sauce. I like the Florian Beck-Hartweg Pinot Gris 2010 from the Frankstein vineyard; however, the Zind-Humbrecht Pinot Gris ($25) may be easier to find.
Last year, I recommended an American Pinot Noir for a lighter, fruit-forward red. I am still partial to that suggestion, but this year I am making a modest course correction in favor of Gamay from Beaujolais. Not the cheap, candied Nouveau, but a high-end ($30) Cru Beaujolais from the village of Fleurie. Jean Foillard is one of the renowned producers in the region, and his 2010 Fleurie is outstanding: beautiful, ruby red, with black raspberry and black cherry flavors and a touch of licorice. Yet for all of its layers of brilliant fruit, the wine remains relatively light on its feet.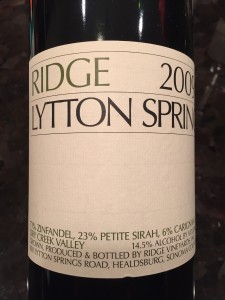 Lightness is not descriptor one would apply to this last recommendation: Zinfandel . . . a truly American varietal. This wine is for your guests that like a heavier red with their gravy, stuffing and mashed potatoes. And to give the Zin a little extra heft, I recommend this 2009 Ridge blend, called Lytton Springs: 74% Zinfandel, 21% Petite Sirah and 5% Carignane. These grapes, especially the Petite Sirah, make this blend more potent and structured than the Fleurie, with darker fruits (plums), a little smoke, and earthy mineral notes.
All of these wines have two things in common: gobs of fruit and moderate tannins, which we think are key to this festive meal.
Trish and I wish you the very best for a safe and joyful Thanksgiving!