Chenin Blanc:  Huet Vouvray Le Haut-Lieu – Pairing Rating:  9.5 out of 10.0
Ahh . . .Venice. City of Water, City of Masks and City of Bridges – there are about 400 bridges connecting 118 small islands in the City. With connections that go beyond the canals, Venice has inspired literary greats (Shakespeare, Thomas Mann and Ezra Pound), given rise to artists like Titian and Vivaldi, and has been featured in numerous movies (Casino Royale and The Talented Mr. Ripley). Art, architecture, history, romance, this is a city like no other.
That said, our interest when we visited there years ago was culinary, as you might expect. To that end, we were keen to get a reservation at Restaurant da Fiore (the Flower), once acclaimed by The Wine Spectator as the best restaurant in Venice. Noted for its seasonal seafood, vegetable preparations and wine list, the Restaurant excelled on all fronts the night we were there.
A memorable starter for us that evening was their Zucchini and Basil Soup. Perhaps it was the simplicity of the ingredients that took ownership of its freshness and compelling flavors. Five ingredients:  zucchini, onion, potato, basil and water. That's it. No dairy, no stock, nothing to mask the flavors of the fresh vegetables. Exquisitely delicious.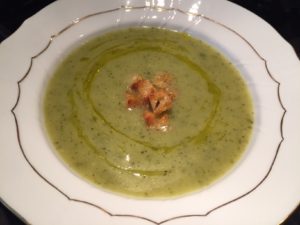 A number of full-flavored white wines would pair with this soup, but our preference is for Chenin Blanc from the Loire Valley. Our favorite is Domaine Huet (WHO-ett) from the village of Vouvray. Huet produces wine from three vineyards; we like all of them, with a slight preference to Clos du Bourg. Huet's long history of vinifying Chenin Blanc, coupled with outstanding terroir, allows these wines to be very consistent from year to year, so vintage selection is not an issue. Note, however, that Chenin Blanc ages beautifully, so the older the better.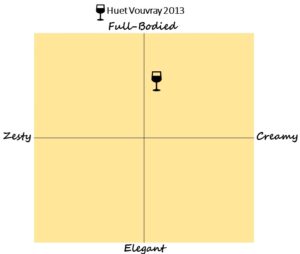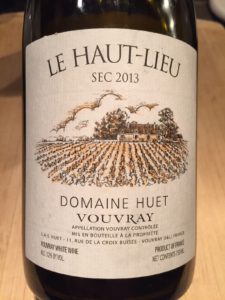 Aromas of flowers, honey, straw and white pepper were followed by crisp flavors of apple, apricot and lemon. Minerality and smoky notes added to the complexity of the finish. Importantly, the richness and medium-to-full body of the Vouvray stood up to the full-flavored soup while delivering sufficient acidity to cleanse the palate. This great pairing that could not have been achieved with lighter-bodied whites like Sauvignon Blanc, Pinot Grigio or Riesling.
We urge you to try this soup recipe, and buy more than one bottle of the Huet Vouvray.  This Chenin Blanc will quickly become your go-to, food-pairing white wine.