Pinot Gris:  Beck-Hartweg Frankstein Grand Cru 2010 Alsace – Pairing Rating:  9.5 out of 10.0
Mid-March and 80˚ in Newport Beach, CA!  Wow . . . my kind of winter!  These warm, sunny days scream for fresh fish on the grill, served with a creamy, spiced sauce and a fruity, refreshing white wine.
We have been enjoying great, fresh seafood from Santa Monica Seafood in Costa Mesa.  Their swordfish always looks terrific and is unquestionably fresh.  So after securing a 2 lb block of their loin-cut swordfish, we reached for Weber's Art of the Grill cookbook.  Their recipe for Swordfish Kabobs with Roasted Red Pepper Aioli is a crowd-pleaser, a breeze to assemble, and it looks like summer on the plate.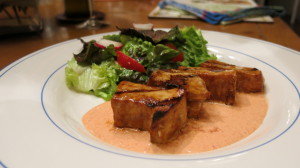 The swordfish "cubes" (about 1-1/2˝) are briefly marinated in olive oil, lemon juice, Hungarian paprika, chili powder and a little salt.  I prefer to use metal skewers for the heat transfer properties they bring to the grilling process; the kabobs take only about 5-6 minutes total over high heat.  The paprika and chili powder, combined with the grill marks, will impress your guests, showcasing your inner grillmaster.
Recipe: Swordfish Kabobs with Roasted Red Pepper Aioli
The aioli (served room temp) plays more than a supporting role in this dish.  On the plate, it frames the swordfish in a summery, salmon-colored backdrop of creaminess.  On the palate, it delivers a subtle lemon-cayenne pepper accent that complements the fish's texture; and amplifies, rather than covers, the flavors of the swordfish.  This is one of the best combos of grilled fish and sauce I have encountered.
If you have the time and the patience, you can grill the red peppers yourself.  Don't bother.  Use jarred, roasted peppers – they work beautifully.  Process the peppers with lemon juice, chopped garlic, good quality mayonnaise, a little salt and a pinch of cayenne pepper and you're done.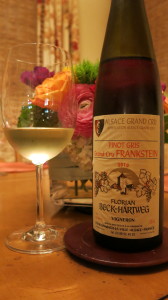 The lemon juice and the cayenne are key to this wine pairing.  We felt a sufficient amount of acidity was needed to stand up to the lemony flavors in both the marinade and the aioli, while delivering a lushness to balance the cayenne and a freshness to cleanse the palate.  I found all of that in an old-world Pinot Gris from Alsace :  Beck-Hartweg Frankstein Grand Cru 2010 ($20).   This is a beautifully balanced expression of Pinot Gris.  When your nose meets the complex pear and apple aromas in the glass, you know it's summer.  But it's not a beach party where the white wine competes with the Bud Light.  No, this is an elegant, pool-side, dinner party where the competition is Champagne and Vesper Martinis.
I would have scored this a perfect 10.0, but the wine may be a little hard to find.  It's not expensive, it's just not carried by a lot of wine stores.  If you have trouble locating a Pinot Gris from Alsace, look to Oregon.   Chehalem ($21) offers a good alternative.  But make no mistake:  Pinot Gris is not Pinot Grigio.  It's more elegant, complex and lush.  Perfect for this great recipe.