Nebbiolo:  Cantina Del Pino Barbaresco 2008 Ovello – Pairing Rating:  9.5 out of 10.0
Arneis:  Brovia 2014 Roero – Pairing Rating:  9.0
Forget Fettuccini Alfredo.  Too heavy, too one-dimensional and lacking umami, that brothy, meaty taste we crave.  Make room for Pasta with Robiola Cheese and Black Truffles.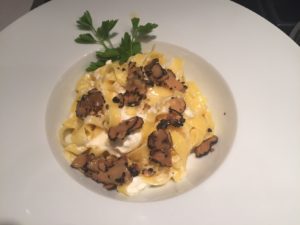 Robiola Rocchetta is a pasteurized "triple milk" cheese made from goat, cow and sheep milk. Developed in Tuscany, Robiola is a soft, white, mottled, bloomy rind cheese that is very creamy. The texture is fluffy and can be runny and luscious when at peak ripeness. Each round weighs about 9 ounces – enough for 6 servings of this pasta dish. Note, however, that Robiola is a seasonal cheese, with limited availability.
Recipe:  Pasta with Robiola and Truffles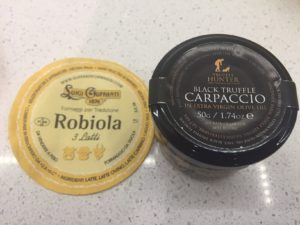 To garnish this pasta dish, we used jarred black truffles:  cost-effective and easy to work with. Just be sure to drain the truffles of the oil in the jar, unless of course, you are a glutton for that mushroom, umami flavor. We prefer the truffles to play a nuanced rather than a dominant role. More De Niro than Pacino. The result is a pasta recipe that outperforms Alfredo by delivering more earthy, cheesy flavors in a lighter frame:  egg noodles rather than Alfredo's Durum wheat noodles. . . and no heavy cream. The truffle shavings bejewel the dish, spiking it with bursts of umami. Delicious!
All that flavor begs for a wine that will refresh but not overpower. We think Arneis, a white grape that hails from the Piemonte region of northwest Italy, fills the bill.  The wines produced are generally unoaked, full-bodied and offer a moderate level of acidity. One of our favorite bottlings of this grape is the Brovia Arneis ($26). In the glass, the wine smells like summer:  flowers, pear and peach; with crisp lemon/lime on the palate. This Arneis hails from the Roero region, north of Barolo, where sandy soils help preserve the grapes acidity, sufficient to stand up to the creamy flavors of the pasta dish without overpowering it.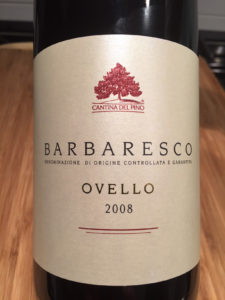 If your preference is a red wine, a Chianti Classico, from excellent vintages like 2010 or 2013, is a very good pairing choice.  Note that the 2013 vintage is still quite young, so decant and allow an hour to breathe. Our red preference with this dish, however, is a Nebbiolo from Barbaresco. Specifically, we like the 2008 Cantina Del Pino Barbaresco ($55) from the Ovello sub-region. The wine delivers candied cherry, truffle and earthy notes – the perfect bridge for the truffles in the pasta. One wine reviewer praised this medium-bodied wine for its "overall balance and sense of harmony". We couldn't agree more.
We rated the Barbaresco a bit higher reflecting our preference for its complexity over the refreshing acidity of the Arneis. You can't go wrong with either wine, as this pasta dish is really the show-stopper in this pairing. And if you are thinking of giving it a go, take De Niro's advice from the movie Heat: " I will not hesitate. Not for a second."