Riesling: Zilliken Mosel Kabinett Rausch 2012 – Pairing Rating: 9.5 out of 10.0
Beaujolais: Ch. Des Jacques Côte du Py Morgon 2010 – Pairing Rating: 9.0
How do you celebrate Mardi Gras when you're in California? Cook up a batch of Shrimp Gumbo with Andouille Sausage and watch the festivities on YouTube. My father repeatedly said "Stay away! Those celebrations (Mardi Gras and especially New Year's Eve) were for amateurs". We agreed and heeded (but he never told us which celebrations were for "pros"!).
I came across this recipe for Shrimp Gumbo in the NY Times and it's excellent. It has all the right elements: freshness, body, heat and complex spices. Serve it over steamed rice (or with cornbread) and you will be deserving of at least 5 strands of Mardi Gras beads.
Recipe: Shrimp Gumbo with Andouille Sausage
The recipe calls for shrimp broth or chicken broth. I chose to make the shrimp broth using the recipe found within the above link. Simple, flavorful and more authentic than chicken stock with this recipe.
The wine pairing challenge pitted Beaujolais against Riesling. The Beaujolais Morgon brought body, dark fruit and complexity to stand up to the protein and spices of the Gumbo. The Riesling brought freshness, acidity and slight sweetness to offset the heat of the cayenne and the Andouille sausage. Which wine won the challenge? Both did . . . for precisely the reasons they were chosen. Here is a little bit about each wine: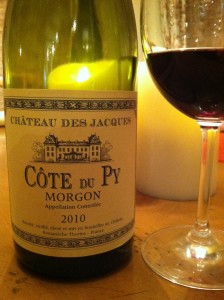 Morgon is one of the 10 Crus of Beaujolais. It is considered to be one of the bigger, darker Crus of this region. This Morgon (100% Gamay grape) delivers complex, smoky flavors of plum and black fruits, yet is lighter than Cabernet or Merlot. Chateau Des Jacques (purchased by Maison Louis Jadot in 2001) vinifies the Gamay grapes from the Côte du Py ($28) vineyard. This is serious Beaujolais compared to Beaujolais Nouveau: think Frank Langella versus Owen Wilson.
The 2012 Zilliken Riesling ($26) is from a historic vineyard called Saarburger-Rausch, in the Mosel region of Germany. The Kabinett designation means that the fruit is fully ripened, with no added sugars. But with the alcohol level at 8.5%, the wine is semi-dry. The resulting wine is light and elegant, with acidity and floral aromas; and a palate brimming with apple, peach, lime and slate-informed minerality. A refreshing complement to the spicy heat of the Gumbo.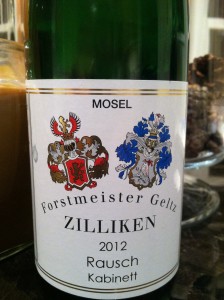 So what's my recommendation when both wines were great with this dish? Pour the Riesling if you are serving the Gumbo for lunch; and pour the Morgon if the Gumbo is your dinner entrée. Something about whites with lunch and reds with dinner resonates with me. And if you've never poured Riesling, this Gumbo recipe is a way to introduce yourself to one of the great food pairing wines – Riesling! With either wine, the results will be far from amateurish.