Assyrtiko & Semillon Blend: Ktima Biblia Chora Ovilos White 2015, Macedonia – Pairing Rating:  9.5 out of 10.0
The artichoke, the large flower bud of a kind of thistle, is said to be have been cultivated in Moorish Spain in the late Middle Ages. We have no idea how they were prepared back then, but today we are replete with recipes to bake, braise, stuff and steam them. The good news is that artichokes contain a heart-healthy antioxidant called cynarine.  The bad news is that cynarine has the unusual effect of making foods or wine, swallowed after a bite of artichoke, taste sweet.
One way to deal with this is to pair them with a highly acidic wine with no oak and little-to-no tannin.  This is essential if you intend to serve them steamed and unaccompanied.  But that limits your wine pairing choices to wines like Greek Assyrtiko, Austrian Gruner Veltliner, or even a Fino Sherry.
A better choice is to partner the artichoke with other foods that soften the impact of the cynarine and open more wine pairing alternatives. And that's exactly what my sister did for us this past weekend.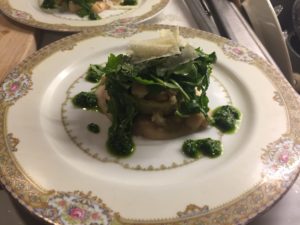 Recipe: Warm Artichoke Heart Salad with White Beans & Arugula
This recipe takes time to prepare, but Trish and I pitched in and made the aioli dressing and the Salsa Verde. I admit to not being a big fan of artichokes, but this dish was fantastic as a starter. The white beans, arugula, aioli and Salsa Verde all served to dampen the impact of the cynarine, while adding complexity and texture in every forkful.
This softening of the cynarine, as well as the creaminess of the beans, opens the door to more wine pairing choices than the ones mentioned above. Choices where the acidity is still front-and-center, but has been throttled back. One option is to seek out a blend of Assyrtiko and Semillon grapes.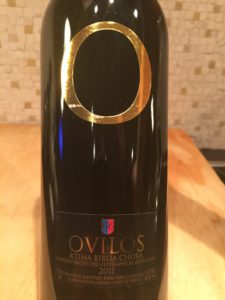 A wine we like from Macedonia is called Ovilos by Ktima Biblia Chora ($30). This 2015 blend delivered the acidity and tension of the Assyrtiko with the luscious texture and mouthfeel of the Semillon. The wine is youthful and exuberant on the palate, serving up notes of lime, fresh apples and pears, followed by a mineral finish. My sister and friends all voted this pairing as spectacular!
The Ovilos will be difficult to find. In fact, Wine-Searcher.com lists only one wine store (in Troy, NY) that has it. An alternative option is to seek out a Sauvignon Blanc that has spent some time on the lees (spent yeast cells). An Italian white from Trentino-Alto Adige, Cantina Terlano-Kellerei Terlan Winkl Sauvignon Terlano ($30), is a Sauvignon Blanc that's aged 5-7 months on the lees, 80% in stainless steel and the rest in large wood barrels. This treatment gives the wine a mouthfeel that is "rich yet taut", in the words of one reviewer. Ideal attributes for this pairing. A California version of this style can be found in a Cakebread Cellars Sauvignon Blanc, as described in a previous post: Sauvignon Blanc and Seared Scallops.
Wine & Food sites that state that artichokes are one of the most difficult foods to pair with wine are thinking of simply-steamed chokes. Don't surrender to this advice. Use this recipe to make the choke more interesting, more delicious and more wine friendly. And go online and order some of the Ovilos. Put a little Greek in your wine vocabulary.