Fiano di Avellino:  Romano Clelia Colli di Lapio 2014 – Pairing Rating:  9.0 out of 10.0
Amarone della Valpolicella:  Azienda Agricola Brigaldara 2011 – Pairing Rating:  9.5
You've just finished preparing and serving an elegant dinner for your best friends.  Now what?  Sweet dessert?  Too much sugar.  Cheese plate?  Lacks originality.  Fresh Fruit?  Healthy, but one dimensional.  Green salad?  Very French, but please, hurry up with the espresso before I fall asleep.  What we are proposing is a finishing course that combines parts of these in a single, delicious "salad".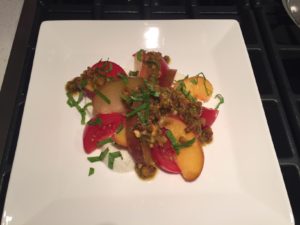 We prepared this for family and friends over Labor Day weekend, catching the last of the fresh nectarines, plums and summer tomatoes. Apologies for posting this after the season, but we will remind you next August as this is not to be missed, especially when tomatoes and stone fruits are at the peak of ripeness.
Stephanie Izard's Recipe: Tomato, Stone Fruit and Mozzarella Salad
Here are the key wine pairing questions:  do you focus on the stone fruit and honey-pistachio vinaigrette and go with a white wine? Or focus on the fresh tomatoes and Mozzarella and go for a juicy red wine?  We decided to put them to test.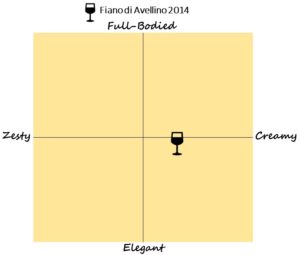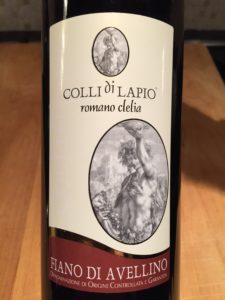 For the white, we chose a favorite of ours:  a Fiano di Avellino from Romano Clelia called Colli di Lapio 2014 ($23). We love this food-friendly, white wine for its tropical flavors and neutral oak. On the palate, a viscous, round mouthfeel was rich with apricot, melon and pineapple notes, delivering finesse and elegant complexity. While this Fiano was refreshing . . . and an excellent complement to the stone fruits and pistachios of the salad . . . we thought that some may prefer a more serious wine pairing.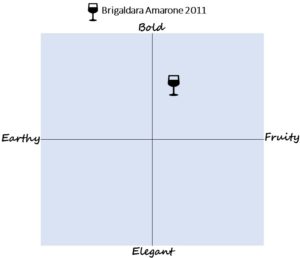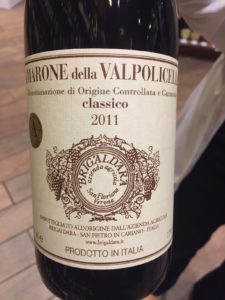 After testing several reds, we found that an old world Amarone from Brigaldara 2011 ($62) worked beautifully with the dish. Amarone, made from the same grapes as Valpolicella, undergoes the extra step of drying the grapes for 30 days to concentrate the flavors. This can make some Amarones inky, bold and sweet. This is evident in many new world styled Amarone, which are great for strong cheeses (as well as cigars), but rather limiting as a food partner. In contrast, the Brigaldara is lighter-styled and less sweet than new world fruit bombs (e.g. Allegrini).
The Brigaldara opened with the classic aromas of cooked cherries, cassis, clove and vanilla. On the palate, the wine served up an elegant, but not overpowering combination of dark plums, licorice, spices and herbs. This rich wine highlighted the role of the fresh tomatoes and mozzarella in a way that the Fiano couldn't.
Perhaps the way to think about these two wines with this dish is as follows:  if you wish to accent the fruit in this salad, choose the elegant Fiano di Avellino; if your desire is to make a bolder statement and underscore the cheese in the dish, then reach for the old world Amarone.
Either way, you can't miss because both will complement rather than upstage the star of the show – this outstanding salad.