Chateauneuf du Pape:  Domaine de la Janasse 2007 – Pairing Rating:  10.0 out of 10.0
When you consult a wine pairing guide in search of a recommendation for a wine with lamb chops you will likely get 5-6 grape recommendations ranging from Bonarda to Cabernet Sauvignon (warm climate) to Nero d'Avola. Not very helpful. What is more helpful, however, is the guidance to look for "fruity, smooth or powerful reds with medium acidity." While we are on board with that advice, unfortunately, it lacks precision.
To be more precise about a recommendation, one must consider how the chops are to be cooked (grilled or pan-roasted), seasoned (marinade) and/or sauced. For this post, we chose to marinate the chops and then grill them. Grilling argues for a wine with power over finesse, and marinades often have spices that can guide you to a specific grape/blend or wine region.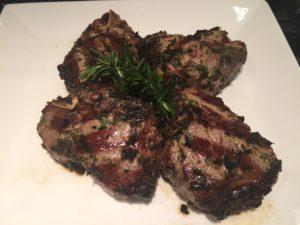 We chose the following Marinade:
Combine these ingredients for 4-6 loin lamb chops:
½ Cup Olive Oil
1 Tbl Mustard Seeds, crushed or 1-1/2 Tbl Dijon Mustard
3 medium Garlic cloves, crushed
1/3 cup Rosemary leaves, chopped
½ cup Parsley leaves, chopped
½ tsp salt (a bit more if Kosher salt)
½ tsp fresh ground black pepper
Marinate 4-8 hours in the frig.
Rosemary, mustard and lamb were meant to be together. And with this marinade, it was the Rosemary that led us to consider wines from the Southern Rhone in France. There, rosemary grows wild amid juniper, thyme and lavender, the sum of which is called garrigue. That was the inspiration to choose a red wine from the Southern Rhone for this pairing.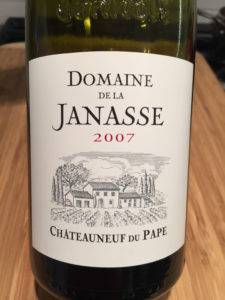 Our choice was a Janasse Chateauneuf du Pape 2007 ($78). This blend of 80% Grenache, 10% Syrah and 10% Mourvédre is from 50-year-old vines. After fermentation, the wine spent 12-14 months aging:  80% in tanks and 20% in small oak barrels (30% new). In the glass, a nose of garrigue was followed by an attack of pure velvet, reflecting the aged Grenache in the blend. The mid-palate was rich with sweet black and blueberry flavors and hints of fig and mint. The rosemary finish was remarkably long: super smooth and not at all jammy, due to the structured influence of the Syrah and Mourvédre. We loved this wine with the chops. It not only stood up to the dish's flavors, it took us to the brink, but not over the edge, of dominating the chops. Like Al Pacino in Scarface or Claire Danes in Homeland: both approach the threshold of overacting yet never cross the line . . . and deliver outstanding performances. The wine was the perfect balance of fruit, acidity and tannins.
If you like lamb chops, you will love this marinade. Sure, you can pair them with Cab or Merlot or Syrah, but none will best this pairing with Chateauneuf du Pape. And if you have never tried the wines of Domaine de la Janasse, you simply must seek them out.