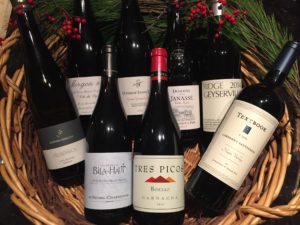 This is the time of year when wine merchants and wine journalists publish their recommended Holiday wines. Trish and I are usually put off by these lists, fearing that the merchants are trying to move overstocks. And with the journalists' recommendations, they are often obscure, hard to find wines, unless you live in NYC or LA. What's the point of recommending wines your readers can't easily buy? To this, we say: obscure wines don't always impress; rather, the recommendation can lead to frustration.
A better approach is to recommend wines for the Holidays recognizing these concerns:
Food Pairing: Organize the wines around the entrée and type of grape.
Availability: Recommend wines only if they are widely available at retail shops, as listed on wine-searcher.com. We aim for availability at 20 or more wine stores.
Price: If we recommend a wine that's over $40, we also list a less expensive alternative. We make an exception for Chablis and Champagne, where less expensive alternatives either don't exist or don't compare.
Turkey: We did a post a few weeks ago titled Thanksgiving Wines 2016  If you didn't see it, please check it out for our wine recommendations.
Baked Ham and Roast Pork
Riesling: Schafer-Frohlich Felseneck Kabinett 2015 ($34). Both 2014 and 2015 were outstanding vintage years Germany. Kabinett means the grapes were picked when fully ripe, so this Riesling has a hint of sweetness, making it ideal for a ham with a sweet glaze. If you prefer a drier Riesling, look for one that has "Trocken" on the label.
Chardonnay: Arrowood, Sonoma County, CA 2013/14 ($18) or Liquid Farm, White Hills, Ste. Rita Hills, CA 2014 ($41). Two price points, but both are excellent: Arrowood is a classic, barrel-fermented expression of California Chardonnay from Sonoma fruit, delivering a round, rich mouthfeel; the Liquid Farm was vinified from Central Coast fruit, seeing only neutral oak for a pure, elegant style.
Beaujolais: Foillard Morgon Côte du Py 2014 ($41). This wine is fruit-forward, structured and very classy. It's the antithesis of Beaujolais Nouveau. Made from the outstanding 2014 vintage by one of the best winemakers in Beaujolais.
Pinot Noir: MacMurray Ranch, Russian River, 2013/14 ($26) or Goldeneye, Anderson Valley, CA 2013 ($48). These are not the big, extracted styles you may have tasted from Meiomi, Kistler or Kosta Browne; nor are they austere like young French Burgundies. We find these to be well-balanced, food-friendly Pinots with beautiful fruit. Go for the 2013 vintage year if you can find it.
Seafood: All of the above wines will work, depending on the sauce you may use. For raw Oysters, we recommend the 2014 Grand Cru Chablis from William Fevre Les Clos ($110). For caviar, we think you should pair that with a Blanc de Blancs Champagne Cuvee de Reserve from Pierre Peters ($60). We love this superb, laser-focused, Brut Champagne made from 100% Chardonnay.
Roast Beef:
Napa Cabernet Sauvignon: Textbook Vineyards, 2014 ($28) does not shortchange you on big Napa Valley fruit, yet remains balanced. Excellent value. More nuanced is the Trefethen Family Vineyards, Oak Knoll District, 2013($50), while the Lail Vineyards Blueprint 2013 ($81) serves up even more complexity and finesse. Some wine stores may only have the 2014 vintage of these last two recommendations. While we favor 2013, 2014 was also a very good vintage for Napa.
Bordeaux Blend: Ramey Wine Cellars Claret, Napa, 2013 ($36) is dominated by Cabernet Sauvignon (55%) and Merlot (34%) and delivers a soft, juicy style of luscious Napa fruit. It's hard to believe that the Chateau Giscours, Margaux 2010 ($85) is still widely available. The wine reviewers loved this blend of Cabernet (71%) and Merlot (29%) for its freshness and intensity of red and black fruits, followed by a touch of mint on the finish. This Margaux, from the classic 2010 vintage, is a steal at this price.
Rhone Red Blend: For those who want to venture away from Cabernet, these wines, dominated by Syrah, Grenache and Mourvedré, are the proverbial iron fists in velvet gloves. We offer three price points: the Chapoutier Domaine de Bila-Haut, Côtes de Roussillon Villages Occultum 2015 ($27) is a well-made, entry level wine that will not disappoint. More compelling and complex are the Chateauneuf du Pape wines from Guigal 2010 ($48) and Domaine de la Janasse Tradition 2012 ($50). And for a truly special Holiday wine, seek out the Janasse Chateauneuf du Pape Vieilles Vigne 2012 ($99).
We hope you found this helpful. Please accept our best wishes for a safe and joyful Holiday season!