Grenache-Dominant Blend: Ch. Pesquie Côtes du Ventoux Terrasses, FR, 2010 – Pairing Rating: 9.5 out of 10.0
Beaujolais: Foillard Morgon Côte du Py, FR, 2012 – Pairing Rating: 8.5
Historians tell us that onion soups have been popular as far back as Roman times. However, the modern version of this soup originates in France in the 18th century. Legend has it that the first French Onion Soup was created by King Louis the XV of France when all that could be found in the pantry of his hunting party's lodge was butter, onions and champagne. While today's version is often finished under a grill in a ramekin with croutons and Comté cheese melted on top, Trish and I prefer to scale back on the adornments. We like to keep the dish light and serve it as a first course.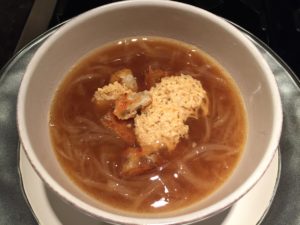 The recipe below is the one we use. You should know that slow-cooking the onions to achieve that beautiful caramel color could take 45 – 60 minutes. But it's worth it.
Onions hold chains of fructose sugars which, when slow-cooked, break down to produce a marked sweetness. We assert that this natural sweetness and the beef broth are the keys to this pairing. The broth argues for a red wine, and the sweet, caramelized onions cry out for a ripe, sweet-berry varietal . . . like Grenache. Recall that one of the tenets of wine pairing is that the wine should be as sweet as (or sweeter than) the dish itself. That's why Cabernet, Syrah, Nebbiolo and others are not good partners for this soup.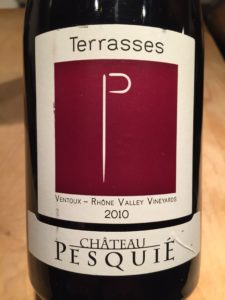 Our choice for an inexpensive Grenache was Chateau Pesquie Côtes du Ventoux Terrasses 2010 ($15). Ventoux is a region in the south of France, near Chateauneuf du Pape, in the Rhone Valley. This is Grenache country. And this wine, 70% Grenache and 30% Syrah, delivers a nose of sweet spices, punctuated with a hint of garrigue, the wild underbrush prevalent in this part of France. On the palate, the wine serves up sweet red fruits and a full, round mouthfeel, indicative of moderate acidity and soft tannins. We thought the wine was perfect for the sweet, beefy flavors of the Onion soup. We also tried a Syrah-dominant blend from Roussillon, a region south and west of Ventoux. The Roussillon was overpowering . . . and too spicy. It arm wrestled the soup for top billing, rather than complement it.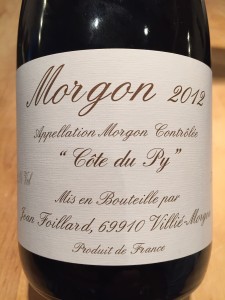 Julia Child recommends Beaujolais for her French Onion soup recipe, so we reached for a Foillard Morgon Côte du Py 2012. You may recall that this wine was one of our Thanksgiving 2016 recommendations for its medium weight and fruit-forward style. Note that of the 10 crus (villages) of the Beaujolais region, Morgon is one of the more robust expressions of the Gamay grape, just behind Moulin-a-Vent. There is a refreshing acidity with Morgan that is, perhaps, a bit more than we bargained for with the Onion soup. Let there be no misunderstanding, we love this wine, but with more savory food. It was like someone put on Adele when you wanted to listen to Norah Jones. As such, we scored the Morgon a bit lower that the Ventoux.
It's not lost on us that this soup is a throwback. A bit old school. But vinyl records have made a bit of a comeback. And Nintendo is releasing a new Super Mario game for the mobile devices. Maybe there's hope for French Onion soup after all.