It's hard not to like Thanksgiving. The family gathers, winter has yet to assault us, and as a Holiday, there's no anxiety over shopping and gift-giving. The only downside for me is the predictable, traditional menu. It's not a bad menu, but it clearly doesn't qualify as sensational. However, there is a silver lining – the diversity of flavors. And that diversity begs for serving not just one wine, but a variety.
I have written about wine pairings for this Holiday in each of the last two years, with Turkey Day Trials and Wines for Thanksgiving Dinner. Both posts argued strongly for opening a number of wines to not only meet the pairing demands of the broad array of flavors served, but also to satisfy the variety of wine palates sitting around the table.
I encourage you to go back to those earlier posts, as my thoughts and recommendations about Thanksgiving wines have not changed much. And those posts will give you commentary you may find helpful. But for a quick summary . . .
White Wines: I'm still going with my earlier recommendation of Pinot Gris, either from Alsace, FR, or from Oregon. If you insist on Chardonnay, I recommend Duckhorn 2014 ($30). It will have broad appeal in that it has plenty of fruit and creaminess, without being overoaked. Sort of the Golden Retriever of California Chardonnays – not demanding, just wants to please.
Mid-Weight Reds: Pinot Noir is a perennial favorite at Thanksgiving Dinner. As I wrote in prior years' posts, I favor lighter-styled Pinots from the Sonoma Coast, Alexander Valley or Oregon over heavier Pinots sometimes sourced from Napa Valley or the Central Coast. Goldeneye ($48 from Alexander Valley) is a good choice, as is a MacMurray Ranch Sonoma Coast ($22) and Bergstrom Shea Vineyard ($62 from Willamette Valley, OR). In last year's post, I also suggested serving a Cru Beaujolais (not Nouveau!) from the Fleurie or Morgon subregions. Roillette and Foillard are excellent producers, delivering amazing quality in the $30 – $40 range. I bet that not many of your guests are familiar with these Cru Beaujolais; let's bring them up the learning curve.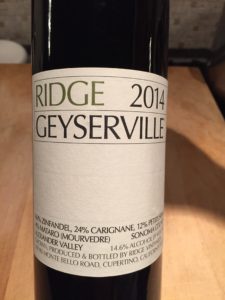 Full-Bodied Reds: These wines may border on being a bit heavy for this Holiday Dinner, but I assure you that some of your family members will welcome these wines. Zinfandel, a distinctly American grape and wine, is one that I have recommended in the past. Ridge is my go-to producer and their 2014 Geyserville blend (about 60% Zin and $40), is drinking beautifully.
A new suggestion this year for this category is Grenache, or as it's known in Spain, Garnacha. Like Zinfandel, Grenache delivers ripe, sweet fruit without the heaviness of Merlot or the peppery spice of Syrah. That sweetness pairs beautifully with yams, cranberry sauce and any fruit (apples) that may be in the stuffing. Furthermore, Grenache can be found at a variety of price points:
From Spain: Tres Picos Garnacha 2014 ($15)
From California: Bonny Doon Clos de Gilroy 2014 ($22)
From France: Santa Duc Gigondas Grand Grenache 66 – 2010 ($75)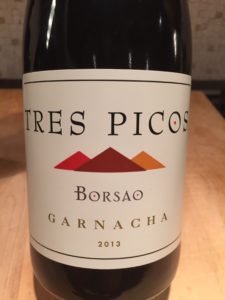 An abundance of food, and plenty of great wine choices, all served in the spirit of love and togetherness. Trish and I wish you and yours a safe and happy Thanksgiving.