Trish and I are always sad to leave the beauty of the Ojai Valley Inn and Spa, but after 2 nights there, it was time to move north and west. First stop: Dragonette Cellars in Buellton, a small farming town in the Santa Ynez Valley, about 90 minutes from Ojai.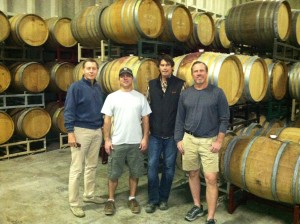 Founded by Brandon Sparks-Gillis, John and Steve Dragonette, with Jessica Gasca directing the sales effort , Dragonette is one of the standout producers in Santa Barbara County. The wines are made in a warehouse in an unpretentious part of Buellton off Highway 101. With a retail tasting room situated in the center of Los Olivos 10 miles away, Dragonette's winery in Buellton is free of the retail trappings found in many wineries today. It's simply a modern, clean and orderly winemaking facility.
We tasted 7 wines today: 2 Sauvignon Blancs, 2 Pinot Noirs, Grenache, and 2 Syrahs.   While Dragonette doesn't own vineyard land, they maintain strict viticultural standards over the vines they lease from prestigious vineyards like Stolpman, Sebastiano, Grassini and Radian. The winemakers strive to achieve an elegant blend of ripeness and acidity through the judicious use of new vs. neutral oak barrels, no racking and limited use of whole-cluster pressing. Said another way, they seem to be quite skillful at tailoring the winemaking to the characteristics of the fruit from the specific vineyards. I found their Sauvignon Blanc from Grassini, the Radian Pinot Noir and the Grenache to be superb, and particularly versatile as food partners.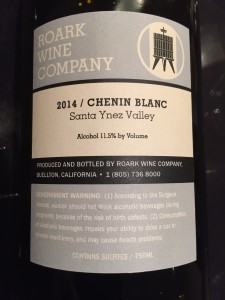 After a terrific lunch at nearby Industrial Eats, we headed down the street to meet Ryan Roark at his warehouse winery. Roark Wine Company is smaller in scale than Dragonette.  What captured my interest was Ryan's  penchant for making Chenin Blanc and Cabernet Franc . . . totally consistent with his experience in the Loire Valley (Savennéres), Napa (Etude) and New Zealand (Central Otago). He is unabashedly passionate to experiment with his blends. We sampled Pinot Noir and Cab Franc with varying amounts of whole cluster pressing. . . all done in pursuit of finesse and freshness. We sampled 9 wines from 2014 today: 2 Chenin Blancs, Sauvignon Blanc, 2 Pinot Noirs, 2 Cab Francs, Malbec, Merlot and Syrah (2013). Excellent were the Chenin Blanc, the Pinot Noir from Sanford & Benedict Vineyard, the Cab Franc (100% destemmed) and the Syrah from Ballard Canyon Vineyard. The added bonus is that these are all great values!
After Roark, we headed for the town of Cambria (under 2 hours). We stayed in the Blue Dolphin Inn on Moonstone Beach.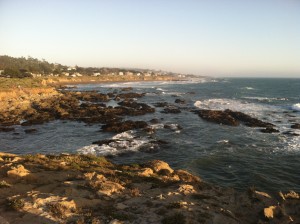 The Inn was small, but with well-appointed rooms, a few of which had full ocean views. As expected, this beach town was a little sleepy this time of year, but based on the number of shops and restaurants, must be bustling in the summer. Dinner at Robin's Restaurant in town was very good; go for the curry. Tomorrow we head north to the Santa Cruz mountains.