Syrah: Tardieu-Laurent Hermitage 2003 – Pairing Rating: 9.5 out of 10.0
Valpolicella Superiore: Dal Forno Romano 2007 – Pairing Rating 9.5

The Hill of Hermitage in the Northern Rhone region of France is where some of the finest Syrah in the world is grown. The picture above was taken by us when we had the opportunity to visit the area this past summer. Facing mostly south, these steep slopes of granite hold topsoil rich with flint and limestone – the perfect terroir to make wine royal enough to pair with braised short ribs. So it was the Hermitage Hill and our local craft butchery, Fleisher's, which sparked the idea of this blog post.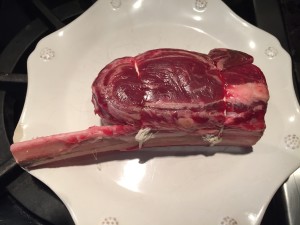 Fleisher's Craft Butchery recently opened in our town as an extension of their Brooklyn home base. They sell only pasture-raised meat, with The Royal Rib as one of their specialties. Essentially, it is a short rib with a portion of the meat "frenched" off the bone and tied back on itself to resemble a tomahawk. An impactful presentation to be sure, but still a short rib.
Recipe: Short Ribs Braised in Chimay Ale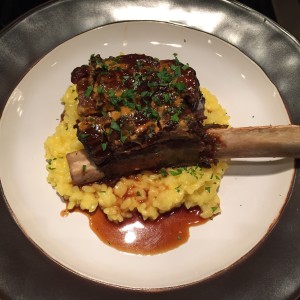 In the link above, you will find our go-to recipe for preparing these ribs. It is from Judy Rogers' Zuni Café cookbook, where the ribs are braised in Belgian Ale, complemented by Trish's Risotto alla Milanese (risotto with saffron). After braising for about 3 hours, and just before serving, the rib tops are given a thin coat of Dijon mustard and broiled for a few minutes. The sweetness of the ale and the tangy mustard played off each other beautifully, giving the meat just the right amount of complexity. Now the challenge was to find a grape and wine to stand up to this Royal Rib.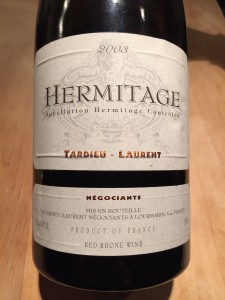 The Hermitage we chose was a 2003 from Tardieu-Laurent, a long-time negotiant (a buyer/producer, not a grower/producer) who sources Syrah from a variety of climats (vineyard areas) in Hermitage. We bought this wine upon release (~$60 back then) and first sampled it 5 years ago. It was very tannic – all of which was absent today, thereby allowing the fruit complex to strut its stuff. And strut it did, with notes of blackberry, tobacco, leather, a touch of sour cherry. On the palate, the wine was rather tightly knit with a focused, edgy mouthfeel, and a long finish where the red and black fruits linger. Complex and masculine, those earlier tannins had been tamed by time. We liked this wine a great deal, but recognized that its spicy, edgy mouthfeel may not appeal to everyone.
That thought led us to look for a rich, Italian wine from the Veneto region: Valpolicella. Some think of this wine as a Baby Amarone, or maybe an Understudy Amarone. We think the wine holds its own and, in fact, excels as a more versatile food wine than Amarone. It has similar black fruit and full throttle display of bittersweet chocolate and spice, but without the sweet, plumy heaviness of Amarone. And with this Royal Rib, the wine was near perfect.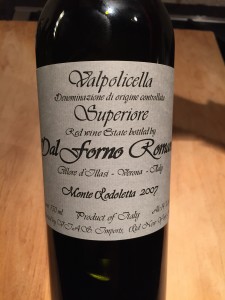 Valpolicellas can range in price from $13 to $80 per bottle. We chose the Dal Forno 2007 ($80) because it's reputed to be one of the finest. According to Italian DOC standards, Valpolicella must be 45-95% Corvina and 5-30% Rondinella. Dal Forno chose to blend 70% Corvina with 20% Rondinella plus other blending grapes for this vintage. Importantly, and unlike other Valpolicella producers, Dal Forno dries his grapes (appassimento) for 45 days, versus 90 days for his Amarone, prior to fermentation, adding richness and flavor concentration.
In 2007, Dal Forno did not make an Amarone, so all the best fruit went into his Valpolicella. With a nose of intense dried fruit, the wine served up rich flavors of sweet blackberry and a full, round mouthfeel. Yet with all the evident power, the wine maintained a balance that was long and sensual. It stood up to the ale-based sauce of the rib without overpowering it or losing its own authority. I liked this wine very much; Trish favored it over the Hermitage; while my good friend Bill thought both wines were excellent with the dish.
With this short rib recipe and either wine, you can't lose . . . and you'll be treating yourself and your guests like Royalty.