Nero d'Avola: Gulfi Nerobaronj 2007 (Vittoria, Sicily) – Pairing Rating: 9.5 out of 10.0
Syrah: Alban Vineyards Reva 2006 (Edna Valley, CA) – Pairing Rating : 8.5
If you open the most actively "clicked" wine and food pairing site on Google (unfortunately not mine!), here's what you get for wine pairings with venison: nothing. No venison listed on the chart. Go to popular wine pairing app called Pocket Wine. They call out Venison, but recommend 9 different grapes to pair with it – from Pinot Noir and Lagrein to Syrah and Corvina. Very helpful . . . thanks a bunch.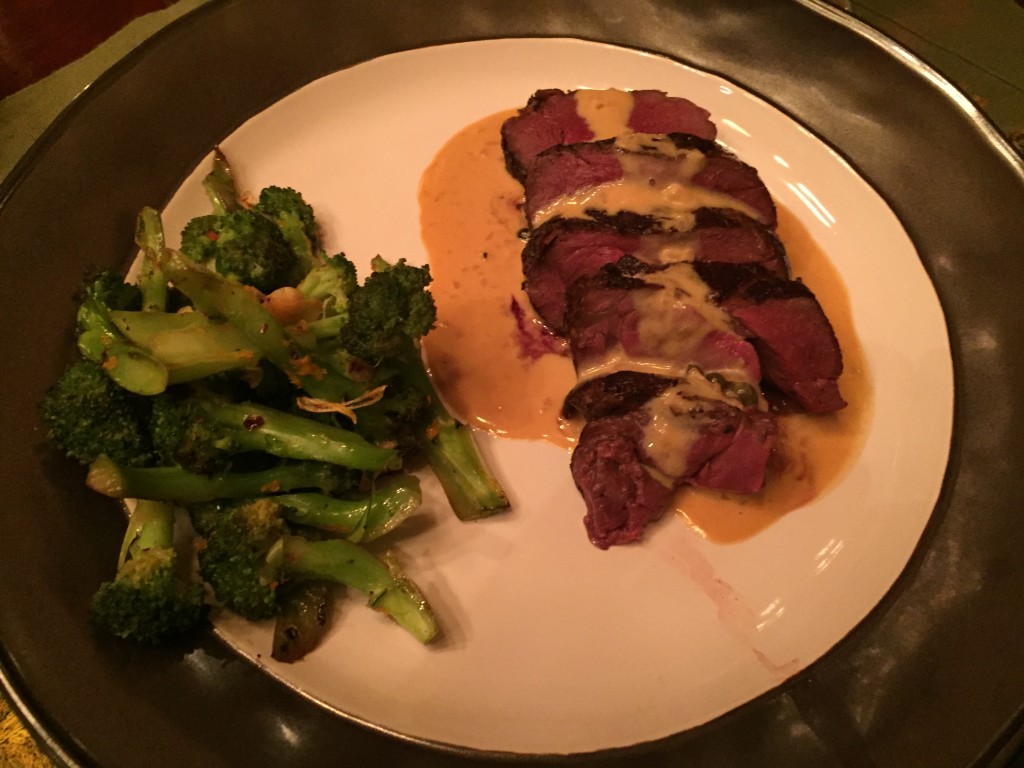 Yes, Venison can pair with a number of red grapes. However, the optimal pairing is predicated on how the meat will be cooked (roasted, grilled or sautéed) and, more importantly, how it will be spiced and/or sauced. That's the key insight; and evaluating various grapes/wines with a specific food preparation is what our blog is all about.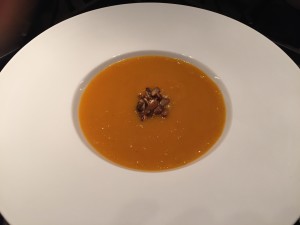 Enough of the rant about other pairing sites and on to the matter at hand. We had our close friends, Richard and Dana, over for dinner recently. They, too, are passionate about food and wine – perfect guests for an adventurous menu. Trish kicked off dinner with a delicious Pumpkin and Sweet Potato Soup with Spiced Pumpkin Seeds. The perfect color and fare for fall. You can find the recipe using this link:
Recipe: Pumpkin and Sweet Potato Soup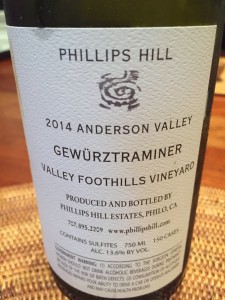 Because of the sweet potato, the soup had an ever-so-slight touch of sweetness. To match that, I served a Gewürztraminer from Anderson Valley in California. Gewürz's zesty fruit profile of melon and pineapple has just enough residual sugar to stand up to the sweet potato. Just great together. Our favorite producer is Phillips Hill, but that might be difficult to find. An easier catch might be the wines of Navarro Vineyards; just be sure their label says "Dry".
Some thoughts about venison. First, farm-raised venison is not gamey. It's extremely lean, with the fat and cholesterol content of broiled salmon. Importantly, it's delicious when served with an appropriate sauce, like green peppercorn. Because of the low fat content, you have to cook it rare or medium rare or it will dry out. Trust us on this. We seared it first, then roasted it in a 250 degree oven until the meat temp reached 140. Hollandeer Farms in Northern Vermont is our source for venison; we recommend the tenderloins and short loins.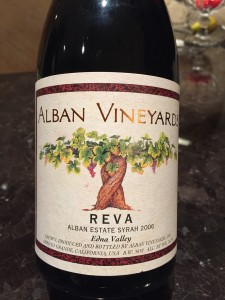 Richard brought a 2006 Syrah from Alban Vineyards called Reva ($280). The Syrah was rich – pure velvet – showing great balance between the fruit and wood. I found the balance striking, in that the wine spent 43 months in wood. Flush with red & black fruits, the Syrah came across as a blackberry liqueur coupled with notes of cassis and licorice. This concentrated, intense wine (16.4% alcohol) was given a score of 100 by Robert Parker when he reviewed the wine in 2010. But in spite of this concentration, the wine fell a little flat against the cream sauce. Dana felt the wine's fruit "got lost" in the peppery sauce. To be sure, this Syrah was beautiful. It just didn't show particularly well with the dish. Super-ripe and full-bodied (read: weighty), the Syrah didn't offer the proper contrast to the sauce. A classic example of how a "perfect" wine without food becomes "less than perfect" with some foods.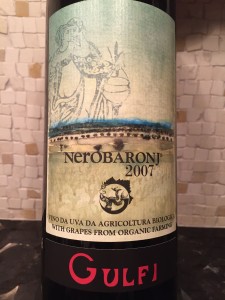 Intent on a throw-down with Richard's 100 point Alban Syrah, I poured the 2007 Gulfi Nerobaronj ($65). The Gulfi is 100% Nero d'Avola, a grape indigenous to Southeast Sicily. In the right hands, this grape produces wines of medium-to-full body with notes of plum and chocolate. Tannins can be high, but will soften with bottle age.
The 2007 Gulfi is a product of a single vineyard (Baroni), with clay-calcareous soils that give it freshness and noteworthy acidity, while delivering red and blue fruits. It was the brightness of the Gulfi, coupled with hints of espresso and smoke that made for a far more interesting pairing. The bright acidity (some reviewers use the term "nervy") and medium body provided a refreshing contrast with the heavier peppercorn sauce, besting the full-bodied Syrah.
Seek out the venison and the Gulfi or other Nero d'Avola producers. Life is too short to not explore regions like Sicily. But don't turn down the Alban Syrah either. Two nights after our dinner, the Syrah was stunning with a fine cigar. Maybe Parker was doing the same when he gave it 100 points; and in that pairing, he was correct!