Chenin Blanc: Huet Vouvray Sec Clos du Bourg 2012:  Pairing Rating – 9.5 out of 10.0
Chardonnay: Patz & Hall Sonoma Coast 2014:  Pairing Rating – 8.5
Every 10 years or so, a chef emerges to national/world acclaim on the culinary stage. In the 1970s, it was Julia Child; the 1980s gave us Emeril Lagasse; the 1990s were when Daniel Boulud and Thomas Keller gained national attention; and Mario Batali's fame skyrocked in the 2000s. All of these individuals shook the world of cooking with bold, creative ideas. While the current decade is far from over, one chef to watch is Yotam Ottolenghi.
Never heard of Ottolenghi??? We hadn't until recently. He is an award-winning chef with eponymous restaurants scattered about London, in addition to his high-end restaurant there called Nopi. Yotam and his partner, Sami Tamini, also wrote two NY Times best-selling cookbooks titled Plenty and Jerusalem.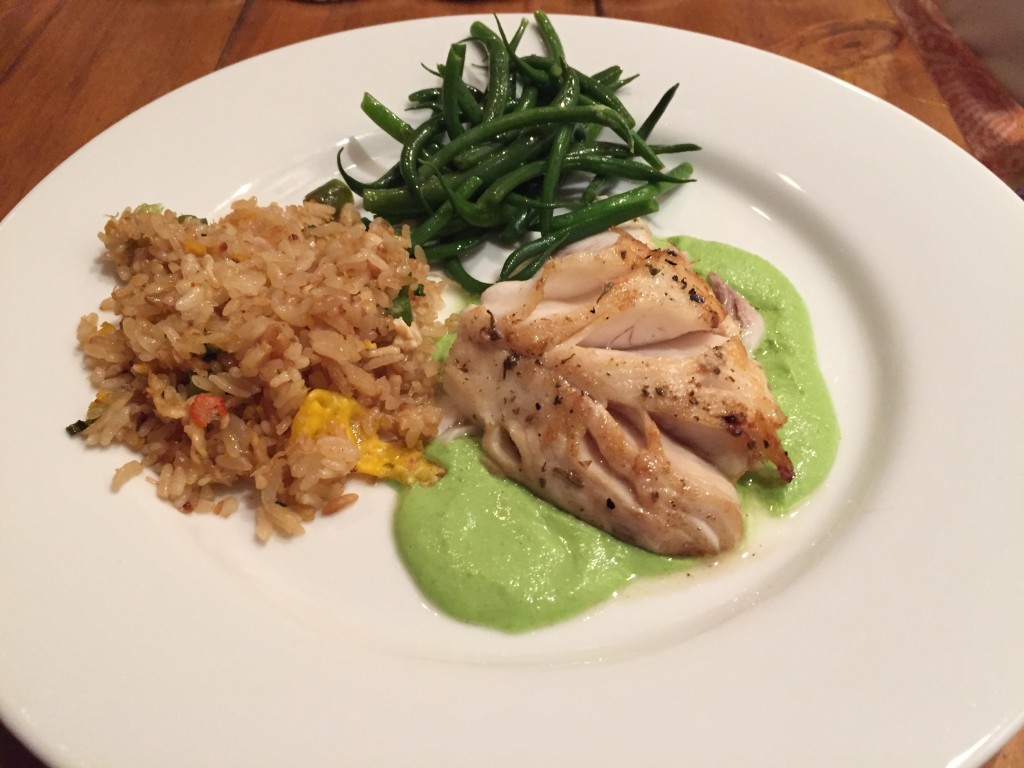 The sauce in this dish is taken from the Plenty cookbook, where it is seen as Sorrel Sauce. Sorrel may be a challenge to find in your local market, so I substituted with peas. The recipe is uncomplicated and quick:
1 cup frozen Peas, thawed
½ cup whole Greek Yogurt
1 clove Garlic, crushed
2 tablespoons Olive Oil
½ teaspoon Dijon mustard
4-5 Basil leaves
Salt
Place the first 5 ingredients in a blender or food processor; process until bright green. Taste and add salt as needed. Add the Basil leaves and pulse a few times. Refrigerate until needed. Allow the sauce to come to room temperature before plating.
Although Ottolenghi's cooking style is typically bold, with lemon and garlic aplenty, this recipe, dominated by the yogurt and peas, is all about finesse . . . perfect for the mild, moist, flavorful black cod.
We grilled the cod on a slotted grill pan, as it might fall apart if you did it directly on the grill grates. And if your local fish store doesn't have black cod (also called sablefish), Chilean Sea Bass is an excellent substitute.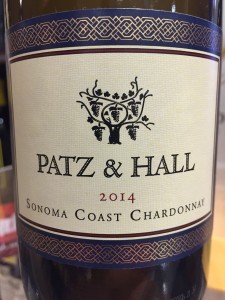 California Chardonnay, with its creamy texture and bright fruit, seemed like a logical choice for this dish. We chose a Patz & Hall 2014 Chardonnay from the Sonoma Coast. We didn't want too much oak, but wanted the acidity that the cool climate of the Coast usually brings to the grapes. The wine had a nose of citrus blossom and lime, with a lemony, refreshing attack. But on the finish, the wine was too bold for the delicate flavors of the fish and the sauce.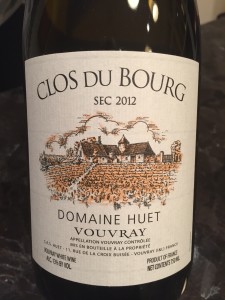 A better choice was the Huet Vouvray Sec Clos du Bourg 2012. This dry Chenin Blanc comes from the Loire Valley in France, and is frequently our go-to wine for pairings requiring a white wine. The Huet serves up apricot and melon, rather than the stronger lemon/lime flavors of the Chardonnay. Further, the Huet has enough acidity and plenty of complexity to complement the fish without overwhelming the pea sauce. Clearly, the better choice in our view.
The Ottolenghi cookbooks are sure to stir your imagination and your palate. We recommend you check them out at your local library and test a few recipes. And be sure to try the Huet Vouvray. It's a white wine that deserves more recognition for its delicious, food-pairing versatility.
If you have any ideas as to who might be the acclaimed chef this decade, send us a comment.  We'd love to hear from you.