While there was much to enjoy from the beautiful vineyard countryside to the relaxed pace of canal cruising, the Grand Cru dinners were the highlight of each day's events.  All were 4 course affairs, beginning with a "starter", followed by the main course, then a cheese plate, and concluding with dessert.
All the dinners aboard The Amaryllis were wonderfully creative, and my original plan was to write about each in detail. Too much information. Instead, I'll share with you some of the culinary and wine-pairing highlights.
One of the outstanding starters was a dish of Regional Ham served with both salt baked and raw beetroot and sheep yogurt. The complexity and creativity of this dish was typical of how we began each dinner aboard.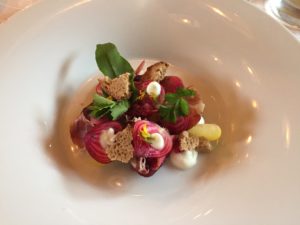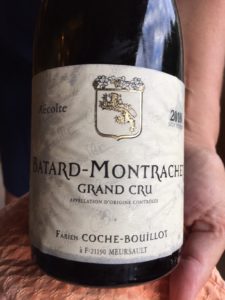 This starter course was served with a Domaine Coche Bouillot Bâtard Montrachet 2010 ($200). My initial reaction was that the raw beetroot might prove to be a pairing challenge for this Grand Cru Chardonnay, but the Bâtard was stunning with the diverse flavors of the starter. The wine was beautifully balanced with vibrant acidity, spicy richness, bold fruit and good grip. Advantaged by the vintage year (2010 was excellent for white Burgundies), this wine proved to be my favorite of all the white wines tasted on the cruise.
On to the main courses . . . and this one on Day 2 blew everyone away:  a Guinea Hen Breast with onion risotto, truffle and a soft-cooked hen yolk. Rich and velvety with perfectly cooked al dente rice. It was remarkable how the elements did not lose their individuality:  pickled radishes for texture, chanterelles for flavor, and egg yolk for a satiny finish.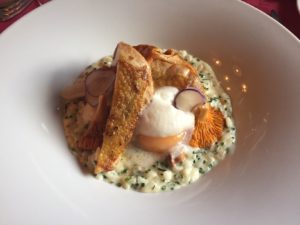 The hen was served with two reds – the Clos du Lambrays 2013 ($188) from Domaine des Lambrays and a Clos St. Denis 2012 ($120), from Domaine Coquard Loison Fleurot. Both climats (named vineyards) are in the Morey-St-Denis appellation, and are noted for their understated power and complexity, with the Lambrays just slightly less concentrated but with great finesse.
In my view, the 2012 vintage in Burgundy was superior to the 2013:  riper fruit and softer mouthfeel making for the early drinkability of the 2012. While both wines displayed red floral notes and bright cherry fruit, the 2013 was clearly more tannic. Perhaps the wines from 2013 will ultimately come around, but in this setting, the 2012 Clos St. Denis was the favored pairing.
The main course for our dinner on Day 3 was a Roasted Saddle of Lamb accompanied by barbecued lamb shank, onion, charred potato and barbecue lamb reduction.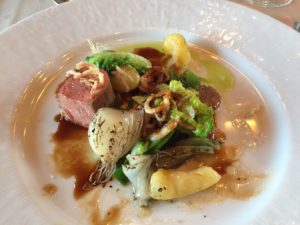 An unusual but outstanding treatment of lamb – one that I thought might overwhelm the Pinot Noir. This was not the case, however, as the barbecue spice was restrained – more like a post-it note than a billboard. Our sommelier, Louise, selected two contrasting red Burgundies for this entrée:  the recently released Domaine Lamarche La Grande Rue 2014 ($699) and an aged Bouchard Pére et Fils La Romanée ($800) from 1993. Both wines are from the Vosne-Romanée appellation, with land under vine of 4 acres and 2 acres, respectively.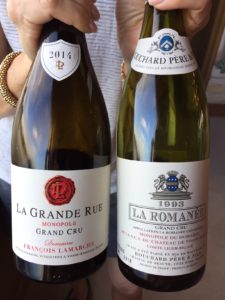 Domaine Lamarche is the sole owner of the climat known as La Grande Rue and this wine from the 2014 vintage was spectacular:  fruity, with graceful complexity. It was the guest favorite. I, however, had to award a slight edge to the Bouchard La Romanée 1993 for its ability to complement and not overpower the Saddle of Lamb. The age of the La Romanée allowed for a softer attack while still delivering dark fruit and a fine balance of acidity and supple tannin.
Red Grands Crus are said to be best when drunk within 10 years of the vintage year. These two wines exemplify why Pinot Noir grapes grown on these soils and in this climate are so remarkable and prized:  the La Grande Rue 2014 for its freshness and youthful complexity; and the La Romanée 1993 for its ability to age over 20 years. Truly special wines.
The penultimate dinner entrée of the cruise was earmarked for the Grands Crus from Domaine de la Romanée Conti. Sam, our chef, was not about to let the wines steal the show. He served a Fillet of Charolais Beef (local), accompanied by a potato fondant, the freshest of vegetables, and morels with a roast beef reduction.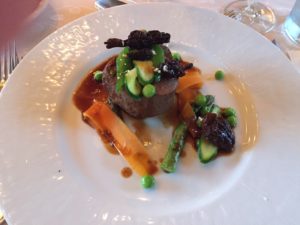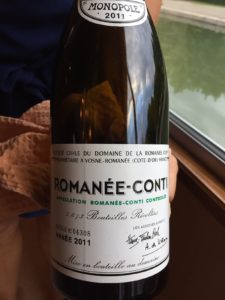 Louise first poured the Romanée Conti 2011 ($13,000). The nose was surprising subtle yet held all the elements of fruit, spice, and smoke expected of a wine of this stature. The palate was fresh, fleshy, and perfectly balanced. This Grand Cru Vosne-Romanée was utterly beautiful; velvety, spicy and seductive, and perfect with the beef tenderloin.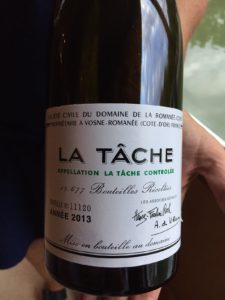 The second wine poured was also from Domaine de la Romanée Conti but of the 2013 vintage and from a climat called La Tâche ($3000). This sibling was bolder than the first wine with gobs of young fruit and a whisper of sour cherry on the finish. Slightly less elegant. Clearly some of the differences between the two was attributable to the vintage years, with 2011 considered slightly more favorable than 2013. But the whole experience was a bit like being in a Maserati showroom and preferring the red convertible over the silver hardtop.  Truly a first-world, Grand Cru problem.
Desserts ranged from Chocolate Mousse to White Chocolate Brulée with Frangelico, rhubarb and strawberry. My favorite, however, was a deconstructed Raspberry Tart.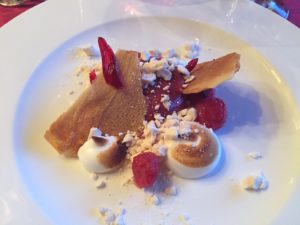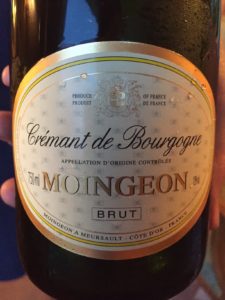 This beauty was served with a non-vintage sparkling wine made in Burgundy – Moingeon Crémant de Bourgogne Brut ($17). Made from Pinot Noir and Chardonnay in the traditional method of Champagne, this sparkler was delicious with Sam's Tart, delivering crisp acidity of citrus and apple. A pleasant reminder of the versatility of sparkling wines with both sweet and savory dishes.
I'm aware that I've overstayed my welcome with the length of this post, but I wanted to give you a sense of the quality of the wines and foods served on this remarkable barge cruise. It's been said that one of the mysteries of wine is that it may taste different in a different setting. It's impossible that these wines could taste any better considering the friendship, food and wine region in which we enjoyed them. Thank you, Jim and Cathy, for making this possible.