Trish and I recently returned from a trip to Umbria, Italy, where we had the opportunity to enjoy some of the wines for which this region in central Italy is famous, as well as  experience Umbrian recipes and sample local foods. Tartufo (truffles), Pecorino cheeses, Porchetta (whole roasted pig), eel from Lake Trasimeno, lentils from Castelluccio, peas from Bettona, onions from Cannara, olive oil from Colli Martani and charcuterie from Norcia all made for robust regional cuisine and wine pairing explorations.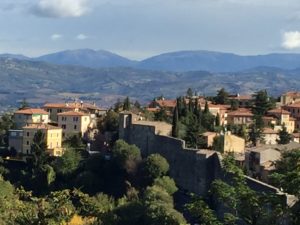 Perugia, the capital of Umbria
Pairing locally-produced wines with foods from the same region is always a great place to start, and this is especially true for Umbria. Seafood, cream-based pasta dishes and olive-oil dressed vegetables all made excellent pairings with the white wine blend called Orvieto Classico Superiore. Crisp and minerally, the Orvieto has more mouth feel than Sauvignon Blanc or Chablis and a finish of stone fruits rather than citrus. While we tried whites from local Chardonnay and Trebbiano grapes, we kept coming back to this Orvieto. Simply a terrific lunch wine, especially the San Giovanni from Antinori ($21).
While the Orvieto was a scene-stealer at lunch, dinner belonged to the red wines of Montefalco . . . a village (and DOC) southwest of Perugia. Montefalco wineries, famous for the region's Sagrantino grape, have learned to tame this tannic red beast. And as a single varietal or blended with Sangiovese, it produces a food wine that pairs beautifully with the strong flavors of Tartufo, Porchetta and the cured meats of Norcia. In our judgment, no Umbrian producer of Montefalco wines does that better than Paolo Bea.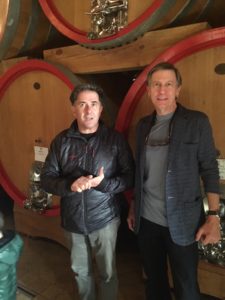 Paolo and his two sons, Giuseppe and Giampiero (pictured with me below), are the quintessential artisanal producers of noninterventionist, organic, terroir-focused wines whose labels proudly provide full disclosure of process and content. While Bea produces nine wines depending on the vintage year, we have chosen to highlight 3 wines that feature the Sagrantino grape.
A great introduction to these red wines is one Bea calls Pipparello ($68), the name of the original owner of some of the Bea property. The 2010 Pipparello is 60% Sangiovese, 15% Sagrantino and 25% Montepulciano d'Abruzzo. Here, classic Sangiovese fruit is given more body with the addition of Sagrantino, while the Montepulciano softens the edges. We found the wine to sparkle with energy and ripe red fruits; in my tasting notes I wrote "alive and elegant!" A perfect wine for tomato-based pasta dishes, Porcini mushrooms or a Porchetta sandwich.
A bigger, bolder red, made with 100% Sagrantino, can be found in a wine Bea calls Pagliaro ($90). Like the Pipparello, the grapes macerate for 40 days, age 11 months in stainless steel followed by 32 months in large Slavonian casks (botti). More muscular, with notes of black fruits, leather, tobacco and warm spices, this wine requires some bottle aging, not unlike a Barolo. With time, however, the astringent tannins mellow, yet still stand up to the strong flavors of truffle, Pecorino cheese and grilled meats.
A sweet, red dessert wine, also made from 100% Sagrantino, can be found in Bea's Montefalco Sagrantino Passito ($82 for half-bottle). Production of this wine starts by aging the grapes on aerating mats (see below) for several weeks to concentrate both the sugars and complex flavors. Amazing how time and aeration can turn one of the most tannic grapes, Sagrantino, from a beast to a sweetie.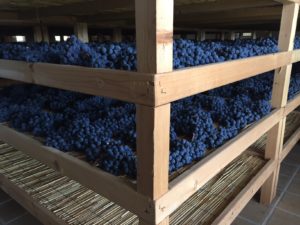 Fermenting on the skins for about 40 days, followed by aging in stainless steel and then oak, the Passito is bottled about 5 years after harvest. This wine is bipolar:  sweet yet savory, smooth but with an acid spine; it delivers tension but does so with elegance. Ideal for a concluding cheese course or Tiramisu.
If you enjoy bold wines and appreciate how tannins can enhance the food & wine experience, seek out the Sagrantinos of Montefalco, especially those of Paolo Bea.