Touriga Nacional:  Quinta do Vallado, Douro, Portugal 2009 – Pairing Rating 9.5 out of 10.0
Pinot Noir:  Williams & Selyem Sonoma Coast Hirsch Vineyard 2008 – Pairing Rating 8.0
One of the tenets of wine and food pairing is: If you are cooking with wine, consider serving the same wine with the finished dish. That's really a corollary of this directive: Don't ever cook with cheap wine. Absolutely true. Another tenet is:  With the meal, always choose a wine that is 'sweeter' than the finished dish or sauce. For example, Sauterne is often served with dessert, like a peach torte; Zinfandel pairs beautifully with Kansas City BBQ-Sauced Ribs; and let's not forget Port with a fine cigar. OK that last one doesn't really belong here, but it is a great pairing, nonetheless.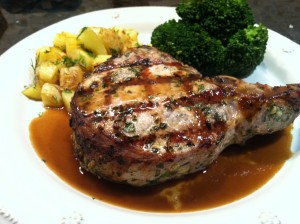 With these tenets in mind, consider this dish: Marinated Grilled Pork Chops.  Chops prepared this way argue for a robust, structured, red wine to stand up to the flavors of the marinade and the grilling process. The Sauce is prepared with Pinot Noir, espresso and some red wine vinegar – definitely not sweet but a little tart (piquant?) and savory.
Sounds like any Cabernet, California Syrah, or Grenache-based wines with their sweet, fruit-forward profiles would pair beautifully with this terrific recipe. And they do! But why be so unimaginative? The sauce in this dish is savory and earthy, therefore, it opens the door for you to serve a robust red that is not as sweet as those three – wines like Hermitage, Aglianico, Sagrantino or, my choice, a dry Portuguese red from Douro. Seize this menu opportunity to serve a drier red wine that showcases your skill as an imaginative wine-pairer.
The recipe is from The Wine Enthusiast magazine (circa 2000).
Recipe: Pork Chops with Espresso-Infused Demi-Glace
This recipe calls for 2 cups of Demi-Glace. I make it by dissolving 2 heaping teaspoons of a product called Classic French Demi-Glace by "More Than Gourmet" in 2 cups of simmering beef broth (or stock). This concentrated Demi-Glace is available in gourmet food stores and most Whole Foods Markets. When the sauce is complete, we whisk in 2 tablespoons of softened butter to mount the sauce
We grill our pork pink . . . no more. The amazing thing about this sauce is that its complexity heightens when the meat juices on your plate mingle with the sauce. Those juices soften the tartness of the espresso and vinegar notes, thereby enriching the sauce further.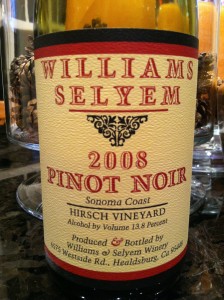 In adhering to the first tenet mentioned above, I poured a 2008 Williams & Selyem Pinot Noir from the Hirsch Vineyard ($94).  A beautiful expression of Pinot Noir grown at 1400′ elevation on the northern reaches of the Sonoma Coast. And even though this was the wine used in the marinade, the espresso and vinegar notes simply overpowered the Pinot. This wine tends to more Burgundian than Napa Pinots, whose riper, richer fruit may have worked better with this sauce. Save this outstanding Hirsch Vineyard Pinot for a more delicate dish: grilled salmon, for example.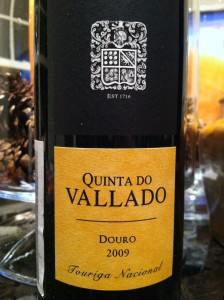 A better choice for the pairing was the 2009 Quinta do Vallado ($48) from the Douro region of Portugal. This structured red is dark in color and rich in black fruits. Aromas of rosemary and violets mark this as a serious wine in search of a serious entree. The wine is made from the Touriga Nacional grape, of red Port fame. This, however, is a dry vinification of the grape. It carries the intensity but not the weight nor the sweetness found in Port. Not only did it stand up to the sauce, it offered the appropriate level of ripe fruit, neither overpowering nor diminishing the complexity of the dish. We thought . . . perfect.
One more tenet of wine with dinner: as you move from one course to the next, it is customary to stick with the same grape. So if you follow our recommendation and serve the Quinta do Vallado, you will be all set to conclude an outstanding dinner with that fine cigar and Vintage Port.