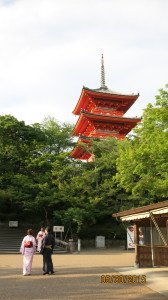 Our oldest son, Ross, pushed hard for a family trip to Japan. Our first trip was in 2001 and we were rookies. Fast-forward 14 years: Ross has been there twice alone, and is now conversationally fluent in the language. We had our tour guide! So we were all psyched to experience this rich culture with a heightened sense of awareness.
Our 2-week trip included time in Tokyo, Kyoto, resort areas of the Izu Peninsula and a Sake distillery in the Fukashima Prefecture. I won't bore you with all the details, but we do want to share with you some of the things we observed on the streets of Tokyo and Kyoto. Yes, Tokyo is a very large metro city (Kyoto quite a bit smaller) but consider how Tokyo is different from New York City:
Almost Never Seen or Experienced in Tokyo
–       Train Delays
–       Paper Towels in Bathrooms (with hand dryers a rarity, the expectation is "air-dry")
–       Trash cans on the street (except for some recycling bins)
–       Trash on the street (with no trash cans, personal responsibility is assumed and delivered)
–       Dogs on the street (leashed or not)
Never Seen:
–       Dirty Taxis, Trains and Subways (no graffiti anywhere)
–       Dirty Public Bathrooms (in parks, shrines and temples)
–       Jaywalking (too respectful for this infraction)
–       Tipping (gratuities are never expected and usually unaccepted)
–       Sunglasses (not sure what that is about)
Commonly Seen or Experienced:
–       Sincere politeness
–       Taxi drivers with jacket, tie and white gloves
–       Hot Hand Towels before a Meal
–       Clean, upholstered seats on trains & subways
–       English translations of signs in train stations, shrines, temples
–       No Street vendors, but Vending Machines for Hot & Cold Drinks and Ice Cream Bars
With Sushi/Sashimi restaurants in abundance in Tokyo and Kyoto, we thought we would share with you a few of the restaurants we enjoyed that did not feature raw fish.
Tokyo Restaurants
–       Gonpachi in Nishi-Azabu, Minato-Ku: very good Yakitori (chicken skewers) as well as sushi. This is the restaurant where a fight scene from Kill Bill Vol.1 was filmed
 –      Morita-ya, Marunouchi Bldg 35th floor: excellent Shabu-Shubu (beef & vegetables cooked in hot broth) with views of Tokyo at night
–       Ristorante Hi Ro in Ginza: contemporary Italian cuisine with an excellent wine list
–       The Peak Bar at the Park Hyatt Hotel: enjoy a cocktail and fabulous city views from the 41st floor
Kyoto Restaurants
 –      Hafuu Honten, within walking distance of the Ritz-Carlton: excellent smoked salmon and  grilled steak
–       Ristorante dei Cacciatori in Gion area: classic Italian Course Menu – only 14 seats
 –      Wabiya Korekido in Gion area: superb Yakitori and "Silver" rice. Request counter seats.
It's not lost on us that Japan may not be on your radar screen (it should be!). But someone you know may be going and we thought the above list might be helpful. And if you are interested in some of the not-to-be-missed shrines and parks in Tokyo and Kyoto, reply to this post and we will email you a listing.