Frappato:  Occhipinti Il Frappato 2012, Sicily – Pairing Rating:  9.0 out of 10.0
Pinot Noir:  Dragonette Cellars Black Label Sta. Rita Hills CA, 2013 – Pairing Rating:  9.0
Trying to get a reservation at Rao's Restaurant in the Bronx, an Italian hangout for celebs and politicians, is like trying to get a politician to produce his or her tax returns. Good luck. We recommend you simply buy the Rao's Cookbook, a compendium of traditional Southern Italian recipes. Their Veal Marsala is uncomplicated and simple to execute. Our decision to replace the veal with chicken breasts was inconsequential, because the key to the flavor of this dish is the Marsala wine.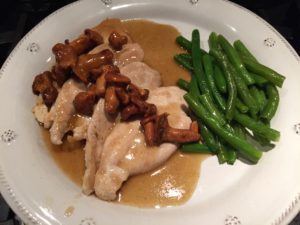 Marsala hails from a region known as Val di Mazara on the western tip of Sicily.  Said to be "invented" by an English merchant named John Woodhouse in the 1770's, Marsala is essentially a fortified white wine, where concentrated grape spirit is added to fully fermented white wine. Like Madiera and Sherry, Marsala is an oxidized wine. Color can range from oro for golden, ambra for amber, and rubino for ruby; residual sugar content can range from Dry (secco) to Sweet.
We recommend Lombardo Fine Oro Sweet Marsala ($16) when cooking. It's inexpensive, golden in color, imparts a beautiful flavor and caramelizes the sauce. Straight-up, it's concentrated and tastes of sweet almonds, prunes, brown sugar and stewed apricots. If you can't find the Lombardo, look for Florio Fine Sweet.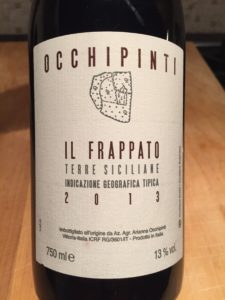 Working to keep the wine pairing a marriage of Sicilians, we selected a wine made from a grape indigenous to Southern Sicily – Frappato.  One of the outstanding vintners of this grape is Arianna Occhipinti; she calls her bottling Il Frappato ($40 for the 2014). The wine was bright and ripe, showing strawberry, cherry and pomegranate fruitiness but with a bit of astringency, although some describe this aspect as light and delicate. In the glass, the color and floral nose of Frappato could be mistaken for Pinot Noir. But on the palate, the wine is bolder than Pinot:  similar in weight, but spicier, with leather nuances from the 14 months of aging in very large Slavonian oak casks. Sharply etched, the wine's astringency was redeemed by its fruit. Trish and I liked the Il Frappato very much with this dish –  but we recognize that it may not be for everyone; hence the pairing rating of 9.0.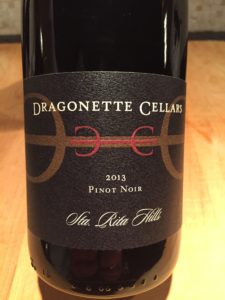 It was now clear to us that we needed to dial down the astringency a bit, but try to keep the mid-weight delicacy and fruit vibrancy. So we reached for a Pinot Noir from California's Central Coast:  Dragonette Cellars Pinot Noir Black Label 2013 ($95), a blend from vineyards in the Santa Rita Hills, north of Santa Barbara. The nose was redolent of black cherry and ripe strawberry, with hints of wood spice. On the palate, the wine was somewhat fat with cherry, raspberry and blackberry, with a touch of licorice. Compared to the Il Frappato, the Black Label Pinot Noir was markedly smoother. Some of this can be attributed to the aging technique:  20 months in French oak barrels (64% new) for the Pinot, versus 14 months in Slavonian oak casks. The smaller barrels allow for more oxygen migration through the wood grain, relative to the volume of juice in the barrel, thereby softening the grape tannins to an extent greater than the casks.
The Dragonette is an undisputed crown-pleaser. The silkiness of the Pinot is noteworthy. However, the wine may be hard to locate, as they only made 225 cases of the Black Label in 2013. Pinot Noirs that are similar in style are available from Goldeneye, Dutton-Goldfield, Roar and DuMol, to name a few.
As much as we enjoyed the Dragonette, we always seem to favor wines with more vibrant acidity. As such, we preferred the Il Frappato with this dish. We encourage you to try this pairing . . . pure Sicilian. Think of the Frappato as a gateway to exploring more Sicilian varietals, notably Nero d'Avola and Nerello Mascalese (Etna Rosso). See why Sommeliers are calling Sicilian wines (and the 2014 vintage, in particular) the most interesting and underrated wines on their lists.