BBQ'd Pork Ribs with Kansas City Style Sauce, New Potato Salad and Napa Cabbage/Kale Salad
 Zinfandel: Williams & Selyem Papera Vineyard, CA 2008 – Pairing Rating:  9.0 out of 10.0
 Tempranillo:  Numanthia, Spain 2004 – Pairing Rating:  8.0
 Syrah:  Favia, Amador County CA 2007 – Pairing Rating:  7.0
Nothing spells the start of summer better than the sweet smell of smoked pork ribs.  So this past Memorial Day weekend, 8 members of my extended family and 6 racks of St. Louis style ribs joined my wife and me for my birthday celebration.  I use the dry rub recipe in The Thrill of the Grill cookbook and smoked the ribs over Alder wood for 4 hours in a 225º smoker.  They next endured a 175º oven for about 2 hours in a pan wrapped tightly with foil.  This tenderizes the meat without purging it of all its fatty juices.  I then sauce them (I lean toward a slightly sweeter sauce) and grill them (direct) on a gas grill to caramelize the sauce – about 4 min a side.  Always a showstopper to return to the party with a pan stacked tall with these beauties.  Accompany these ribs with New Potato Salad plus a Napa Cabbage & Kale salad (with vinaigrette and crumbled blue cheese) and then get ready for the accolades.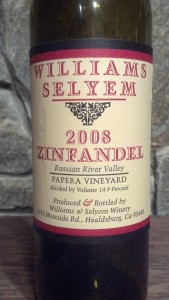 The wine pairing for this dinner allows for plenty of choices.  But I was interested in finding out which grape the crowd enjoyed the most with the meal:  Zinfandel, California Syrah or Tempranillo.  The Zin was a 2008 from Williams Selyem Papera Vineyard ($79), the Syrah was a 2007 by Favia from Amador County ($75), and the Tempranillo (Tinto de Toro really) was a 2004 from Numanthia ($55 for the 2009).  I selected these because I felt they all had spice, ripe sweetness and power . . . but to varying degrees.  The Favia Syrah was the least favorite:  just too much sweetness.  My nephew said it tasted like candy.  The Numanthia was the driest and the most powerful of the three, but the oak was not for the lighthearted.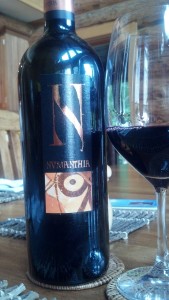 The Numanthia spice was right for the ribs, but the pairing with the blue cheese was not ideal.  I think the saltiness of the cheese called for a little more ripeness than the Numanthia could deliver.  I (and many others) felt that the Zinfandel was the best overall pairing, complementing both the spiciness of the ribs and the saltiness of the blue cheese in the salad.  Lighter on the oak and tannins than the Numanthia, it was the first wine bottle emptied.  Good thing I had back up!
The key to a good pairing is to recognize that the sauces and vinagrettes are more critical than the protein itself.  Had I used different ingredients in the BBQ sauce or a salad dressing without the blue cheese, the pairing may have been different.
Since this is only the start of summer, however, there will be many more opportunities to explore pairings with sauced, smoked meats.  Next time we'll try Grenache or maybe a Washington State Merlot.  Until then, have a great smokin' summer!