We couldn't leave the Russian River Valley without a visit to Williams-Selyem, about 20 minutes south of Healdsburg. This winery requires an appointment. The property is gated and there is no sign. But once in, you will see how the Williams-Selyem team has modernized and grown this brand of Pinots and Chardonnays while preserving the quality and style of the founding winemaking duo.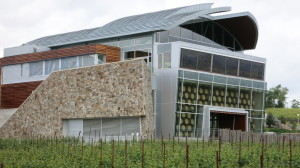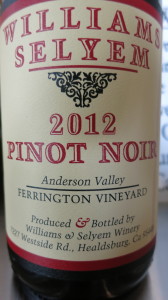 The private, sit down tasting included a brief tour of the winery and a vineyard walk. We tasted Chenin Blanc, 2 Chardonnays (2013 and 2008), 2 aged Pinot Noirs (1997 and 2002) and 2 Pinots from 2012. Our very gracious host was demonstrating the age-ability of their winemaking style, as well as allowing us to taste wines (from small vineyards) available only at the winery. Having been a mailing list customer of Williams-Selyem for many years, we are aware of their ability to age 10 years or so, but the '97 and the '02 convinced us that 12 to 15 years is about the limit. Nevertheless, we love these wines for their freshness, bright cherry fruit, crisp acidity and ability to pair with food. The Williams-Selyem Pinots are distinctive: they are lighter, and evidence a tension of both sweet fruit and acidity that is more pronounced than that of the Dutton-Goldfield and Hartford Family Pinots tasted the previous day. If you have not tasted these wines, try to do so. See why Williams-Selyem has become one of the cult Pinots in California.
From there we headed north to Rt. 128 and the Anderson Valley. Because of the cooler climate, the Pinot Noirs and Chardonnays are likely to be leaner than wines from Sonoma. Furthermore, you will find German varietals (Gewürztraminer and Riesling) grown and vinified here – both dry and sweet.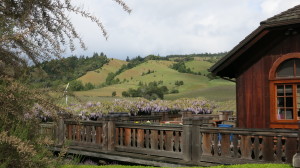 Trish and I were both moved by the rural authenticity of the vineyards and wineries here. This is smaller-scaled Napa without the gloss and sheen. After an excellent gourmet pizza at Stone & Embers in The Madrones, we drove 10 minutes to the Phillips Hill Winery.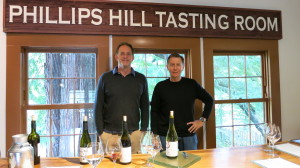 Winemaker Toby Hill welcomed us to his tasting room – an old apple-drying barn – beautifully renovated.   Phillips Hill is a small producer (about 1800 cases) passionate about making wines that speak authentically of varietal and vineyard. We loved the unoaked 2013 Chardonnay from the Ridley Vineyard's river rock soils. We also tasted 3 Pinot Noirs from different vineyards (Valenti, Oppenlander, and a blend of Romas, Valenti and Ridley).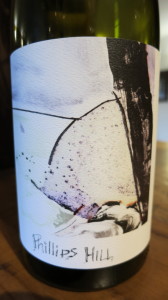 All were very high quality vinifications that saw native yeasts and 20-30% new French Oak. As a testament to the quality we found in these wines, Phillips Hill is one of only two wineries where we had wine shipped home. Bravo, Toby!
Navarro Vineyards was our last winery stop of the day. As an elder father of Anderson Valley (growing grapes and bottling wine since 1973), Navarro is known for their Alsatian and German varietals: Gewürztraminer, Riesling, Pinot Gris, Pinot Blanc and Muscat Blanc.
They also bottle Pinot Noir
and a number of other red varietals, but we believe their whites are the standouts. If you want to expand your knowledge of both dry and sweet whites, definitely make a stop at Navarro's tasting room.  We were given the opportunity to taste 15 of their wines (we selected 8) and were served cheeses they make on an adjacent property. As an expression of their confidence in their offerings, there is no charge for the tasting!
The drive to Mendocino on Rt. 128 took us through the hauntingly beautiful Navarro River Redwoods State Park. The majesty of California's Redwoods never fails to impress.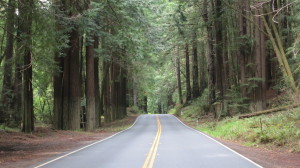 We spent the night at the Brewery Gulch Inn, just outside Mendocino on Highway 1. Family run, the Inn has the charm and warmth of a country inn with the service attentiveness of a Ritz Carlton. A light dinner with excellent wines and a full breakfast were included in the rate.   Tomorrow: Sea Ranch and Post Ranch Inn.