Sparkling Wine:  Bellavista La Scala Brut 2010, Franciacorta, IT – Pairing Rating: 9.0 out of 10.0
Chardonnay:  Ciampagnis Vieris 2014, Friuli Isonzo, IT – Pairing Rating 9.0
Blessed guests.  That's the tagline Trish and I give ourselves whenever our very good friends, Jim and Cathy, invite us on one of their fabulous holidays. This year, it was a week's stay at a Villa on the shore of Lake Como in Lombardy, Italy.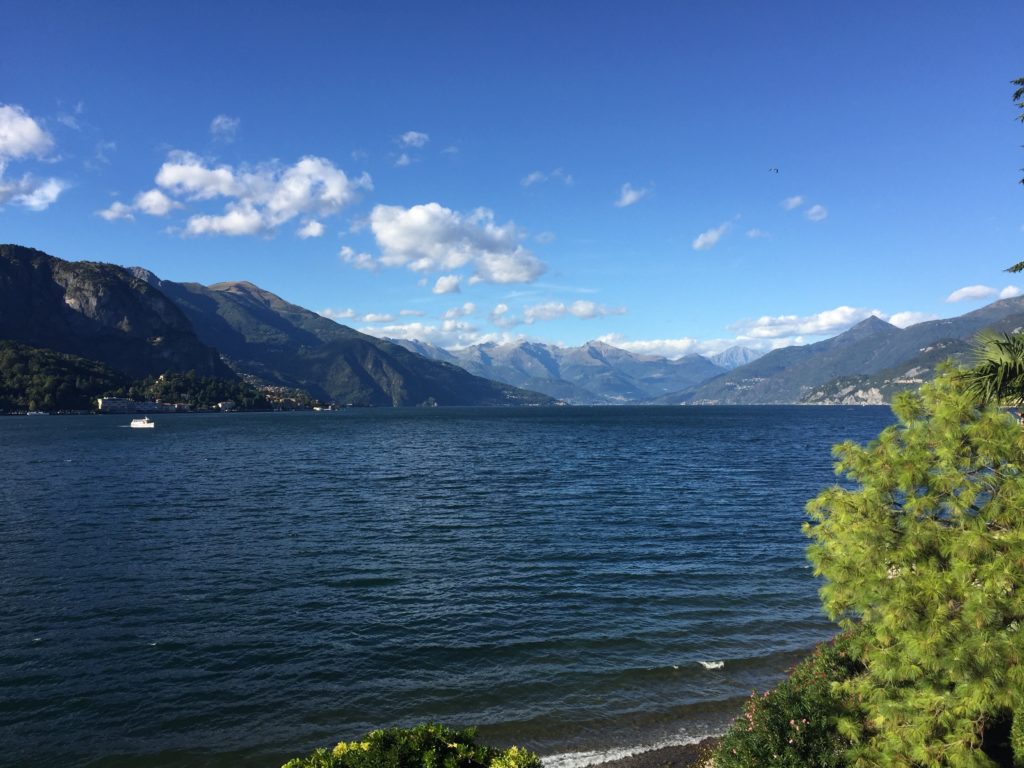 The picture above (taken from our Villa's terrace) doesn't do justice to the expanse and grandeur of this mountain lake, nestled just southeast of the Alps (seen in the background).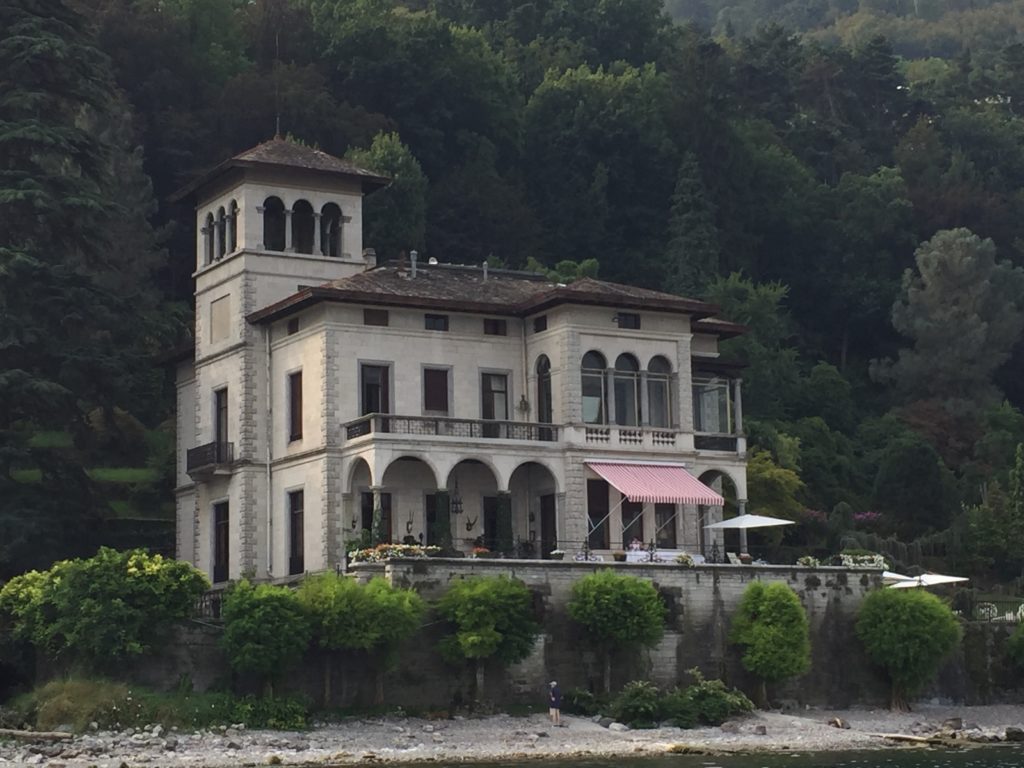 The Villa Orlando, a recently renovated 19th century estate located just outside the town of Bellagio was our residence for the week. The Villa was chockablock with historical paintings and books sufficient in number to fill a town library. Fond of extensive collections, one of the now-deceased Orlando's showcased butterflies, egg timers, WWII short wave radios and beer steins. An occasional piece of taxidermy, carved agate, a huge geode and a framed military commendation kept the astonishment at a high pitch. We were very pleased to meet the current owners, 4th generation brothers Paolo and Michele Orlando, but to have met the uncle responsible for the collections would have been a hoot.
This was our second trip where Jim and Cathy retained Chef Karl to prepare our dinners, where the focus was on lighter proteins:  fish (salmon, perch, seabass and monkfish) and quail. We will focus on the quail dinner on another post, but here we want to call out two appetizers.
The first was a simple but exquisitely presented Prosciutto and Melon. The sweetness of the ripe cantaloupe was an excellent foil for the rich, salty Prosciutto de Parma. I think you will agree that Chef Karl's presentation was inspired.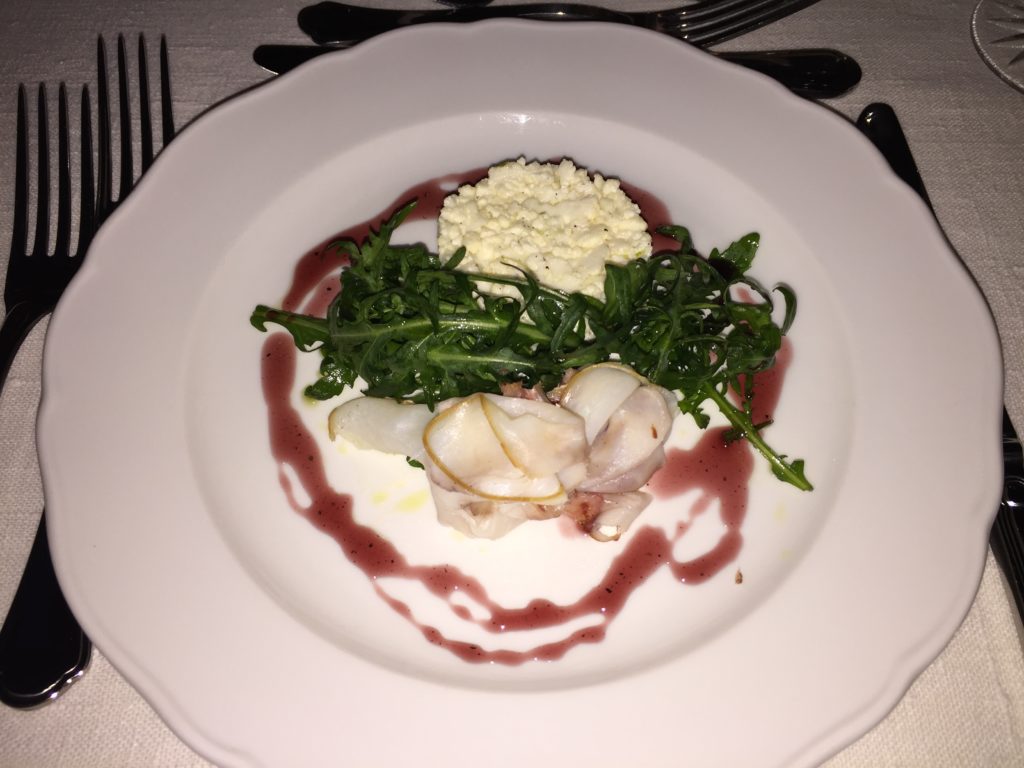 The second appetizer was more complex:  thinly sliced smoked swordfish, arugula with lemon vinaigrette and cauliflower tartare with a peppered red wine reduction. An amazing composite of texture, peppery spices, lemon and subtle smokiness.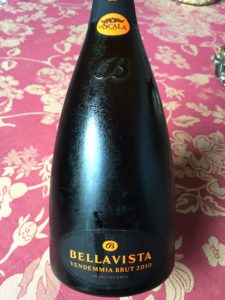 Both dishes were suburb with the regional sparkling wine, Franciacorta. If you are unfamiliar with this name, Franciacorta is a wine region in Lombardy that specializes in growing and vinifying the classical Champagne grapes, Chardonnay and Pinot Nero (Noir), as well as Pinot Bianco. Unlike Prosecco, which undergoes a second fermentation in a tank with little aging; Franciacorta is made according to the so-called metodo classico, where the second fermentation is done in the bottle and then aged 18 to 30+ months. The process is very similar to that used in Champagne, but with more emphasis on fruit and freshness and less on yeasty notes. Franciacorta can compete with the best from France . . . and Bellavista is one such producer.
Bellavista is a large producer of both sparkling and still wines (called Curtafranca). Like Champagne, Bellavista's Franciacorta can range from Dry (up to 35 grams per liter of residual sugar) to bone-dry Pas Operé (≤ 2 g/l). We opted for something in between and chose the Bellavista Brut La Scala 2010, a blend of 75% Chardonnay and 25% Pinot Nero. The Chardonnay provided the crisp, lemony acidity, while the Pinot Nero gave the wine body and a lengthy finish. The Lombardy region may not have the abundance of limestone famously evident in Champagne's soils, but the longer, warmer growing season in Lombardy allows for consistent ripeness from vintage to vintage.
With regard to Chef Karl's appetizers, the fact that the Bellavista Brut La Scala 2010 stood up to the complex and sometimes strong flavors (prosciutto and arugula) of both dishes speaks to the wine's versatility as a pairing partner. We think sparkling wines in general are underutilized in pairing (try them with fried chicken!). Should you choose Franciacorta, your pairing chops will not go unnoticed. But if you or your guests don't care for sparkling wines, reach for a Chardonnay from northeastern Italy, such as Ciampagnis Vieris. It's round and full-bodied, with lovely fruit and a long finish. Bellissimo!