Chenin Blanc:  Ken Forrester Reserve 2010 – Pairing Rating:  9.0 out of 10.0
Verdicchio:  Colle Stefano Verdicchio di Matelica 2012 – Pairing Rating:  8.0 
Riesling:  Dönnhoff Oberhäuser Brücke Spätlese 2011 – Pairing Rating:  7.5
Chicken what?  OK, this isn't a classic Italian recipe . . . you won't find it in a Marcella Hazan cookbook.  But you will find it in both the Soprano's and the Rao's cookbooks.  This is an American-Italian recipe that marries chicken, sweet & hot Italian sausage, peppers, onion and dry white wine.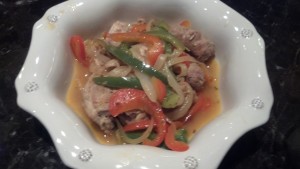 But what truly differentiates this dish is the addition of vinegared sweet & hot cherry peppers.   The vinegared peppers and the hot Italian sausage amp up the flavor profile of this dish in a truly memorable way . . . like adding Scarlett Johansson to a movie cast.  I know she's not Italian and the film analogy is a stretch, but you get the idea.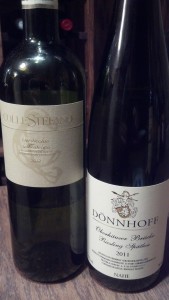 The bold flavors of this dish make this one of our favorite chicken dishes.  It's comfort food with a kick; and the vinegared chicken/white wine broth will make you want to eat this with a soup spoon.  But as good as the vinegar and spice are, they create a challenge for the wine pairing.  My initial thought was to start with an Italian white – 2012 Verdicchio di Matelica by Colle Stefano ($15) – from the Marche region of Italy.  This is a crisp, lightly textured wine with a pronounced grapefruit and lemony finish.  Very refreshing, but I thought the acidity clashed somewhat with the vinegared character of the dish.
Not satisfied with the Verdicchio pairing, I moved to the other end of the spectrum with a German Riesling from the Nahe region:  2011 Dönnhoff Oberhäuser Brücke Riesling Spätlese ($56).  I felt the creamy, semi-dry character of the wine would contrast nicely with the vinegar and heat of the Scarpariello.  Instead, the sweetness and medium body of the wine dominated the pairing, totally eradicating the aftertaste of the vinegar and spice.  Like accidentally hitting the Delete button.  Too heavy, too sweet, too dominant.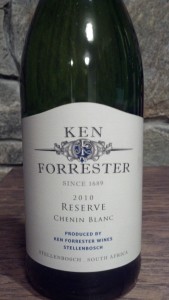 The solution was found in the middle of the spectrum:  2010 Ken Forrester Chenin Blanc Reserve ($15).   Combining the best of the Verdicchio and the Riesling, the Chenin Blanc had the right weight.  There was subtle but not dominant sweetness, with refreshing spice and minerality. It delivered hints of citrus, both lemon and orange, with a subtle aroma of hazelnuts and oak.  Chenin Blanc along with Fiano de Avellino are two of my go-to varietals for challenging pairings.  Dry Riesling would also work here, but go with a Kabinett rather than the Spätlese.  And importantly, if you are bored with chicken recipes you've prepared a hundred times, and you've not tried Scarpariello, you must give it try.  After all, who doesn't like Scarlett Johansson?