Sangiovese:  Giacomo Moro Chianti (Siena) 2007 – Pairing Rating: 9.5 out of 10.0
Garnacha-Carignan Blend:  Palacios Les Terrasses (Priorat, Spain) 2004 – Pairing Rating: 8.0
Summer is winding down and while three months of Rosé and Sancerre were great, we're now looking forward to pairing earthy, rustic reds (Barolos, Syrahs and Aglianicos) with hearty, braised dishes. But we need a transition strategy.
Transitional reds would be Pinot Noir, Sangiovese and some wines from Languedoc and the Loire Valley; a Sangiovese from Chianti seemed like a great launching off point. To find an appropriate recipe for this great Tuscan wine, we looked to Sid Goldstein's The Wine Lover's Cookbook. Like Evan Goldberg (acknowledged in a prior post), Sid has put together a comprehensive text of recipes paired with a broad array of varietals. An excellent piece of work.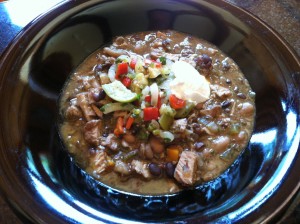 What caught our eye in The Wine Lover's Cookbook is the recipe for Clove-Infused Pork-Black Bean Stew with Tomatillo-Roasted Red Pepper Salsa. Sounds like a lot going on, right? There is. But the cloves and the tomatillo salsa drew me in; they also proved to be the keys to the pairing.  While we strongly encourage you to get the Cookbook, you can find the recipe on line, absent Sid's commentary regarding the wine varietals he recommends.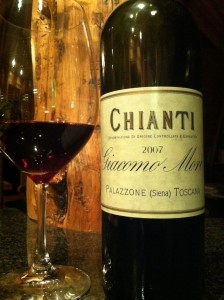 The stew is hearty, rich and full-flavored; hence Sid's first choice is Zinfandel, with Sangiovese listed as an alternate recommendation. We immediately focused on the Sangiovese thinking that the bright acidity of Chianti would be a better match for the tartness of the tomatillos. Remember, we were interested in pouring a "transition" red. Our Chianti choice was a 2007 from Giacomo Moro.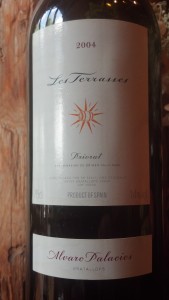 We also had to try a hearty red to opine on Sid's first choice. We passed on the Zin, substituting a Spanish Priorat Les Terrasses 2004, a full-bodied blend of Carignan and Garnacha (Grenache in France) by Alvaro Palacios. It has about the same weight as Zinfandel but with a bit more acidity. While the spices in the wine complemented the spices in the dish, the weight of the fruit in the Les Terrasses overpowered the salsa as well as the sauce of the stew. The Chianti was clearly the better choice. As with many wine pairing challenges, it's the sauce (and salsa in this case) that drives the wine pairing, not the protein.
If you like stews and chilies, you will love this recipe. For my tastes, the spices and salsa give it warmth (cloves) and zest (tomatillos) not found in most stews. Altogether more interesting than your run-of-the-mill stew: more zip, more taste sensations. Try it this fall with a Chianti from 2004, 2006 or 2007.