Chenin Blanc: Huet Vouvray Le Haut-Lieu 2010 – Pairing Rating:  9.0 out of 10.0
Red Burgundy: Lignier Chambolle-Musigny 1er Cru Le Baudes 2002 – Pairing Rating:  9.0
Red Bordeaux: Calon-Sègur Saint-Estephe 1995 – Pairing Rating:  9.5
For food and wine lovers, a Holiday Dinner Party is the Kentucky Derby of entertaining: decorations/dress are chosen to impress, only the best wines and dishes compete for a spot on the table, and it's all over before you know it. The year's most festive and memorable dinner party is clearly a challenge, but its one we always eagerly embrace.
An appetizer of caviar-on-blinis with Champagne is a classic starter, but this doesn't really showcase your skills as a cook or a wine-pairer. Rather, it's when your guests first sit down at your impressively set dining room table. That's when the anticipation runs high about what is to follow.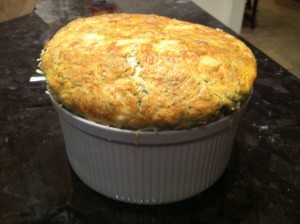 That memorable 1st Course? Spinach Soufflé. If you've never made one, we strongly encourage you to try. The best cookbook to teach you is Julia Childs' Mastering the Art of French Cooking – Vol. I.
We've probably made this recipe 50 times. If you follow Julia's instructions to the letter, you will make an impressive and delicious soufflé.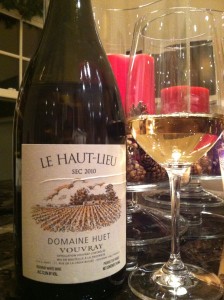 Pair the soufflé with Chenin Blanc from France's Loire Valley and your guests will know this is not going to be anything but a memorable Holiday Dinner. For the Chenin Blanc, we chose a 2010 Huet Vouvray Le Haut-Lieu Sec ($32).  Lighter than Chardonnay and creamier than Sauvignon Blanc, the Vouvray is an excellent food-pairing wine. The wine's minerality and acidity from the limestone-laced soils of the Loire Valley provide the perfect complement to the eggs and cheese in the soufflé.
Having raised the bar with the soufflé, what does one do for the main course? In situations like this, we opt for slow cooking a Rib Roast and serving it with an elegant sauce. We chose a bone-in Veal Rib Roast.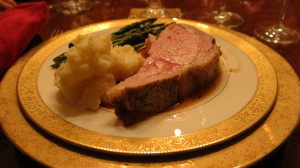 Seared first on a cast iron griddle on the gas grill, then slow-roasted in a 275° oven to achieve that pink color from edge-to-edge. Serve it off the bone.  A Brown Sauce with Tarragon is the perfect mate for the roast, with the fresh tarragon sending up hints of anise and lemons. Think Béarnaise without the butter and egg yokes. Julia is also my go-to source for this sauce. Check out her basic recipe on this link:  Recipe: Tarragon Brown Sauce.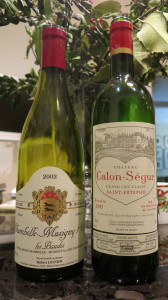 The rib roast cries out for an elegant French red, but which one? We like to give guests a choice and then get their reactions. The options were a 2002 Red Burgundy from Lignier: Chambolle-Musigny 1er Cru Le Baudes ($100); and a 1995 Bordeaux from Calon-Sègur (Saint-Estephe) ($140). The lighter, perfumed style of the Chambolle was excellent with the Brown Tarragon Sauce, while the perfectly aged Bordeaux was ideal with the Veal itself. Both were great. We gave the higher score to the Calon-Sègur because the majority of our guests favored that wine. Cabernet-based wines always seem to have more crowd-appeal than French Burgundies. Just the way it is!
This Holiday Dinner took a good bit of time and effort. But the gratification of winning the "Kentucky Derby" of dinner parties is without equal.