Vacqueyras:  Xavier Vins 2009 – Pairing Rating:  9.5 out of 10.0
I confess to loving red meat . . . especially grilled red meat.  But my nutrition-aware wife, Trish, says I should keep the portion size limited to the size of a deck of cards.  So how does a meat lover do that?  Kabobs – that's the answer.  I've learned that I can get more portions out of a cut of meat if I cut it into cubes rather than serve it sliced, or as steaks or chops.  OK, maybe my cubes add up to an oversized deck of cards, but with kabobs I can get closer to Trish's directive than I might othehttp://www.foodwine.com/food/special/2005/weber/lamb.htmlrwise.  So that was the plan with the leg of lamb.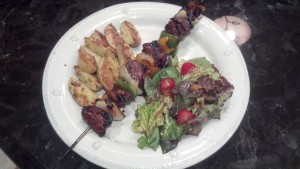 Recipe: Mongolian Lamb Barbeque
The key to this recipe is the marinade, which I found on Weber's Real Grilling website.  The recipe called for hoisin sauce, oyster sauce, soy sauce, dry sherry and honey, complemented with garlic, ginger and red pepper flakes.  The hoisin and the honey were the keys to making a successful pairing.  After marinating overnight, the lamb cubes were speared with onion slices and green and yellow peppers.  Trish accompanied the kabobs with roasted Yukon potatoes and a garden salad.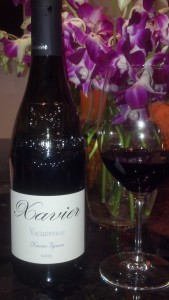 For the wine pairing, I reached for a wine from a Southern Rhone appellation:  Vacqueyras ($27) from the 2009 vintage by Xavier – a beautiful and yet affordable blend of Grenache, Cinsault and Syrah.  The blackberry fruit of the Vacqueyras balanced the hoisin and honey of the marinade, while the tannins cleansed the palate in a refreshing way.  In addition, the weight of the wine was perfect for both the consistency of the saucy marinade and the "chew" of the lamb.  In general, the earthiness found in many wines from Vacqueyras and Gigondas (a noted reviewer called it "forest floor and underbrush") is a bit more pronounced than those of their famous western neighbor, Chateauneuf-du-Pape.  This is exactly what I was looking for in this lamb pairing.
If you have not yet tried Vacqueyras, I urge you do so with your next grilling of red meat.  It will likely intrigue your guests who have never heard of it, and surely please your wine budget.  And don't forget Trish's "deck of cards" directive!