Our good friends, Jim & Cathy, have outdone themselves:  they topped their 2016 trip to Lake Como, IT with an invitation to join them and 2 other couples to cruise the canals of Burgundy. But this is no ordinary cruise. What made this exceptional (aside from the friendship of the 4 couples) was our mission to taste red and white Burgundies made from all 32 Grand Cru-designated vineyards of Côte d'Or, paired with the exceptional food of the Belmond Amaryllis. This post and the ones that immediately follow will give you glimpse of the food and wine on this caravane extraordinaire!.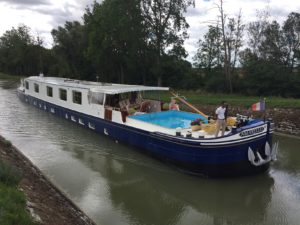 The Amaryllis, operated by Belmond (formerly Orient-Express) Hotels, Trains & Cruises, is an impeccably appointed barge measuring 129' in length, 17.5' wide. With four en-suite cabins and a crew of 6, our party of 4 couples enjoyed luxurious privacy and highly personalized attention.
We boarded the barge near the village of St-Léger-sur-Dheune, southwest of the town of Chagny. The itinerary calls for heading north on the canals (and briefly the Saône River) through the Côte de Beaune, Nuits-St-Georges, Gevrey-Chambertin and into the port of Dijon, the most famous towns/villages in Burgundy. Essentially, the canals paralleled the highway D974 (formally RN74), the Route of the Grands Crus. A Belmond van followed the barge throughout the trip, shuttling us to and from the barge to various Domaines, vineyards and points of interest . . . wine interest, that is.
Unlike most cruises that travel at night, the barge remained moored at night, traveling the canals ever so slowly during the day. We took full advantage to walk or bike along the canal's towpath after breakfast or lunch depending on the day's itinerary.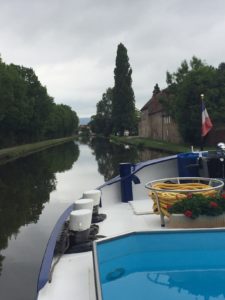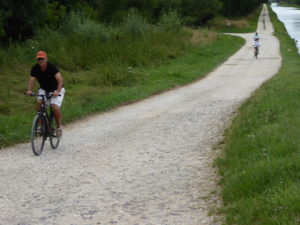 Breakfast each day was a sumptuous spread of French breads, pastries, fresh fruit and any hot breakfast item you fancy.  One in our group wanted a full English breakfast; a challenge our British chef, Sam, eagerly met.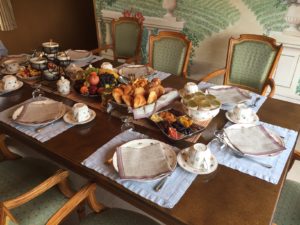 The Amaryllis' kitchen – amply sized for Sam to perform his feats of culinary magic.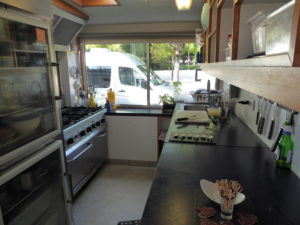 If we weren't having lunch in a village or chateau, Sam would serve a buffet lunch on the sundeck like the one pictured below:  5 salads, including a crayfish salad and sliced duck breast with maple glaze. All paired beautifully with a 2014 village Chardonnay from the Saint-Romain appellation, by Olivier Laflaive ($45) or Joseph Drouhin ($30). Note that 2014 was an exceptional vintage for white Burgundies.  We encourage you to seek out the white wines of Saint-Romain and Saint-Veran; both serve up fruit and freshness well above their sticker prices.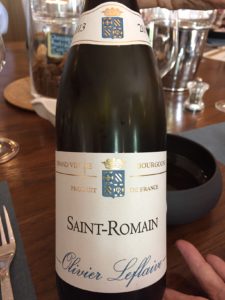 More about the Grand Cru vineyards, the wines and the food in the posts that follow.