Sangiovese/Merlot Blend:  Tolaini Al Passo 2009 – Pairing Rating:  9.5 out of 10.0
If food trucks and street food get your juices flowing, then the traditional Italian favorite, Porchetta [por KETT ta] is something you must try. Porchetta is a savory, moist, boneless pork roast, sliced and usually served on ciabatta bread. Add sharp Provolone and greens (arugula or broccoli rabe) and you're in hog heaven.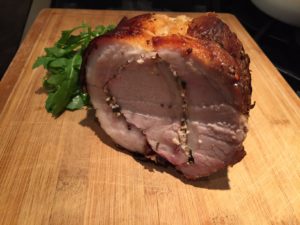 Porchetta originated in central Italy, and can be found throughout the provinces of Umbria, Abruzzo and Lazio. Common to all is the basic butchering and roasting:  the body of the pig is gutted, deboned, carefully stuffed with fat, salt, pepper, garlic and spices. It is them rolled with the skin still on, spitted and/or roasted, traditionally over wood, for 8+ hours. Spices mark the key regional differences, with Abruzzians favoring rosemary, and the Umbrians preferring fennel pollen or seed.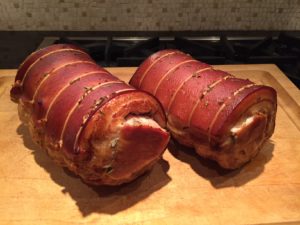 When the pork is prepped this way, the Porchetta is enormous – 2 to 3 feet in length and 8 to 12 inches in diameter. While this was what we saw on the food trucks in Umbria, it's obviously too large for the home cook. Instead, butchers in the US will season a pork loin (or "eye" of the pork shoulder) and wrap it with pork belly, as depicted above. We gave our Porchetta an initial 45 minutes in our smoker, followed by 2-1/2 hours in a 250° convection oven.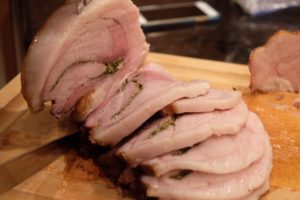 The finished Porchetta can be sliced and served as one would a pork chop. Traditionally, it's served on Italian bread (ciabatta) with a condiment of your choice. We like it with Salsa Verde, where the fennel, garlic and lemon of the sauce boost the spices in the porchetta without competing with it. We threw in the arugula for color, texture and peppery notes.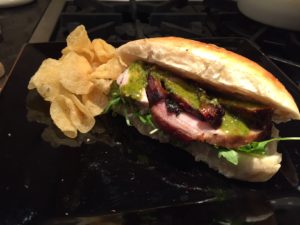 Our wine recommendation leans toward a medium-bodied red with some acidity and moderate tannins. A 2009 Tuscan blend of Sangiovese and Merlot from Tolaini, called Al Passo ($21), worked beautifully.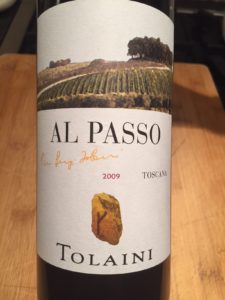 A promising nose of fragrant blackcurrant gave way to a palate of blackberry and black cherries with an earthy underpinning. There was sufficient acidity to complement the salsa verde while the earthy tannins served as a bridge to the spices in the porchetta.  The Al Passo is 50% Sangiovese with a soft, sappy underbelly of 50% Merlot. Very nice with this spicy, traditional pork preparation.
If you can't find a Tuscan blend like the Al Passo, then a Chianti Classico will appeal to those who prefer a more acidic wine. . . or a Merlot from California for those who prefer a full-bodied, softer pairing. Either way, the Porchetta experience is not to missed.