Nebbiolo:  Bruno Giacosa Barbaresco Asili 1998 – Pairing Rating:  10.0 out of 10.0
Remember the scene in The Godfather when Clemenza was teaching Michael how to make "gravy"?  That scene from the 1972 movie both liberated and inspired me to cook:  if it was cool for a mafia capo to cook Marinara sauce, it was cool enough for me.  I never quite mastered Marinara; instead, I hooked up with someone who did – Trish.  Armed with her grandmother's recipe (Rose Adamo was as authentic as a glass of Chianti Classico), Trish can make "gravy" Clemenza would kill for.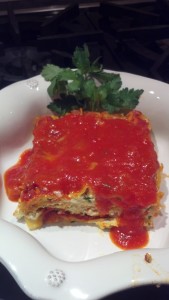 The lasagna itself is a fairly traditional layering of pasta with an egg & Ricotta cheese mixture, spiced with chopped parsley, Parmesan cheese, salt and pepper.  The craft is in how you build the layers.  But in our view, the lasagna itself is not the star, but merely a delivery vehicle for the Marinara sauce.  All the flavors, tomato sweetness and spices reside in the sauce, and it is, therefore, the focal point of the wine pairing.
With a dish this rich in Italian history and folklore, we felt compelled to pair it with an Italian red.  We also felt that the delicacy and subtlety of the sauce called for a lighter-style red rather than some super-Tuscan blend.  Surely there would be good choices from the Chianti Classico area of Tuscany, but we choose to focus on the Piedmont region, and on Barbaresco in particular.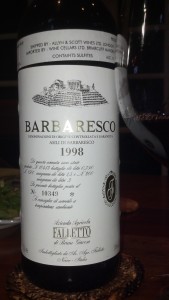 We felt that an aged Barbaresco from a traditional producer would be a great way to showcase both the sauce and the wine.  And indeed it was.  The 1998 Bruno Giacosa Barbaresco ($140)  from the Asili vineyards served up a nose of cedar, leather and spices.  The tannins had softened considerably over the years, allowing the red fruit of the Nebbiolo grape to strut its stuff.  Not hard and brilliant like a diamond, but elegant and delicate like a cultured pearl.  Wine pairing freaks search for 1 + 1 = 3; or to paraphrase Thomas Mann, "To be at rest in the face of excellence is the hunger of those who strive for perfection."  This was as close to a perfect pairing as we have encountered.
The 1998 vintage is still available at a few wine stores in the country.  Check Wine-Searcher.com for the details.  If you can't get the '98, look for the 2004, 2006 or the 2007 vintage.  Pair Lasagna with Barbaresco and you will have made your guests an offer they can't refuse!