Chardonnay:  Arrowood 2013 – Pairing Rating:  9.5 out of 10.0
Fiano di Avellino:  Romano Clelia Colli di Lapio 2014 – Pairing Rating:  8.0
We recently read a Tweet written by a wine writer about the challenges writers face.  It went like this:  A friend asked me, What is it like to be a writer?  So I woke her up every day at 3 am and told her she wasn't good enough.
Most Tweets are idle chatter.  This one was spot on.  Nevertheless, we writers trudge on.
It's early January and frickin cold and gray in Connecticut.  When we can't secure passage to warmer climes, we begin to think about foods that will warm the soul and thereby brighten the mood.  We've got just the ticket:  Julia Child's Leek & Potato Soup.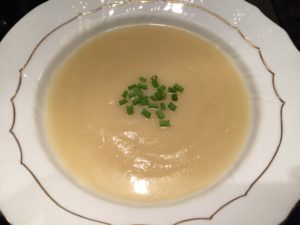 This recipe is from Julia's Mastering the Art of French Cooking, Vol. 1 and is remarkably simple to prepare. Having made this recipe countless times, we would like to provide a little guidance:  use red potatoes; don't try to substitute chicken broth for the water – the water is lighter and allows the veggies to shine; blend at a high speed, but not for too long – the soup gets thicker the longer you blend at a high speed – not exactly sure why this is. Our suspicion is that prolonged high-speed blending causes excessive cell damage, starch release and glueyness.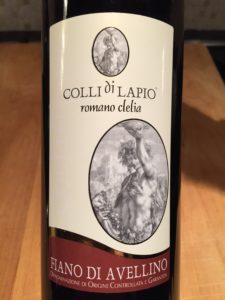 For the wine pairing, our first thought was to reach for a slightly creamy, Italian white to match the weight and creaminess of the soup.  Our go-to wine in this category is Fiano di Avellino produced by Romano Clelia. We choose their Colli di Lapio ($23) from the 2014 vintage. The wine is mid-weight in structure with notes of melon and citrus and below average acidity. Normally, the highly "matched" style of this wine, relative to the soup, would make for an ideal pairing. Not so in this case. The wine pairing was boring in that it was too much like the soup in weight and creaminess. We felt that the soup called for a contrasting wine – one with more acidity and less weight. Not unlike chasing some French fries with a carbonated palate-cleanser, like beer or soft drink.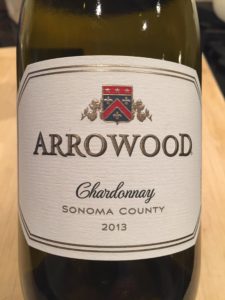 We settled on California Chardonnay – one with a balance of creaminess and refreshing acidity. Not the heavy, oaky styles sometimes sourced in Napa. Rather, the lighter, leaner style produced from Sonoma Coast fruit, such as the Arrowood 2013 Chardonnay ($20). The nose was redolent of melon and pear, while the palate evidenced citrus, baked apples and spiced oak. We found this to have all the contrasting elements called for with this soup recipe. Arrowood is a superb value from Jackson Family Wines. Other Cali Chardonnay producers with a style appropriate for this soup are Liquid Farm White Hill Chardonnay ($40) and Hirsch Estate Chardonnay ($66). And if you prefer French whites, look to the Burgundy village wines from the 2014 and 2015 vintages. These are remarkable Chardonnays that deliver on quality without crushing your budget. More about these in future posts.
This soup recipe and Chardonnay pairing is more than "good enough", in fact, it's terrific! And we urge you to give a try.