Red Burgundy: Bouley Premier Cru Champans, Volnay, FR 2005 – Pairing Rating: 9.0 out of 10.0
Cali Pinot Noir: Sandhi Santa Rita Hills, CA – Pairing Rating: 9.0
Arneis: Brovia, Roero, Piemonte, IT 2014 – Pairing Rating: 8.5
Rosé: Commanderie de Peyrassol, Provence, FR 2015 – Pairing Rating: 9.0
Born in the historical County of Nice in the south of France, the Salade Niçoise is reported to be on restaurant tables on 5 continents today. With that kind of geographic dispersion, recipes evolve over time, deviating from the original.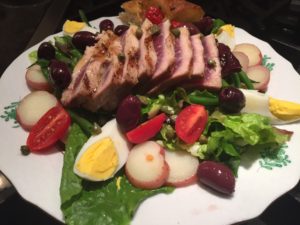 Many variations exist: with or without anchovies; canned tuna (packed in olive oil, please) or grilled fresh tuna; red onions or not; and served tossed or served with the components grouped on a large platter – sort of a build-it-yourself approach. All personal preferences, of course, as there are no rules. But if asked, we like the approach found in this Dean and Deluca recipe:
Recipe:  Salade Nicoise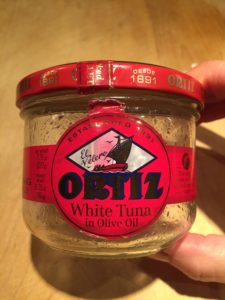 We think grilling fresh tuna gives you one more element of control: medium and flaky, or rare and moist. But if your preference is to use prepared tuna, we encourage you to try the jarred Ortiz tuna. It's more expensive than imported Italian canned tuna, but it's less salty and we think the quality is superior.
Salade Niçoise is fairly accommodating when it comes to pairing, as evidenced by the number of wines discussed here. Two cautions: avoid tannic reds because they can heighten the salty nature of the salad; also be wary of highly acidic wines like Sangiovese, as they seem to battle it out with the vinaigrette in an unpleasant way. We are suggesting moderate levels of acidity with this dish. That said, we liked all the following wines with this salad . . . for different reasons.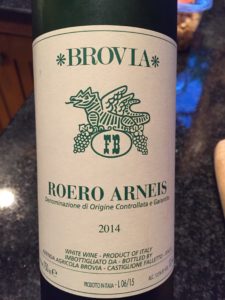 Wine from the Arneis grape seemed to us like it might work beautifully with this dish. Best known as the white grape from the Piedmont region of Northwest Italy, the wines produced are generally unoaked, full-bodied and offer a moderate level of acidity. Our choice was the Brovia Arneis 2014 ($26). The wine's fruit-scented nose was reserved but there was no subtlety in the initial crisp lemon/lime flavors on the palate. We found these fruits to work well with the lemon-shallot salad dressing, delivering just enough acidity to stand up to the modestly salty jarred tuna and olives. Our conclusion was that the wine worked well with the Niçoise because it didn't upstage the complex flavors of the dish. Rather, it offered uncomplicated refreshment in a direct, workman-like manner. Outspoken, yes, but not overpowering. Having tried several white wines with the Salad (Etna Bianco for example), we preferred the Arneis.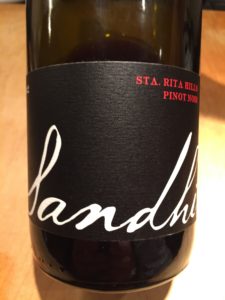 Pinot Noir has an affinity for salmon and tuna. In California and New Zealand, it is often (but not always) light-bodied with low tannin content; and its fruit-forward style makes the wines refreshing, especially when served at cellar temperatures. We liked the lighter styled Pinot Noir with the Salade Niçoise for all those reasons. Examples abound; we liked the Sandhi Pinot Noir 2012 ($34) from the Santa Rita Hills of Santa Barbara County. The warmer Southern California climate makes for riper fruit and lower acidity . . . which is important in this pairing.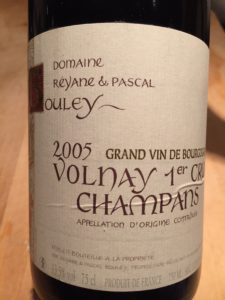 A more demonstrative expression of Pinot Noir can be found in Burgundy. These Pinots tend to be more medium-bodied. Most are aged in oak and acidity can be high, particularly in cooler vintage years. Aiming for a more delicate style of Burgundy, we chose a Volnay Premier Cru Champans 2005 ($80) from Réyane & Pascal Bouley. Pinots produced in the Volnay commune are known for their aromatics, lighter structure and velvety texture. The ten years of bottle aging softened the tannins and heightened the complexity of the wine from this excellent vintage year. Relative to the other wines, the Burgundy definitely delivered a bolder style that held its ground with the Niçoise flavors. Both the Cali and French Pinot styles worked best when using the oil-packed jarred tuna, where the olive oil kept the acidity of the wine in check.
Perhaps the middle ground in this pairing exercise, and maybe the wine with the biggest crowd appeal, is a Rosé. It has the light body, expressive fruit, zero tannins and moderate acidity. It definitely works well if you are using fresh, grilled tuna with this salad. We like the Grenache-Cinsault Minuty M 2015 ($20) and Commanderie de Peyrassol ($22).
To sum up, if your preference is fresh tuna, go with the Rosé or the Arneis. If you prefer canned or jarred tuna, go with the Pinot Noir . . . and spring for an aged Burgundy if you want to showcase the wine rather than the Niçoise. As we wrote earlier, Salade Niçoise is an accommodating wine pairing partner. We hope that one of these wines will find its way to your table.