Adrift in the sea of casual restaurants of Newport Beach, Trish and I were rescued when we discovered The Dock.  Situated on the Newport Peninsula waterfront, The Dock is an intimate, safe-harbor for those looking for a fine dining experience.  It's all there:  a diverse and innovative menu, a comprehensive wine list of French and American wines, knowledgeable wait staff, and an intimate ambiance open to the bayside waterfront.  We dined there twice over two consecutive weeks and came away impressed and eager to post this blog.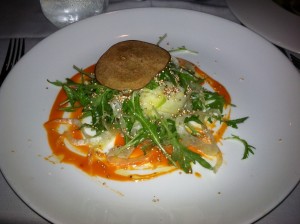 In our most recent experience, we were seated at a romantic, corner table away from the cool breezes off the harbor.   Remember, it's still "winter" in Newport Beach and the evenings can be in low sixties.  Trish started with a salad of fresh greens that featured a paper-thin slice of seared apple, shaved fennel, mizuna, and red pepper coulis, all sprinkled with roasted quinoa.  The salad was delicious, but with a misleading title on the menu:  Quinoa Salad.  Clearly, it was a salad of greens not grains.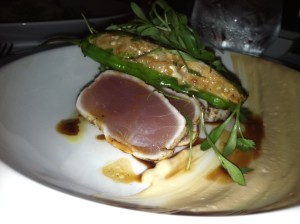 My starter was a knockout:  Albacore Tuna Sashimi over an avocado sorbet, framed by a soy-ginger emulsion and topped with a roasted shishito pepper that was stuffed with spicy tuna.  Both a visual and culinary showstopper.For these great starters, we shared a glass of The Terraces Chenin Blanc 2012 (about $20 retail), from Clarksburg, CA.  If you are unfamiliar with Clarksburg CA, it is a small, farming community southwest of Sacramento.  First planted in the early 1960s, Clarksburg received its AVA designation in 1984 and produces some of the finest Chenin Blancs California has to offer.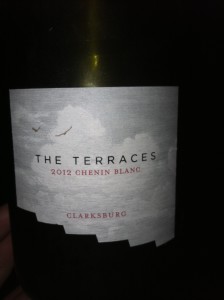 The Terraces Chenin Blanc (with 10% Riesling) offered up a cool, sweet-citrus nose.  Trish said the aroma reminded her of lemon drops.  The midpalate brought on peach and ripe mango flavors, while the finish lingered with lemon-lime and pineapple flavors.  We thought it was a perfect match for The Dock starters.
We both chose pork dishes for our main courses, but with very different preparations:  Trish went for the appetizer portion of the roasted Berkshire Pork Belly topped with a quail egg.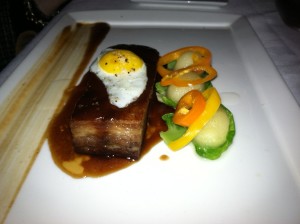 I opted for the entrée of a brined, Smoked Pork Chop, with a Béchamel Sauce, broccolini with Romesco Sauce and flash-fried Mac & Cheese beignets.  Please don't tell my cardiologist.  Both dishes were expertly prepared and delicious!
For our mains, we selected a Pomerol from the wine-by-the-glass offerings:  Chateau Certan De May 2009 ($125 retail).  This was our only misfire of the evening.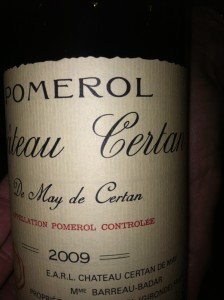 The Certan (nearly 100% Merlot) was dull and flabby, meaning it lacked acidity.  Amid the powerful, black fruit aromas, Trish detected hints of roast beef and dried thyme.  I felt a little overwhelmed by the pruney nose.  But the biggest problem was that there was no acidity to cleanse the palate for the rich foods we were enjoying.   Note that this was not a wine storage problem: The Dock employs a nitrogen system for its wines by the glass.  No, this was on my shoulders.  Next time I will go to their extensive half-bottle offerings and choose a young Cabernet Sauvignon or a Brunello with a little age, say a 2004 or 2007.
Newport Beach offers any number of big-box restaurants with noisy bars and California-heavy wine lists.  But I, for one, can no longer take their offerings of rotisserie chicken with dried out white meat or pork ribs that never hung out in a real smoker.  Thank the culinary gods for places like The Dock.