Red Bordeaux: Pavillon Rouge du Ch. Margaux, FR 2000 – Pairing Rating: 9.5 out of 10.0
Petite Sirah: Priest Ranch, Napa Valley 2008 – Pairing Rating: 7.5
You may recall from a previous post Trish's directive to limit the size of your red meat portion to "no bigger than a deck of cards." With a T-Bone or Porterhouse – forget it. Not happening. I, for one, am not cutting the deck when serving those beef beauties. But it you want to honor the advice, and yet enjoy the flavor of grilled red meat on the bone, then look to lamb chops. And this recipe from Sid Goldstein's The Wine Lover's Cookbook is killer for its marinade recipe and Roasted Garlic-Mint Sauce.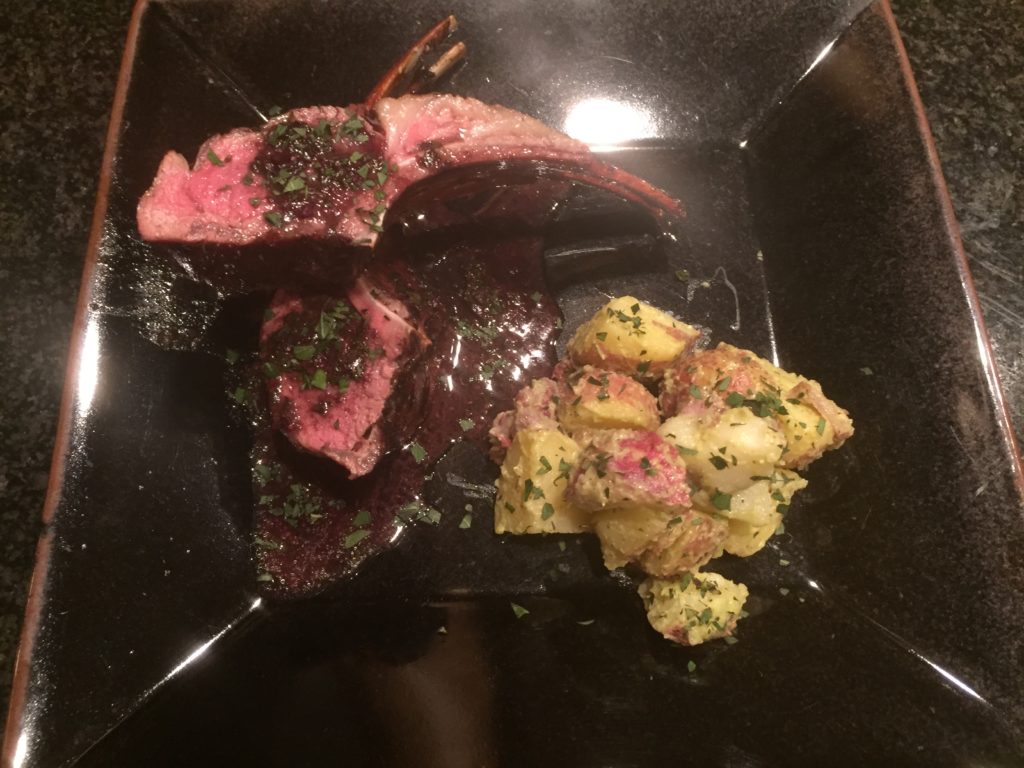 http://www.margiesrecipes.com/?p=339
Sid's recipe doesn't exist on the Internet, per se, but the link above will direct you to a transcription of the ingredients and assembly of the marinade and the sauce. The link falls short of telling you how to cook the lamb, but if you use chops instead of a leg cut, you know how to grill them.
The simple beauty of the recipe? The pairing is in the recipe title: the lamb, with its naturally high fat content, directs you a red wine with ripe tannins; the earthy, roasted vegetables (garlic in this case) urge you to think of the earthy notes of aged Cabernet Sauvignon; and the mint tells you to look to a cool-climate Cab. Add it all up and you have to consider aged Red Bordeaux as a partner for these excellent chops.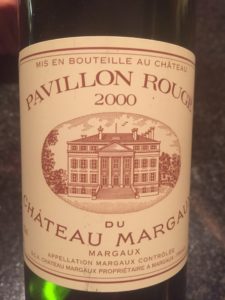 Our choice for Bordeaux was the 2nd wine of Chateau Margaux – Pavillon Rouge du Ch. Margaux 2000 ($210). This beautiful Bordeaux is composed of 60% Cabernet Sauvignon, 33% Merlot, and 7% Cabernet Franc and Petit Verdot. Aromas of cedar, mint and lead pencil gave way to a palate of black cherry, vanilla and spice. The subtle complexities of aged Bordeaux deliver a level of finesse we don't find in aged Cabs from other parts of the world. No wonder it commands both the price and demand from wine and food lovers around the world. We would have scored this wine a perfect 10.0 save for its price and scarcity.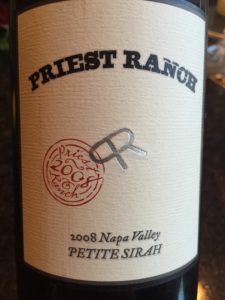 Sid Goldstein's cookbook suggested Zinfandel for this recipe, a wine I did not have in my cellar in Vermont where this was written. However, we did have a 2008 Petite Sirah from Priest Ranch ($43) in Napa, CA. Petite Sirah, a burly offspring of Syrah, is often used as a blending grape with Zinfandel. The grape serves up intense flavors of blackberry and plum, with notes of clove, cinnamon and tobacco. But the smoky, peppery edge was overpowering for the lamb and its sauce. If you are a Zin fan, we recommend you try this recipe with a 2014 Ridge Geyserville, a Zin-dominant blend with a softer attack and finish than Petite Sirah.
So if you are looking for a pairing with power, go with the Ridge Geyserville, but if finesse and complexity is what you seek, go with the aged Bordeaux. And we strongly suggest you step up and buy Sid's cookbook. It's filled with excellent recipes and spot-on pairing suggestions.