Rioja:  Remelluri Reserva 2007 – Pairing Rating:  10.0 out of 10.0
Ask a Spaniard for the definition of "comfort food" and you will likely hear Paella.  It presents itself as a colorful blanket of yellow-golden rice redolent of savory saffron.  And while most restaurant Paellas are made with seafood (shrimp, calamari, mussels, et.al.), I opted for a Valencian-style Paella, where meat is used instead of seafood.  It can be chicken, rabbit, or duck.   I chose chicken thighs and chorizo because I think they amp up the "comfort" factor – think roast chicken with rice on a wintry Sunday night.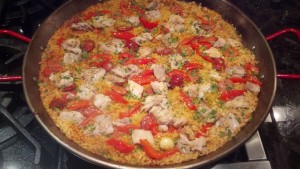 I always start my Paella with sofrito made from scratch:  tomatoes, onions, garlic that form the vegetable base for the paella.  I sautéed this for about 30 minutes until most of the moisture has evaporated and the texture is rather thick.  The Bomba or Calasbarra rice, chicken stock and saffron are then added and allowed to simmer slowly until nearly all the stock is absorbed by the rice.  The sautéed chicken thigh pieces (sautéed about ¾ of the way to totally done) and sautéed chorizo slices are added to the pan to complete the cooking process and integrate the flavors – about the final 10 minutes.  Near the very end, I drop in sautéed red pepper slices and frozen peas for color, instead of the traditional green beans.  Having neither on hand, I substituted chopped parsley.
A few tips:  1. Use a cast iron plate diffuser between the burner and the paella pan to get better heat distribution; 2. Raise the heat in the final minutes to create a rice crust at the bottom of the pan – this is the Socarrat that is highly prized by paella lovers; and 3. If serving the dish to family members, have everyone eat directly from the paella pan – this the traditional way of enjoying the dish . . . and the pan keeps it hot.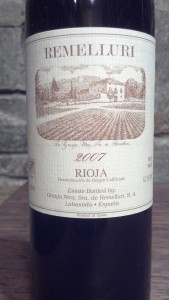 For a wine pairing, I think you have to go with Spanish varietals of wine:  Rioja or Rioja Blanco.  For the Valencian Paella, I chose the Remelluri Reserva 2007 ($36) by the renowned winemaker, Telmo Rodriguez.  I thought the weight of the Rioja was ideal; and the modern style of the Remelluri did not bring the heavy oak usually associated with the old-style Riojas.   Furthermore, the exotic spices and black fruits of the Remelluri complemented the bold flavors of the chorizo, while the smoldering richness of the fruit did not overwhelm the sophisticated saffron flavors.  Like the sultry, smoky voice of Diana Krall singing The Look of Love on her "Live in Paris" disc, the Remelluri Rioja and the Valencian Paella made beautiful music together.