Hakkaisan Sake Junmai Ginjo: Rating – 10.0 out of 10.0
Kanbara "Bride of the Fox" Sake Junmai Ginjo: Rating 9.0
You may know that Yakitori means grilled chicken served on skewers. But you may not realize that what makes this Japanese street food so appetizing is the tare sauce used as a basting sauce. And if you're looking to experience a sake pairing beyond sushi, look no further. Tare sauce, with grilled chicken and green onions, is a perfect pairing with high quality sake!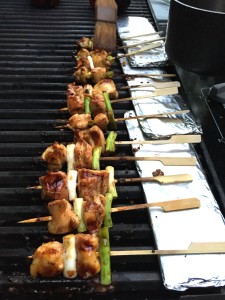 The above link offers a very detailed tutorial (with video) on how to make the tare sauce and prepare the skewers for grilling. Our tare sauce recipe, however, differs from that found in the link. We used 1 cup of Low Sodium Soy Sauce, ½ cup Mirin, ½ cup Sake, ¼ cup Sugar, 1 Tbsp Chopped Ginger and no water. Everything else in the link is identical to our approach.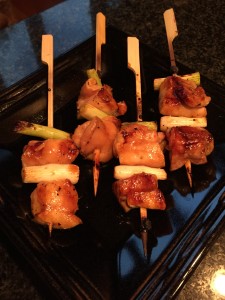 In Japanese restaurants, this yakitori is called "negima", meaning chicken and spring onion. It's a terrific appetizer; and because sake is used in the tare sauce, it's the ideal pairing partner for this dish. So let's talk about the sake.
First, a few basics. Sake (sah-KEH) is not wine, but a fermented, brewed beverage. Using centuries old techniques, sake is made from special rice types that have been milled to remove much of the bran surrounding the rice kernel, and then inoculated with mold to turn the starch into sugars. The rice & mold (koji) is then inoculated with a yeast culture to convert the sugars into alcohol.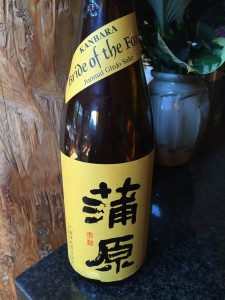 While the rice type and water quality are all key, the degree to which the rice is milled is perhaps the most important indicator of sake quality. Look for sake labeled Junmai Ginjo, which indicates that the 40% or more of the bran has been milled away. Junmai Daiginjo indicates that 50% or more has been milled away – equating to even higher quality.
The two Sakes I paired with the Yakitori are in the $30 – $50 range and can be found at retailers on Wine-Searcher.com. The Kanbara Sake Bride of the Fox ($25) was very good, but I preferred the elegance of the Hakkaisan Sake ($35). Served slightly chilled, it was perfectly clear, dry, velvety, subtly honey-tinged with a finish that tasted a bit like baked bread. Just enough sweetness in the sake to stand up to the sugars in the tare sauces.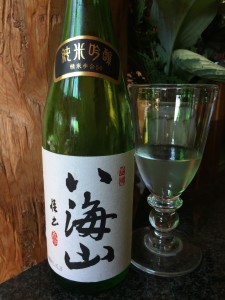 Trish described the aroma as sweet beer, not surprising since the brewing processes have much in common. But to be sure, these sakes tasted nothing like beer, and nothing like the cheap, warm sakes you may have had in a Japanese restaurant.
Try both the Yakitori recipe and Hakkaisan Sake and you will be emailing me saying Arigatou gozaimasu (thank you), Steve-san!